Scandinavian jazz made a critical dent on the international scene in the late '60s with the release of "Electronic Sonata for Souls Loved by Nature," recorded in Oslo on Flying Dutchman in 1969, and led by George Russell (an influential American jazz pianist, composer and music theoretician). Before he moved to Europe, and Scandinavia to be exact, in 1964, Russell had been key to the development of modern jazz, specifically modal jazz and the calming "Kind of Blue" Miles' sound of 1959.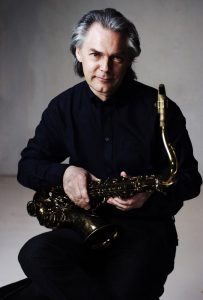 Since then, Norwegian players on Russell's album, especially the standout saxophonist Jan Garbarek, guitarist Terje Rypdal, and drummer Jon Christensen have represented the Scandinavian sound for decades including the present. On the surface, it's the Miles "Kind of Blue" sound, mostly a cool jazz but also raucous, when it wants to be. The Scandinavian sound is generally recognized as free, spacious, experimental, and contemplative; it is consistently progressive, pioneering jazz most open to incorporating the newest electronic technology and improvisation; and it has also been more open to modern or contemporary classical music and collaborations with European folk and ethnic-musicians.
After making his name as a quartet leader with iconic avant-garde albums including his second release "Afric Pepperbird" in 1970, Jan Garbarek is now better known for his smooth or sometimes even "new age" jazz on ECM; he is certainly a sound explorer noted for his many collaborations with non-jazz players, like the a cappella quartet, Hilliard Ensemble, and his current group on tour which features Trilok Gurta, originally from Mumbai, who is keen on fusing Indian percussion with jazz and rock.
Besides Gurta on percussion and tabla, the regular members of Garbarek's group include his longtime collaborator, the pianist Rainer Bruninghaus from Germany, and Brazilian Yuri Daniel on bass. From his avant-garde origins to his current quartet, there has always been a curious exoticism to Garbarek's musical projects and this one is no exception. His motto is "We make good music sound better—at least we try…" and when stellar musicians have such a modest goal in mind, it must be worth a listen.
Jan Garbarek on tour in Europe in March-April-May 2020
March 17, Tuesday—Victoria Hall, Genf, Switzerland
March 18, Wednesday—KKL, Lucerne, Switzerland
March 20, Friday—Forum Karlin, Prague, Czech Republic
April, 4, Saturday—Transition Festival, Utrecht, Netherlands
May 6, Wednesday—Jazzfest, Trondheim, Norway
May 7, Thursday—JazzOpen, Bodo, Norway
May 9, Saturday—Telekom Forum, Bonn, Germany
Artist website:  Jan Garbarek
Senior writer: Tony Ozuna
Photo credits: © Guri Dahl/ECM Records – and (c) info: all rights go to original recording artist/owner/photographer(s).
Last modified: March 2, 2020