As one of the jazz worlds most iconic figures, Thelonious Monk needs no introduction. Largely self-taught, Monks unique style and persona cemented his position in the jazz lexicon bring to the world classic albums for labels such as Blue Note (1947-1952), Prestige (1952-1954), Riverside (1955-1961) and Columbia (1962-1968). By the mid-1970s Monk had disappeared from the scene and made only a small number of appearances during the final decade of his life. Thelonious Monk died of a stroke in 1982 leaving us with an unparalleled legacy.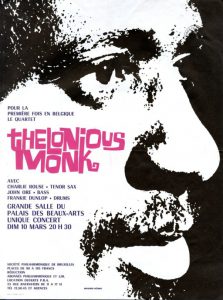 In 1963 Monk was at the top of his game. With his steady quartet of veteran collaborators, he had landed himself a new contract with Columbia and recorded 2 milestone albums for them (Monk's Dream and Criss-Cross). Soon after Monk toured Europe to promote his freshly recorded material and he brought his critically acclaimed line-up with him: Charlie Rouse on saxophone, John Ore on double bass, and Frankie Dunlop on drums.
Last week, Tidal Waves Music in association with the VRT (Flemish Radio and Television organization) and Bozar (Centre for Fine Arts Brussels) announced the release of "Palais Des Beaux-Arts 1963" consisting of unearthed Belgian concert recordings from that era to be released as a deluxe 180g vinyl edition (strictly limited to 2000 copies worldwide) with obi strip. Also included is an exact reproduction of the original concert poster from 1963 released exclusively for Record Store Day 2020 and available in participating stores worldwide on April 18.
The show consisted of 2 parts both were recorded by the national Belgian broadcast company BRT/RTB who had the best recording-equipment on the market at the time. The set unearthed here (the BRT recordings part) consists of tracks from the Columbia albums which have now become omnipresent Jazz standards.
Monk took the stage in his unique style with a grey wool Papakha as his hat choice. At that point unseen for the attending crowd…the showman shuffled across the stage, waving his arms as if he was about to lift off. He would take the crowd on a ride they would never forget. It was the first time Thelonious Monk played the prestigious Palais des Beaux-Arts venue in Brussels to an enthusiastic crowd of Belgian Jazz fans. Full house! The quartet delivers their set with true tight mastership (mixed with Monk's trademark improvisational avant-garde flair) and leaving room for a jaw-dropping minute long drum solo mid-set. All this and as an encore, the famous Monk solo rendition of the classic song Just a Gigolo make this a must-have for any self-respecting Jazz aficionado.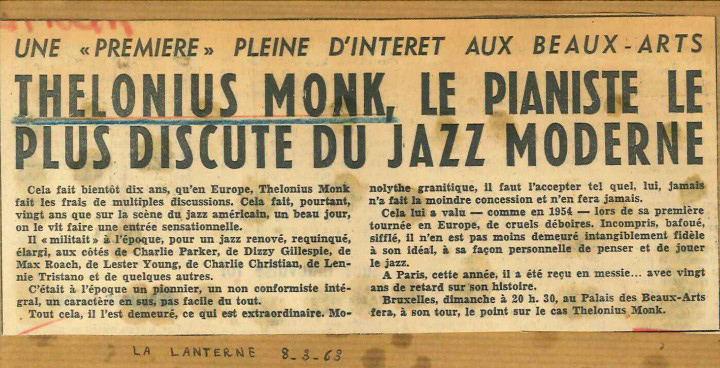 For the concert, the quartet was paid $1,600, the equivalent of 79,787 Belgium Francs (in today's money this is equivalent to +/- €16,000 Euros). Not bad when you think that, in the same period, a string quartet would have earned about 12,000 Belgium Francs, as much as the conductor of the Belgian National Orchestra for a concert in that same period.
This release is the product of ongoing labour of love from a dedicated professional team of archivists and musical technicians who have spent 10 years carefully restoring and cleaning decades of Belgian audiovisual culture, bringing these audio-gems from their vaults in Brussels into the digital world and preserving them for future generations.
Tidal Waves Music now proudly presents the FIRST ever vinyl release (these recordings were never issued on ANY format before) of Thelonious Monk 'Palais Des Beaux-Arts 1963'. This unique piece of musical history is a collaboration between the Tidal Waves Music label, the VRT and Bozar with the full approval of the Thelonious Monk Estate.
Release Date: June 20,  2020
Format: LP
Label: Tidal Waves Music
Last modified: April 26, 2020