Gig Review: Kim Cypher 'For My Mum' Charity concert with special guest Ray Gelato at Pizza Express, Soho, London.
Monday night in London. Miserable, grey weather. An empty Chinatown and many homeless people shivering and asking for money and some kindness. At a time when the world seems more than a little confusing and dark and where every day the news brings us something else to contemplate and worry about, Kim Cypher brings us the sparkle, joy and love we all need. She is the perfect medicine.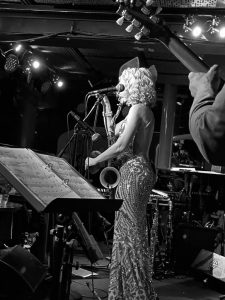 In memory of her Mum, this event 'For My Mum' at the Pizza Express, Soho, was to raise money for the Brain Tumour Charity and to celebrate loved ones. Tickets were sold out and the venue was absolutely packed. At the time of writing this article, £2531.50 had been raised. People came from all over the UK and there was even a 'fun bus' travelling from Kim's hometown full of excitable fans and supporters. We say music is like medicine and on this cold and miserable night, Kim Cypher was the best medication you could ask for. The energy that came from the audience was really something to behold and never wavered. Everyone was there to support Kim and have an amazing night of fun, laughter and great music – and that is exactly what we did.
Although I am very familiar with Kim's work, this was my first time seeing her live. I had high expectations, to be honest, and they were not only met but exceeded. She started the night off with, in her words 'a cheeky little number' Makin Whoopee which eased us in beautifully. The setlist for the evening was a masterful selection of Jazz standards and original compositions all perfectly timed to allow the night to progress into some absolute fireworks by the second set. Some highlights include a wonderful piece by Kim's guitarist Chris Cobson called 'A Time to Reflect, A Time to forget' (you can see why Courtney Pine is a fan) and a beautifully emotional debut performance of Kim's new song 'All For You'.
Kim's musicians were incredible and the chemistry they all had on stage was captivating. Kim's special guest Ray Gelato added a fabulous extra sparkle to the evening with a few songs and some incredible solos. The brass section was dynamic and full of energy and almost blow the roof off. Kim brings so many elements to her performance that few achieve. She is genuine and truly cares about her audience and wants them to be part of what she is feeling – and we do. Her artistry is infectious, and it is abundantly clear why she has been kicking up the best type of storm across the UK.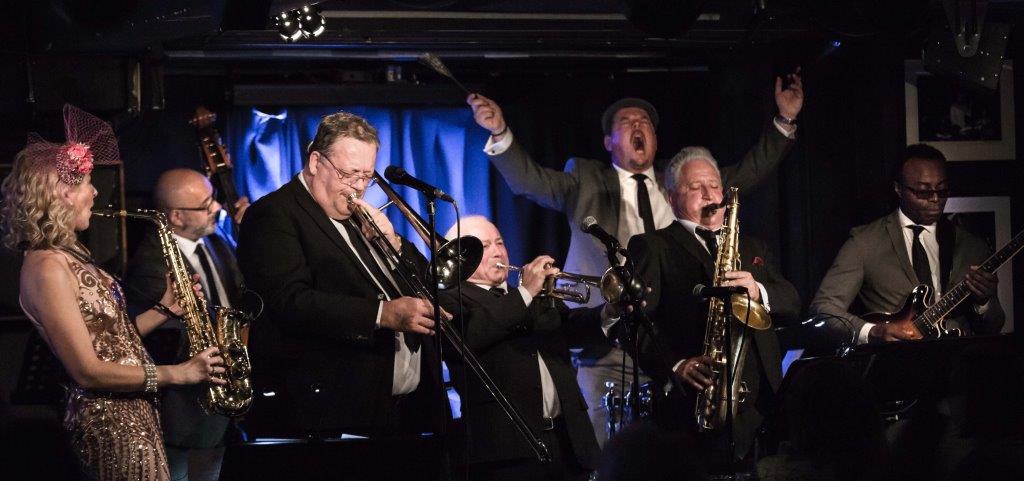 Kim has also just last week, released her new video for her song 'All for You' which was inspired by her mum. Kim says the song 'reflects how I live my life without my mum but also with my mum very much by my side inspiring all I do. The video has been created for anyone inspired by a loved one and it's also a great celebration of women's achievements ahead of International Women's Day, on Sunday 8th March – the song is inspired by a woman, written and performed by a woman, with a video created by a woman'
On the way home from the gig, a lovely woman came up to me on the tube and said 'you were just at that gig in Soho, weren't you? Wasn't that Kim just fabulous?'.
Yes, she was!
For updates on the fundraising or to donate: Kim Cypher for Mum
Artist website: Kim Cypher
YT Channel: Kim Cypher
Lineup:
Kim Cypher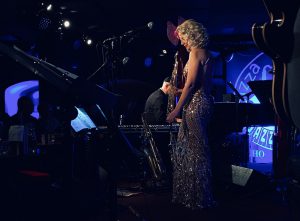 (vocals and sax)
Chris Cobson (guitar)
Anders Olinder (organ/Piano)
Mike Green (Bass)
Mike Cypher (Drums)
Ian Bateman (Trombone)
Enrico Tomasso (trumpet)
Special Guest Ray Gelato (vocals and sax)
Senior Writer: Fiona Ross
Photo credits: Fiona Ross and Ron Milsom
Last modified: March 18, 2020