Miles Davis replaced contra-bassist Ron Carter with the bassist Dave Holland in 1968; with this shift, and with Chick Corea on electric piano replacing Herbie Hancock, Miles effectively ended his "second great quintet," which had included Carter, Wayne Shorter on saxophone, Herbie Hancock on piano, and Tony Williams on drums.
But his new five-piece group was necessary for Miles to take his music to another level, space or zone unleashing a spacey funk with peaceful meditative lapses side-by-side in spontaneous improvisation beginning with sessions recorded in 1968 as "Files de Kilimanjaro" and "In a Silent Way" (1969).
Miles (born 1926) wanted a new sound, and he sought it out and found it with the addition of the young classically-trained (though die-hard jazz man at heart) English bassist Holland (born 1946, in Wolverhampton), and Corea (southern Italian-American and born 1941) with strong Latin-jazz influences after having played with Mongo Santamaria and Willie Bobo in the early 60s.
Miles was intrigued and inspired by the rise of rock and the hippie culture, new music for the youth. With his new sound, he was aspiring to meet (on musical terms) the best of that era, including the Jimi Hendrix Experience, i.e. his English group with drummer Mitch Mitchell and bassist Noel Redding.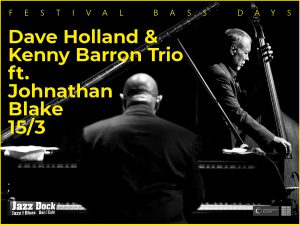 Miles' experimentation also paralleled the best fusion groups of the era, namely Sly & the Family Stone, and Carlos Santana. This phase culminated with the pioneering jazz-funk-rock fusion recording "Bitches Brew" in 1969, with Holland switching to electric bass, by this point. Then he was replaced.
Since then Dave Holland has led or co-led groups mostly for ECM Records and across the spectrum of jazz from avant-garde to jazz-rock fusion and sometimes mainstream. Possibly his interest most recently in traditional jazz units could even be connected to his significant earliest period with Miles.
In an interview from a decade ago, discussing the 40th anniversary of "Bitches Brew," Holland once said "I remember Miles' older friends, in the Village Vanguard's dressing room, telling him that he was destroying jazz. They were really hard on him, and I finally had to leave because I couldn't listen to it."
So Holland's musical project with pianist Kenny Barron (born 1943) could be one way of his coming to terms with that night, after all, Barron is considered a jazz master strictly associated with modern jazz–he started with Dizzy Gillespie (just as Miles did) then after moved on to groups with Stan Getz, Yusef Lateef and Freddy Hubbard. In 2014 he collaborated with Dave Holland for a series of duo concerts, after the release of their album, a mix of standards and originals "The Art of Conversation" on Impulse.
For their current tour in Europe, they are joined by drummer Jonathan Blake, since he also recently joined them to record a trio album set to be released in early 2020. Otherwise, Blake also plays with the Tom Harrell Quintet and The Mingus Big Band bringing a younger touch to the masters on his side.
Dave Holland & Kenny Barron Trio will be playing an intimate concert at Jazz Dock in Prague, Sunday, March 15th.
Artist website: Dave Holland
Senior writer: Tony Ozuna
Photo credits: Courtesy of Artist, venue – and (c) info: all rights go to original recording artist/owner/photographer(s).
Last modified: February 24, 2020