October 2019 saw the release of Spyro Gyra's first album of new material in six years. Once again, they have upset expectations by recording an album of all cover songs. In a nod to drawing heavily from their earlier pop and rock influences, it's called Vinyl Tap. The album no doubt upset some expectations from fans looking for a collection of romantic favourites by a contemporary jazz artist. The album includes some surprises, like a Latin big band approach to Cream's "Sunshine Of Your Love", a stunning arrangement of Blind Faith's "Can't Find My Way Home" and a slowed down, bluesy version of Squeeze's "Tempted". In December last year, Darrell Craig Harris sat down with Jay Beckenstein to discuss the album and a great deal more.
Darrell Craig Harris: Hello Jay, I've been looking forward to speaking with you. Spyro Gyra is the group you're of course so closely associated with and has such a long history, I'm going to be asking about the beginnings, the milestones, and recent albums. We will try to cover a little bit of everything. The group is known as coming from Buffalo, New York, is that where you're originally from?
Jay Beckenstein: No, I was actually born in Brooklyn, New York. I moved to Germany with my family and then came back to Buffalo to go to college and remained there for ten years.
DCH: How long were you in Germany for?
JB: Just a couple of years. I graduated high school from a military dependent school in 1969 in Nuremberg. We went over there in 1968. I was a Jewish kid in Germany when there were still people alive that had participated in horrible things. I was a military dependent, and I went to a military dependent school on an army base in the mists of the Vietnam War. There was a lot of racial tension in the army at that time, I could write a book I, tell ya!
DCH: I know it's a story known to many, but tell me about the origins of Spyro Gyra and how the band first came together?
JB: After I graduated from school, I was joined by my buddy Jeremy Walt who had gone to school in California, but moved to Buffalo, and we found ourself in a nice musical scene.
A friend of mine, a fellow saxophonist, named Phil Dereddie, said he wanted to come up with an answer to the racial divide, that was happening in Buffalo post the Martin Luther Kings assassination, and he felt the best way to do that was through music. So we applied for a federal grant to form what was called the Buffalo Jazz Ensemble, that was 50/50 white and black. We played 50/50 in white areas and in black areas, and we all got a salary which was fantastic, and it definitely expanded my musical horizons. As well as the friendships that were formed playing with the black musicians and also through playing in the black areas. I mean it was good because Buffalo really was a very tense city at the time.
As well as forming the Buffalo Jazz ensemble, we were also doing some R&B work at the time. The night that we had off in common was Tuesday nights, so we wanted to do jam sessions, so that started attracting regular players and a regular band, and we started doing our own material at the jam sessions as well as Weather Report tunes. Over a year or so it became enough of a band that we decided to try to do that more full time.
DCH: How did the unique name Spyro Gyra come about?
JB: As a biology student, I was just looking under the microscope, Spirogyra was a form of blue-green algae and it just sounded funny, but it looks very pretty under a microscope. The story goes that we were in the club room that Tuesday night and the club owner wants to put an advertising sign out and we don't have a name, so the owner said, "If you don't have a name, I will hire a band with a name." so I remembered these little algae Spirogyra and told him and he misspelt it as; Spyro Gyra, and the name stuck! There's so many funny stories, the first tour out we had people showing up expecting bouzouki music! And there would people wanting to know which one of us is Spyro and which one is Gyra! At first, I felt what a dreadful name to get stuck with, but when it came time to put our name on records and get a trademark it was unique, no one else was using it!
DCH: When you guys first started recording under the Spyro Gyra name, you were using a lot of sessions players on the original recordings along with yourself and a few others correct?
JB: That's a really complex part of the whole thing. We had a recording studio outside of Buffalo in Clarence, New York and we bought ten days a month from the guy that owned it.
DCH: This is before you had a record deal?
JB: Yes, before we had anything. I knew this guy Richard, he was a drummer but had been in a bad auto accident and he got a good settlement. He couldn't play the drums anymore, but he decided he wanted to form a production company to produce local artist from Buffalo. I became his business partner. The two of us found this studio that would give us ten days a month, so we started to produce a disco record and a folky record and rockabilly record with all of these different artists and when we had leftover time I would also bring my local band (not studio musicians) into the studio to record our own stuff.
A year goes by and many stories about New York lawyers/investors that didn't pay off, things like that. It turns out that none of our projects really flew, along the way we put together a whole records worth of what was Spyro Gyra. We were pretty much at the end of our financial thing, and the individuals in Spyro Gyra at the time were looking into other opportunities and getting out of Buffalo going to California and New York City. So with our last money, myself and Richard put out the first Spyra Gyra record on our own label out of Buffalo and printed up 500 of them and they sold really fast. We were then able to get an order of a thousand for a local record chain, and they sold out fast as well. So then the guy that owned the record stores, a guy named Lenny Silver came to Richard and me, with a really fantastic offer to buy that record and give us a record contract. He pushed that first record and it ended up selling a hundred thousand copies. It was crazy, and then he even went a step further (with our permission) and sold us to a new record label called Infinity Records. Infinity Records was run by a guy named Ron Alexenberg, and he put out all these records as a big record company with promotion and they weren't selling that well, but that company gave us a budget to make a real big budget record which was when all the New York studio musicians started getting involved.
We went down to New York City and we had this big record company behind us and we made Morning Dance, which was our first really big record! The last thing in the world we imagined was to think that this big record company would make their name on that track and we turned into their number one artist, and suddenly we had this big record companies promotional team and everything else behind that record!
Morning Dance sold over a million copies, but that one did have all those studio musicians on it, we went crazy with production on it! We really enjoyed ourselves making that record, it was so much fun we were kids in a candy shop!
DCH: When you guys were making that first record, who from the original group of Spyro Gyra musicians were playing on it?
JB: Jeremy Wall was playing a lot of keyboards on it and Tom Schuman he was there and is of course still in the band, the drummer was a guy named Tom Walsh, and then also Eli Konnikoff and Jim Kurzdorfer were playing bass.
DCH: When Morning Dance was released there wasn't the genre we now know as smooth jazz, it seems perhaps it was really a pop hit at the time, what's your thoughts on that?
JB: Morning Dance got to number 15 on the pop radio charts. It also got to number one on adult contemporary radio. You know I think of Morning Dance and Shaker Song the one that proceeded it as kind of Brazilianish I guess that's my influences popping out!
DCH: Tell me about your new record, it's a really fun collection unique cover songs that are creatively re-imagined from the original versions.
JB: Yes, the cover thing was always considered forbidden, especially since in the early days we were having so much success with our own writing, and that it was not just about being a band but also about being a writer collective. There were exceptions to that, but after 31/32 records we were really looking for what we could do that was different. So, oddly enough what was different was what was forbidden for all those years. There were rules, it shouldn't be new stuff, it shouldn't be R&Bish as that's been done to death by the smooth jazzers, it should be identifiable but by no means a copy of the original concept for the tune. I mean, I'm happy with it, I think we warped them in fun ways. In the rehearsals, a key question was what can we do to make the chosen tracks different from the originals? We didn't want to just sound like a really good wedding band! We were always tweaking away from what would be expected of us!


Jazz In Europe Magazine – Winter 2020 Edition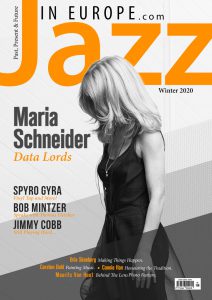 This article is an abridged version of the full interview that appears in the Winter 2020 edition of the Jazz In Europe print magazine.
Also included in this edition are interviews with Carsten Dahl, Bob Mintzer, Bria Skonberg and Connie Han. Scott Thompson speaks with the legendary drummer Jimmy Cobb. Our cover story features Maria Schneider speaking about her up-coming album "Data Lords" and this editions photo feature spotlights Dutch photographer Maurits van Hout.
You can purchase a copy of the magazine here.

Last modified: April 29, 2020