To most jazz aficionados Maria Schneider needs little or no introduction however, for those less familiar with her body of work a short recap of her distinguished career would seem appropriate. During her recording career Maria has released eight albums as a leader and received twelve Grammy® nominations leading to five Grammy® awards. She has been bestowed with many honours from institutions and the media including the Jazz Journalists Association as well as the Downbeat and JazzTimes Critics and Readers Polls.
In 2012, her alma mater, the University of Minnesota, presented Maria with an honorary doctorate. ASCAP awarded her their esteemed Concert Music Award in 2014 and in 2019, the American National Endowment for the Arts granted her the nation's highest honour in jazz, naming her an NEA Jazz Master.
In addition to her work as a composer and performer Maria is a staunch advocate for artist rights and in 2014, testified before the US Congressional Subcommittee on Intellectual Property about digital rights. She has also appeared on CNN, participated in round-tables for the United States Copyright Office, and has been quoted in numerous publications for her views on music streaming platforms, digital rights, and music piracy. This April will see the release of Maria's new album titled "Data Lords" providing more than enough reason to reach out and find out more about the back story.
We started our conversation speaking about the new album and the story behind it's title. Maria explained that since the early 2000s she had been producing her records independently through ArtistShare, it was the early days of the internet revolution within the music industry and although most people still had dial-up modems things were already starting to move. Around this time Maria was approached by her good friend Brian Camelio (founder of ArtistShare) who proposed the idea of releasing her recordings and selling direct to fans, in essence cutting out the middle man. Maria pointed out that due to the large forces involved in her recording projects the albums are very expensive to produce. However, after going through the numbers with Brian she realised that by selling direct to the public she could not only cover the costs of producing the album but also make a profit.
In preparing for this article I had the opportunity to speak with Brian who added "Well Maria and I were good friends even before I started ArtistShare, in-fact she was one of the reasons I started the label. At the time, I was living near the Upper West Side of Manhattan and many of my friends such as Chris Potter, David Binney, Jim Hall and of course Maria were saying how much of a hard time they were having with the industry and labels and I was concerned that these and other great musicians might no longer have the opportunity to record the projects they wanted to do. This is the main reason why I came up with the ArtistShare model." He continued "Basically the fans pay for the recordings up-front, we cut out the middle man and we give the fans full access to the creative experience. Maria was actually my first client and although she was sceptical at first, once we had gone through the numbers she agreed and that's how we started to work together."
Around 2003, Maria started releasing her work through Artist Share and as things turned out Maria was indeed able to fund her projects and make a substantial profit to boot. "I thought, Oh my God, the internet is going to be the most amazing age for creativity allowing all musicians to do their projects and find their niche audience and here's the big one – you get to know who your fans are. I learned this from Brian. If you know who your fans are you can connect with them and build your fan-base and this is just so important. When you know who your fans are when you have a new project you can write to them and get them involved right from the start."
While fan-funded projects are common these days and many artists have funded projects on platforms such as Kickstarter, back in 2001 this was not at all the case. I think it's worth pointing out that ArtistShare is widely recognized as the Internet's first "fan-funding" platform pre-dating the other crowdfunding websites such as Kickstarter and IndieGoGo. Since it's inception ArtistShare projects have received countless awards including 30 Grammy® nominations and 10 Grammy® award wins. I also think it's important to note that ArtistShare is far more than just a crowdfunding platform, it's a fully-fledged label that is far more holistic in it's approach, working with the artist from the beginning of the project through to production, distribution, sales and marketing.
Returning to the subject at hand, Maria went on to say "Two years later YouTube was launched and I remember someone sent me a link to a Thad Jones video. I noticed that someone had just uploaded the video and wondered who would have cleared the rights to this. I've always been very conscious about copyright and patent rights, my father was an inventor so I know what it means to make something unique and hopefully benefit financially from it. So, all of a sudden I saw all these rights being violated and in the beginning I didn't think it would have a huge effect on me as a musician but, then I started to see my music popping up all over the place for free. As I said, In the beginning it didn't feel it would have that much impact, my second album was out, I'd just won my first Grammy® and my albums were still selling quite well. Then a year or so later I started to notice a big drop-off. The thing that really upset me the most was on YouTube anybody can upload your music and they don't even ask the up-loader if they have the rights to do this. This is crazy, and even worse if the artist requests for it to be taken down, as the owner you have to swear under penalty of perjury that you are the rightful owner. It's the world up side down."
Over the years Maria has immersed herself in the subject, specifically advocating for the rights of creators but also looking at issues concerned with user privacy and the usage by large tech companies of the data they collect from their users. Maria has been very outspoken about these issues and I urge readers to take a look at her blog posts published on her website www.mariaschneider.com. To say that she has ruffled a few feathers is an understatement, Maria shared that after the release of one of her blog posts titled "Like a Wood Chipper on Steroids – How YouTube Strips the Metadata of Creators" she suddenly found that her google search ranking had all but disappeared overnight. Over time Maria started calling these large Tech Companies Data Lords and this term became the title of a piece commissioned by the United States Library of Congress in 2016.
It was Maria's original concept to do the new album around this theme. "Music mirrors life, or at least it does for me and, this is where my life is at the moment" stated Maria. She went on to say "All this started coming out in my writing. Of course there's Data Lords but I've also written a piece called Sputnik that's inspired by the new space race, not by governments but the corporations who are launching satellites that are constantly collecting god knows what data on us. I'd also written another piece called "Don't Be Evil", this was Google's motto for years!"
While Maria was writing these pieces she also found inspiration from other non-tech related sources. She relayed the story of meeting a potter by the name of Jack Troy and discovering a piece he had created. "It was like an orb with a stone inside. I looked at this thing and said – what is that? He replied "pick it up and shake it", so I did and you could hear this little stone rolling around inside of it. He told me the piece is called Ishino Sasayaki and means the "Song Inside the Stone". I bought this piece from him, put it on my piano at home and out came this piece called "Stone Song". It's a very whimsical piece. I'd also written a piece inspired by a Japanese Zen Garden I once visited titled Sanzenin. Also, some time ago I'd written music for a project with soprano Dawn Upshaw. The project was based on the poetry of Ted Kooser. One of those pieces was on my last album and I've re-arranged two more of these for this album.
I had all this material to draw from and it was all so disparate that I didn't know what to do with it, how to tie all this together. A friend of mine I met through ArtistShare suggested I do two albums and then I thought – wait a minute! What this album is really about is the polarity of our lives. The polarity of being sucked in by the Data Lords and losing the connection with each other." Tying this all together, Maria explained that she decided to do a double album that is, in fact, two separate albums that represent this polarity.


Jazz In Europe Magazine – Winter 2020 Edition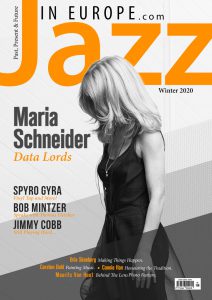 This article is an abridged version of the full interview that appears in the Winter 2020 edition of the Jazz In Europe print magazine.
Also included in this edition are interviews with Carsten Dahl, Bob Mintzer, Bria Skonberg and Connie Han. Scott Thompson speaks with the legendary drummer Jimmy Cobb. Darrell Craig Harris interviews Jay Beckenstein from Spyro Gyra and this editions photo feature spotlights Dutch photographer Maurits van Hout.
You can purchase a copy of the magazine here.

Last modified: April 29, 2020