Los Angeles based pianist Connie Han debuted in 2018 with her album "Crime Zone". The album garnered rave reviews from almost all major jazz media outlets including this fine publication. The New York Times describes her as "a rare musician with fearsome technical chops, a breadth of historical knowledge and enough originality to write tunes that absorb your ear easily." In 2019, Han became an accredited Steinway Artist, joining an exquisite circle of renowned artists such as McCoy Tyner, Art Tatum, Kenny Barron, and Duke Ellington. With her new album scheduled for release later in the year we thought it more than time to catch up.
Connie's introduction to music came at a young age after being introduced to the piano by her parents. "At such a young age you don't have the maturity to realize the value of what music can add to your life but thankfully my parents did." said Connie. As it turned out, she had a natural knack for the instrument and as she reached her teen years began to appreciate music more and more. "As I got older, I gravitated toward music that had a real creative process behind it. I began listening to a lot of Prog Rock and while that kind of music has nothing to do with the music I'm playing now it did function as a gateway drug to discover the great vintage records released by Blue Note in the 1950s and 1960s."
Around the time Connie had immersed herself into the Blue Note repertoire she had started high school however this was not your run of the mill secondary school, Connie attended the Los Angeles County High School for the Arts, a school that offered programs combining academic instruction and conservatory-style training in the visual and performing arts fields. Connie was originally admitted to the classical piano program but quickly realized she wanted to focus on jazz. "This school was a big turning point in my life. I was admitted to the Classical program and while I enjoyed it I was never really satisfied, I was always drawn to Jazz. At the time the Jazz department was super competitive for high school. I fought my way through and almost begged the teachers to let me into their class and while at the time, I didn't know it, I was a hard worker and if I wanted to do something I was going to do it. I remember in the beginning a lot of the teachers just thought – here's another classical pianist who thinks she can dabble in jazz and just play random shit on a blues. When they realized I was absolutely committed to learning the craft they finally let me into the program.
This move to the Jazz Department turned out to be fortuitous, not only from an educational perspective, however it was through this program that Connie met drummer and producer Bill Wysaske who would go on to play a prominent roll in her career.
While still in High School Connie honed her skills as a jazz pianist, developing her own voice that she describes as being "hard-hitting tradition with her own insistence to be modern". Speaking about those musicians that influenced her in these early days, Connie went on to say. "I was hipped to a recording by Kenny Kirkland on his self titled album called "Chance". It was burning, there is no other guy around that plays with that kind of strength, sheer power and focus. Well, there are guys, of course, take for instance McCoy Tyner or Chick Correa. Kenny is not as refined as Chick Correa and I feel that he's more angular than Chick and less modal than McCoy, He's just so unique. It may sound weird saying all this but, back when I was 14 I heard all this but didn't know what it was. All I could say was, Oh My God – This is what I want to be when I grow up! He has this way of digging so deep into the keys with every single note he plays."
When you listen to Connie play you can definitely hear the influence of Kenny Kirkland in her playing. I think subliminally this is one of the factors that drew me to listen to Connie's debut album in one sitting, something that occurs rarely these days! As a side note, there is a great recording of Connie and her trio playing "Chance" on YouTube, a quick Google search will get you there if interested.
As I mentioned above, there is without a doubt a touch of Kenny Kirkland in Connie's playing however in my mind she has developed her own voice. I asked her if creating her own voice was something she was conscious about or if it was something more organic. "I think to a degree it just happened and I'm still developing. To be honest if you hear me play today I don't think I sound anything like I did even on Crime Zone. I think I now have more maturity in my playing. You know, when Crime Zone came out I got some comments by reviewers that said I didn't sound like anyone else and they meant it as a criticism!"
Connie went on to explain that although it's important to develop your own voice there was a time when she wasn't at all focused on her development as an artist but purely focused on the technical aspects of being the "best jazz pianist that I can be". She went on to say "I think there needs to be that period in every serious musicians life, I mean, don't worry about sounding like yourself if you haven't done your homework!" With this, I have to agree.


Jazz In Europe Magazine – Winter 2020 Edition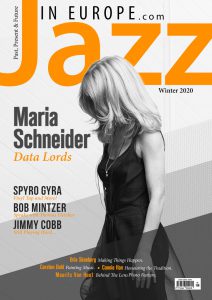 This article is an abridged version of the full interview that appears in the Winter 2020 edition of the Jazz In Europe print magazine.
Also included in this edition are interviews with Carsten Dahl, Bob Mintzer, Bria Skonberg and Spyro Gyra. Scott Thompson speaks with the legendary drummer Jimmy Cobb. Our cover story features Maria Schneider speaking about her up-coming album "Data Lords" and this editions photo feature spotlights Dutch photographer Maurits van Hout.
You can purchase a copy of the magazine here.

Last modified: April 29, 2020