Carsten Dahl is one of the most impressive European Jazz pianists around today. During his career, Carsten has appeared on over 250 recordings and produced 30 albums of his own. With his latest album recently released and simply titled "Painting Music" Erminia Yardley spoke with Carsten to find out more about the fantastical world of Carsten Dahl.
Erminia Yardley: First of all, let's have you introduce yourself to the Jazz in Europe readers.
Carsten Dahl: I was born in Copenhagen in 1967. I am first and foremost an aesthetic mystic, thinker. As a creative artist, I like to think of myself as an unusually diligent and effective modern renaissance person.
For me, my art whether on canvas, the piano, as a composer or as a poet is a constant study of psychological human and religious issues and perhaps especially, the dilemmas of the artistic inner necessity. My work is, without exception, based on a targeted search to understand, distinguish and create a balance between freedom on the one hand and deep commitment on the other. This is reflected in my approach to the religious and, my deep desire to release the personal into a kind of necessary universality while at the same time maintaining humble respect for the existence and craftsmanship.
My pictures vary from the almost golden age of painting yet set in a modern context to specifically complex abstractions. A bit like my pianistic improvisations. As a pianist, my work is often referred to as "the master of light" even though my improvisations equally contain the chaotic and darkened. They very often emanate from that space. The same can be said very aptly about my landscape paintings that exude mysticism, personal abandonment and a modern yet old-fashioned quest for the light.
The paintings come across as dark and devoid of humans but always with a distinctive light in the composition. I believe in a unique way they tell the dramatic story of the universal nature, the loneliness of the abandoned man and the longing for deliverance. A timeless scenario.
EY: When did you get into music?
CD: I began playing the drums at the age of 9. By 12, I was already working professionally as a drummer/studio musician and at 18 I entered the Rhythmic Music Conservatory here in Copenhagen. After two years of lessons with legendary jazz drummers Ed Thigpen and Alex Riel, I put the drums aside in favour of the piano (an instrument I had never been taught.) and applied again to the Conservatory. As a pianist, I am greatly influenced by Jørgen Nielsen and later, Butch Lacy who had a significant impact on my musical identity both as a mentor, icon and spiritual teacher.
EY: Can you tell us a little about your journey in music.
CD: After an incredible array of collaborations in the 1990s, in 2007 I became associated with the modern classical group "Ensemble Midvest" as artistic consultant. My goal was to get the ensemble to work with free improvisation. Among the many projects we worked on together was music for Fritz Lang's classic silent film "Metropolis" and Charlie Chaplin's "City Lights".
I have also worked for several years on Bach's Goldberg Variations that I arranged for prepared piano, and released in October 2014. In 2011 I had a 5-year term as professor of contemporary music at the Rhythmic Music Conservatory in Copenhagen. I also work as an ambassador for the Mental Health Fund. Based on my own experiences, I regularly give talks about anxiety depressions coupled with solo piano concerts.
Solo piano pieces are very important to me: they are a format where I find the greatest potential to work with space and time and, to create music that relates to the moment. For my two solo albums, I received the DMA Jazz Prize for Best Recording 2004 and 2011. I took inspiration from both classical pianist Glenn Gould and jazz pianists like Keith Jarrett, Bill Evans, Cecil Taylor and Bud Powell, I love cultivating improvisation in extreme situations. In my music, there are also clear influences from contemporary music and folk music from different regions of the world. My approach to jazz is uncompromising: I wanted to create music that transcends boundaries and explores new territories. In 2011, I even returned to my drumming roots with The Crazy Constellation Trio, featuring Hugo Rasmussen on bass and Søren Kristiansen on piano.
EY: Tell me about your time at the Copenhagen Conservatory.
CD: From 1992-1997 I worked as associated professor at Vestjydsk Music Conservatory tasked with building up the educational programmes in the contemporary music department. 1997-1999 I was an associate professor teaching piano and leading combos at the Danish Rhythmic Conservatory in Copenhagen. Later I worked there as a professor leading the soloists and composers during the 2-year specialised master for soloists, this was between 2012-2015. I was specialising in new trans-formative pedagogical processes in order to develop the students' artistic signature related to the present time we live in. However, my spiritual and highly religious approach to understanding what art really is, caused certain conflicts with the general idea of the schools programmes, a fundamental issue for me. Consequently, I had to resign and I never went back to teach a single lesson, even though I think there is still great talent there.
EY: What or who sparked the piano attraction?
CD: Well, as I said before, I started out as a drummer from the age of 9 and when I was 12 years old I was already working as a professional musician, doing studio recordings and so forth. My parents had a piece of furniture that looked like a piano and between the ages of 6 to 8, I would sit there placing a mirror alongside and mime the solo parts of the piano concertos of Beethoven and Mozart. This rhythmic and emotional imitation was so lively that I actually thought that I was playing the part. Then at age 15, I was sent to a boarding school and that was the first time that I played on a real piano. I could play the piano immediately because I remembered the imitations from my childhood. I have never received one piano lesson in my entire life.


Jazz In Europe Magazine – Winter 2020 Edition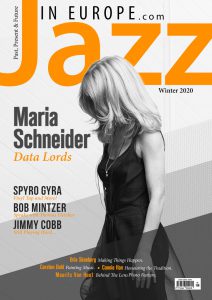 This article is an abridged version of the full interview that appears in the Winter 2020 edition of the Jazz In Europe print magazine.
Also included in this edition are interviews with Maria Schneider, Bob Mintzer, Bria Skonberg and Connie Han. Scott Thompson speaks with the legendary drummer Jimmy Cobb. Darrell Craig Harris interviews Jay Beckenstein from Spyro Gyra and this editions photo feature spotlights Dutch photographer Maurits van Hout.
You can purchase a copy of the magazine here.

Last modified: April 29, 2020