As a saxophonist and arranger myself, it was a true honour to interview Bob Mintzer, a musician who I've admired ever since I began playing the saxophone. Having written well over two-hundred big band arrangements and recording close to 30 solo projects, Bob certainly shows no sign of slowing down. Currently, Bob is a member of the Grammy® award-winning Yellowjackets, chief conductor of the WDR Big Band as well as holding the Buzz McCoy endowed chair of jazz studies at the University of Southern California.
Thomas Fletcher: Would you like to start by introducing our audience to the WDR Big Band?
Bob Mintzer: I am currently the chief conductor of the WDR Big Band in Cologne, Germany. The WDR Big Band is a full-time big band that does productions quite varied in nature and works with a multitude of guest soloists/composers, conductors, very much in the manner that a symphony orchestra does. Recent productions I have been involved with include Mike Manieri, Ricky Peterson, Dave Stryker, The Yellowjackets, and Knower. Vince Mendoza is the "composer in residence" at the WDR, and he and I share the duties along with a stable of other fine arranger/conductors.
TF: How did you become the chief conductor of the band?
BM: I started working with the WDR Big Band in the late '80s. I know the band well, and they know my writing and playing. In 2014 the band offered me the chief conductor position. At that time, I was unable to accept the position as it stood, as I was quite busy with teaching and performing. Hence, we worked out an arrangement whereby I would do roughly half of what the chief conductor might do and Vince Mendoza would do the other half. I think this arrangement has worked out quite well.
TF: When writing for the band what do you consider?
BM: It is an incredible gift to have such a great band at your disposal and the wherewithal to partake in projects you have always dreamed of doing. The band can play anything you put in front of them and that makes for a wide-open palate as far as developing projects and trying new things.
TF: How would it contrast (or maybe it doesn't) from writing for the Yellowjackets?
BM: One project I've always had in the back of my mind was to bring the Yellowjackets to the WDR. We actually did this project back in the mid '90s, but I was excited to revisit the pairing based on how the band plays now. We recorded our next CD with the big band, and it turned out really great. It all fitted together very nicely as I knew it would.
TF: I listened to your composition/arrangement "Havin' Some Fun", which may I point out from an arranger's point of view is a masterpiece in using the band to its full capability. Was this specifically written for the WDR Big Band?
BM: This was one of the songs on the DMP CD I did in 2000 called "Homage to Count Basie" which went on to win a Grammy® for best large jazz ensemble recording in 2001. We may have performed it with the WDR. The Basie band music and feeling is so positive and uplifting. I tried to write in that spirit with "Havin Some Fun". The music always makes you smile.
TF: What's your approach to composition and arranging with the WDR Big Band?
BM: I'm seemingly always writing for something, be it the next WDR project, the next Yellowjackets project, or a big band project of my own. Nestled in between these vehicles have been a few orchestral pieces, and a concert band tenor saxophone feature. Much of what I write serves as a vehicle for the way I would like to play. That is the beauty of being a performer/composer. You can write yourself into the picture in a desired way. As far as ideas for subsequent compositions, I sometimes imagine or hear a particular musical scenario, and then try to recreate it on paper. I'm generally thinking about one or more ensembles that I work with and write for in the process, particularly what the individual players play like. There is a little Yellowjackets band in my head at all times. Same with the WDR or my own big band. I always try to write for the players at hand. I also do a lot of listening to all kinds of music for inspiration.
TF: How did it all start out for you as a composer/arranger?
BM: I've always tried to write music, even from a very early age. The puzzle-like nature of assembling a musical composition was so interesting to me from the beginning. In the process of trying to learn songs off the radio, television, or recordings by ear I would inevitably start to change things around and at some point, diverged from the song I was learning into a new song of sorts. I think the process of doing this transcribing gave me the start of a vocabulary as far as being a composer/arranger.
TF: Who were you influenced by and why?
BM: My major influences as far as writing and playing were and are quite varied. Classical music, R&B, Motown, Jazz, Afro Cuban music, and rock and roll are all in the mix. Growing up in NYC I was exposed to and had the opportunity to play all these types of music. Their respective sounds went into my musical computer, so when I started writing, all these genres were evident.
TF: When and why did you start writing big band repertoire?
BM: I initially wrote for a small band and then expanded to writing for three horns with rhythm section. I wrote my first big band pieces while in the Buddy Rich Band. This was an incredible opportunity, where I was able to write for a great band and hear my work on a nightly basis, both the good and bad. I think each subsequent piece I wrote had a little more craftsmanship present. There is nothing better than having your writing played by good musicians on a regular basis.


Jazz In Europe Magazine – Winter 2020 Edition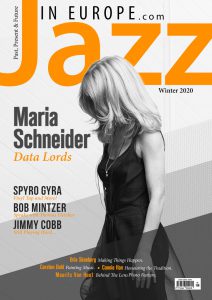 This article is an abridged version of the full interview that appears in the Winter 2020 edition of the Jazz In Europe print magazine.
Also included in this edition are interviews with Maria Schneider, Carsten Dahl, Bria Skonberg and Connie Han. Scott Thompson speaks with the legendary drummer Jimmy Cobb. Darrell Craig Harris interviews Jay Beckenstein from Spyro Gyra and this editions photo feature spotlights Dutch photographer Maurits van Hout.
You can purchase a copy of the magazine here.

Last modified: April 29, 2020