Kenney Polson is a Jazz saxophonist,  accomplished composer and educator. Based in the Pacific Northwest, he has lived and performed in over 50 countries. Known widely as a smooth jazz artist, his seasoned musical style incorporates Latin, classical, New Age, rhythm & blues, funk and gospel influences. – resting on a firm foundation of straight-ahead jazz. 
Interview:
Let's help lovers of Jazz in Europe get to know a little about you – When did jazz music first matter to you as a listener and an aspiring player?
I began listening to jazz one summer when I was about to enter Junior high school. We (my family and I) had just moved from San Diego, California to Bakersfield, California. My brother and I used to visit at least one of my two Uncles every summer. One lived in Los Angeles (Uncle Charles) and the other (Uncle Wayne) lived in Oakland. Uncle Wayne introduced me to the music of John Coltrane and Cannonball Adderley. And, a few weeks later Uncle Charles introduced me to the music of Miles Davis.
When I started to learn how to play the saxophone that school year, I realized how significant the introduction to jazz turned out to be. Listening to Jazz turned out to be a very big deal for me. I even tried to share my new found passion with my friends.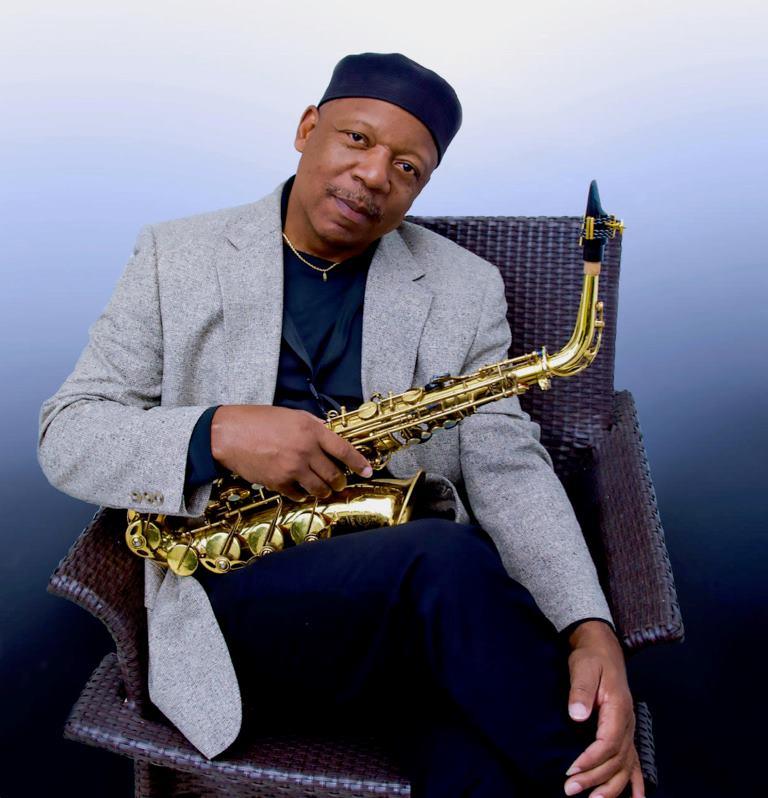 Did you have a musical family and education?
I do come from a very musical family. Our roots are in Kansas City, where I was born. My Grandfather (mother's father) was a singer, dancer, emcee, and he also played a little piano. He required all 5 of his kids (my mom, aunt, and uncles) to learn piano, and they also sang! A couple of my family members were quite successful in music. Grandfather sang, danced, and emceed for Count Basie, Andy Kirk, Julia Lee, Baby Lovett, and Jay McShann. Uncle Charles sang with the Coasters. I was encouraged by all of my family members to take the music to my generation and beyond.
Grandfather really pushed education. He wanted all of us (my three siblings included) to go to college and get a good education, so we could elevate our quality of life.  I took his encouragement and teaching to the highest level I could. As a result, I have earned an Associate of Arts Degree (Music) – Fresno City College, a Bachelor of Arts Degre (Music Education) – California State University Fresno, a Master of Music Degree (Jazz Composition) – Howard University, an Education Specialist Degree (Education Administration) – Lewis & Clark College.
I understand that you've appeared several times on US TV playing along-side and with some well-known artist – tell us a little about this.
Every year there is a tradition in Washington DC, where the President of the United States gives awards for the Arts. It's a really big deal and it is televised and shown on the biggest network television. It is held at The John F. Kennedy Center for the Arts. That year President Clinton (and family) and Vice President Al Gore (and family) were in attendance and the jazz award was given to Benny Carter. Traditionally, there is a performance with special artists performing the music of the recipient. The special artists that year were Jimmy Heath, David Sanborn, Phil Woods, Kenny Burrell, and Wynton Marsalis. I was fortunate to be in the backing band. The rehearsals leading up to the performance were a lot of fun and it was a wonderful meeting and hanging out with the cats for two days!
Who are your musical and/or saxophone heroes, both on the West Coast and elsewhere?
Although my music is smooth jazz, I prefer to listen to modern jazz, hard bop, straight ahead. My true saxophone heroes have unfortunately transcended to the next level. It's a very short list but I can't put it in an order of preference:
Julian 'Cannonball' Adderley, John Coltrane. Dexter Gordon and James Moody. Every one of these guys had their own sound, they only need to play three notes and you knew who it was!
I was very blessed to have James Moody as a personal friend. He was very nice to me and we would talk about a whole lot of things besides music. He was extremely intelligent and had more skills than many people knew about. For example, Moody could sing two notes at a time. I have never met anyone before or since who could do that.
Your 2019 album "For Lovers Only" has reached high in the charts – tell us what inspired the album and who's playing on the album?
I wanted to do something that everyone could relate to. Then, as I thought about it, everyone needs or wants to be loved. I can't think of anyone who doesn't want some kind of love in their life. So, I put the selections together with that concept. After doing so I got with my advisor Dr Don Mizell and gave him the tunes and I asked him to help me come up with a title that fits the music and the concept. We put our heads together and came up with the title "For Lovers Only." There are two ways to approach the title, one could say the title is excluding those who are not lovers or not in love. However, when given a serious thought everyone loves something or at least themselves, so no one is excluded!
The music is a blend of Rhythm & Blues and Smooth Jazz. I called in favours from my musician friends and was able to get them involved. The list is extensive and I hope I don't forget anyone:
Marlon McClain (Pleasure)
Bruce Conte (Tower of Power)
D'Lavance (The Isley Brothers)
Michael Henderson (Stevie Wonder, Miles Davis)
Fred Wesley (James Brown, Parliament-Funkadelic)
Roger Smith (Tower of Power)
Tom Grant (Smooth Jazz Pioneer)
Phil Upchurch (Donny Hathaway, George Benson)
Larry Gittens (Kool & The Gang)
Your performing at the end of Jan 2020 in the Marseille concert series in France, share with us about this…
The Marseille Concert is at Le Jam Marseille. There is a jazz group from France called Mezcal Jazz Unit and we are collaborating to perform a joint concert. I met the bands' manager at jazzahead! , her name is Elizabeth Riley. I am very happy that she saw favour with me and decided to put something together. If everything goes well, the group will come to the USA in the fall of 2020 and we will perform in my home State (Oregon). 
What are your plans for 2020?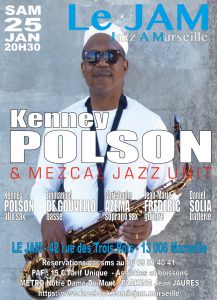 Besides the performance at Le Jam Marseille, I am hoping to get back to jazzahead! in April. I also have some prospective things happening in 
Japan. I was there in October and hope to get back to Japan in the Spring of 2020.
This month (January of 2020), I will be releasing a single from the "For Lovers Only" project. I am hoping to be able to make some noise with this one! Although it will be the last single released from this particular project, it is the one that I thought would be the first single. Our radio promoters thought differently, so I went along with what the professionals suggested. 
I also have a project on which I am working that has a slightly different focus. It's a Brazilian Jazz project which also blends the sound of the Japanese Koto for a different flavour. The Koto will not be on all of the selections, probably about half. Nevertheless, I am working on a project that has a different vibe. Brazilian music is loved all over the world and I have chosen my favourite Brazilian songs for this project. I have specifically chosen gems that I feel would fit into the smooth jazz market. I am very anxious to see if others feel that I have made the right choices!   
Good luck Kenny for 2020 and thanks for the interview. 
Last modified: April 25, 2020