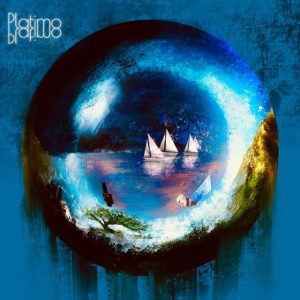 Platimo is a contemporary, cinematic jazz quartet formed by Norwegian nylon-guitarist Benjamin Hidas and British pianist Felix Bertulis-Webb. The self-titled album was released late last month.
Founded in Leeds, UK, the ensemble explores unique sonic and musical landscapes, blending the sounds and textures of handpan and space-age synthesisers with small-group jazz sensibilities. Accompanied by a string quartet and solo choristers, Platimo is now releasing their debut album, leaving a path filled with scenic surroundings for you to walk and explore.
Felix and Ben quickly formed a deep friendship after crossing each other in the hallways of Leeds College of Music. Their common perception of natural and musical beauty, and drive to sculpt new, formed the roots of what later became Platimo. Joined by drummer Alasdair Pennington and Marcus Cain on double Bass, the ensemble quickly found their sound. The compositions were recorded in March 2019 at Valley Wood Studio with Frazer Kerslake stepping in on double bass.
Band musicians on the recording:
Benjamin Hidas (Nylon Guitar / Handpan)
Felix Bertulis-Webb (Piano & Synths)
Alasdair Pennington (Drums)
Frazer Kerslake (Double bass)
The track Hope Valley features the Norwegian singer Renate Ørnes Eide.
String Quartet:
James P Hutton (Violin)
Georgie Tilley (Violin)
Alma Orr-Ewing (Viola)
Lydia Hutton (Cello)
Artiste website: Platimo
Credits:
Band photos: Olivia Sofia Ferrara
Single artworks: Joey Wall & Anneke DeTar
Album artwork: Joey Wall
The inclusion of the handpan is a creative beacon for the continued evolution of 21st century Jazz music.
Last modified: December 2, 2019