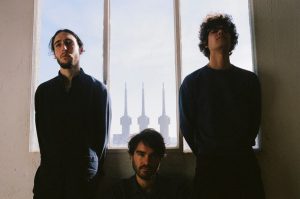 Oso Leone is an intriguing group from Mallorca, though now based in Barcelona. Their name translates in English as "Bear Lion" and the sound that they mostly conjure on their newest album "Gallery Love" (2019) is the mysterious and ethereal or ghostly "Talk Talk" – the 1980s British pop-rock group with the late vocalist Mark Hollis, but only for their last efforts, their experimental recordings were ignored and/or misunderstood on the commercial pop or mainstream scene. But Oso Leone is a blend of this most lush and melancholic "Talk Talk" which then meets an ambient and groovy, soulful jazz instead of Talk Talk's proto post-rock meanderings. It's an ambitious third release for this young group from Spain, and with Xavier Marín singing in English too. It is a sound that is out-of-step in its atmospheric realm but thus also futuristic.
Besides "Talk Talk" and for the R&B and jazzier side, their influences seem to range from early Sade, later Marvin Gaye, José James, Frank Ocean, and the chill-out, down-tempo jazz series Café del Mar, perhaps most of all. One can imagine Oso Leone as young boys wandering their island of Mallorca on warm nights, experiencing the Café del Mar soundtracks via the clubs and bars, produced in nearby Ibiza. Marín talks more than sings his way slowly and softly through the songs, so they are more like whispered confessionals, or as if he is in a dream or trance-like state.
Their songs on "Gallery Love" seem to be suspended in space, an uncanny hovering for only a few minutes, then evaporating into thin air. But that was the genius of their previous albums, "Spirit of Eden" and "Laughing Stock."
Oso Leone is on a short tour in Europe in December.
Dec. 10, Tuesday—Palac Akropolis, Prague, Czech Republic
Dec. 11, Wednesday—Gretchen, Berlin, Germany
Dec. 17, Tuesday–Camden Assembly, London, UK
Dec. 19, Thursday—Paradiso, Amsterdam, Netherlands
Senior writer: Tony Ozuna
Photo credits: Palac Akropolis – and (c) info: all rights go to original recording artist/owner/photographer(s).
YT Video: Oso Leone Channel
.
Last modified: December 5, 2019