The Warsaw Village Band performs at the Jazz Meets World Series in Prague, Czech Republic.
The Warsaw Village Band has said that the roots for their music came from travelling to villages around Poland to listen and play with folk musicians in the most rural Eastern regions of the country. There is a strong Polish-Slavic folk influence in their earlier music indeed, but then they got influenced by Trans-European folk and other dance cultures in a big way, or Poland is even more diverse than it once was.
The newest single by the Warsaw Village Band is a World music dance record, "Fly My Dub – Studio as One – Remix" released in 2019 on the heels of their 2018 release "Mazovian Roots" which has the studio version of "Fly My Dub." As led by the female-harmony vocals of  Magdalena Sobczak-Kotnarowska and Sylwia Swiatkowska, it is uplifting trance music in a bed of enhanced folk instrumentation of violin, cellos, hammered dulcimer, brass, and percussion (including hand-drums).

Their most recent albums are all daring expansions from Polish folk, so this Band should more accurately be called the Trans-European Village Band due to their wider folk music and jazz influences combined with fine-tuning of World dance club music from Trance to Dub as if Polish Folk goes global. They included on "Sun Celebration" (2017) outstanding guest musicians from far and wide: from Galicia, Spain (Mercedes Peón, on vocals, electronics or bagpipes); from Iran (Kayhan Kalhor on kamancheh fiddle); and from Rajasthan in India, they invited a band of Dhoad Gypsies, and the singer and sarangi player Ustad Liaqat Ali Khan. Yet, somehow they can still retain that Polish Folk within.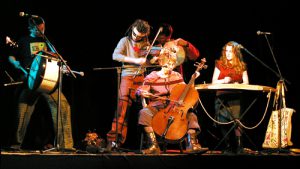 The band was formed in 1997 and the first albums were truest to their Polish folk roots, with harmonies taken from Polish shepherds' field yells, and with one member playing a 16th-century fiddle or "suka" played with one's fingernails. But then in 2008, an album of remixes of their songs by groups including Zion Train, Transglobal Underground, Ba-Lan Soundsystem, and DJ Click left an obvious and lasting impression on their sounds, more deep-beats friendly, for sure. And this reflects in "Fly My Dub" too.
But then there is a deeper European and Eurasian connection as some songs resemble Varttiina (the Finnish female-choir folk phenomenon), or Huun-Huur Tu (the Tuvan-Mongolian male-choir throat-singers), or even Tarantella (the frenzied folk dance of Southern Italy used for exorcisms); all of this seems to be heard in the hypnotically rhythmic, percussive overdrive of the Warsaw Village Band.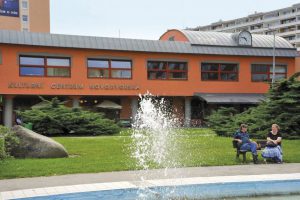 The Warsaw Village Band performs at the Jazz Meets World Series in Prague, Czech Republic
at Kulturní centrum Novodvorská
November 29, 2019
YouTube Video & Photo credits: karrotkommando  – and (c) info: all rights go to original recording artist/owner/photographer(s).
Last modified: November 25, 2019