Virtuoso pianist Marco Marconi, originally from Citta' di Castello (located in the lovely little Italian region of Umbria) and now a London resident, continues to amaze me. His new album, which was released only a few weeks ago and is called "New Roads" (33 Records) is indeed a new start and a new sounding journey for Marconi.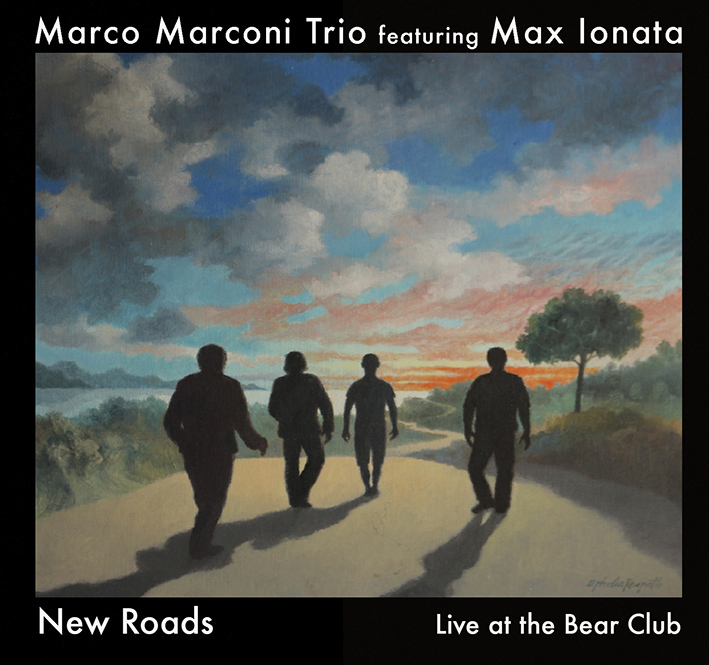 9 tracks and 3 composed by the man himself make this album totally innovative and a pleasure to listen to. Marconi's clever writing and choice of cover tracks for "New Roads" is intelligent and diverse. The album opens with one of Marconi's compositions, "Mandala" which reminds me of a free-verse poem, beautifully alive with a refreshing Latin-American sound. Then the mood moves over to tracks by Schwartz & Dietz as well as Lins & Martins with a stunning "Lembra dé Mim", where guest Italian saxophonist Max Ionata plays with such elegance, it makes the whole cover of the track a treat to listen to.
I am one of those writers who always look for the unusual and the diverse as my readers will know by now, but for any new ones reading this, I can explain. When an album like "New Roads" presents itself to me in such perfect composition and sound, it should be easy to say so, and yet, it makes my job also more varied and interesting. Why? Because it includes dexterity and lyricism, where the covers are performed with grace and inventiveness and, in doing so, it makes the whole work resonate even more in one's mind once it has stopped playing.
I don't just have one favourite track from the album, but many…for instance, "FMPOV" (From My Point Of View) written by Marconi sparkles with the pianist's genius on the keyboard as well as "Nostalgia" (the third penned by Marconi on the album) with its incredible moody dark tones, its scent of romance and violet sunsets on a Winter day spent walking aimlessly (a picture that keeps coming back to my mind every time I listen to the track), Tom Farmer's moving double bass on this is superb. And then the scene changes again with a great rendition and a brilliant sax solo by Ionata of "Vuelvo al Sur" (Return to the South) by one of my heroes, Argentinian composer and player Ástor Piazzolla whom, on this particular track combined efforts with another great Argentinian man, the film director and screenwriter, Fernando 'Pino' Solanas. What a clever choice!
More treats in the form of "Ornithology" (Parker) and "Be-Bop" (Gillespie) are there to complete an album which is great on so many levels and deserve all the praise that it gets and will get. I truly loved listening to this album, I have played it a lot of times!  It is still refreshing and engaging and was recorded live at The Bear Club (in Luton) in June this year. Marco Maroni Trio is Marco Marconi on piano, Tom Farmer on double bass, Emiliano Caroselli on drums and features saxophonist Max Ionata.
Soft nuances and fast bop make "New Roads" one of the best Autumn releases, a definitive 5 stars album.   

Artist website: Marco Marconi
Senior writer: Erminia Yardley
Photo credits: Marco Marconi Facebook– and (c) info: all rights go to original recording artist/owner/photographer(s).
Last modified: November 5, 2019