Júlio Resende feeds the European music scene tracing a multifaceted line that goes on and bifurcates as a fast-flowing river. This prismatic pianist and composer lives in a constant creative spiral which attracts influences from other genres like rock, pop, electric music and fado and goes further beyond music, drawing inspiring elements from other kinds of arts like literature.
Cinderella Cyborg (2018), Resende's latest album as a leader, is an introspective album though he develops his lively profound ideas walking through two parallel worlds that have holistically come across with tensions and harmony. As an honest and true beauty seeker, Resende has created a charming meeting point between the human imperfection and the machine accuracy that unfolds a bright musical space inviting us to conceptualize about the grace that the coexistence of these two powerful realities entails.
How do you feel about the album?
It is always a very delicate matter: musicians want to be happy with their records. This album is very delicate because of the confluence and conjunction of electronic and acoustic elements. I did not know how the final result would be… this album had a major surprise component. When I hear the result of what we played in the studio, I like the real-time combination, I feel the communion of the technological spirit and the human heart.
What do you think is the most attractive element of Cinderella Cyborg for the audience?
I think that the most surprising element is the improvisation between us, the musicians, and the machines because they are very precise and human nature is imprecise. All tunes are different, with contrasting environments: you can listen, dance and look for sounds like the clocks which are not usual to find in a jazz record.
You had already worked with electronic music in your project Alexander Search, in which Salvador Sobral brings the voice and now the organic voice is you. How do you set out this melodic verbalization?

In Cinderella Cyborg the singer is the piano, and in this sense, it is not the fundamental factor. The essence of the album is the dialogue between sounds and elements. I pour the voice I hear from the piano, figuring out how I can sing through it. I hear sounds, concrete words, everything that the music transmits me and what I want to transmit to the music and the combination of all the present elements.
It can be said that Fernando Pessoa represents a big influence for you, he has an important presence in your music with the Alexander Search project but also as Alvaro de Campos in Cinderella Cyborg. What does his literature that gets your attention?

Fernando Pessoa is a Portuguese genius, a world genius. His work inspires me, as he inspires me, he moves me and I try to create music with everything that inspires me. Just like the piano inspires me, my colleagues, the musicians, the kind and beautiful people. He is inspiring, Fernando Pessoa in literature has given me a lot. I really like that phrase "I love all things but more the ones I'm seeing." I am here in the present moment, we are going to focus on the present to love what we are seeing.

All your projects are different, you have created a wide bunch of possibilities in which your personality is recognizable. It is like you have many different "you's", do you feel comfortable in this constant evolutionary change?

This concern is a bit dangerous for people who are close to me. It is a headache because I never feel complete, so I try and feel full while in the present by challenging myself. Challenge me and go a little further from where I've been before. I feel like a multiple person, we are all multiples of a combination. At the same time, there is so much beautiful multiplicity to admire and absorb… I want to say something in my own way of everything I am living and listening to, of what I am experiencing.
I would define you as a pianist that follows the utopia. It's like you seek for beauty but you do not try to possess it, what keeps you alive is the searching process of this beauty.
It's true, this is very rewarding. Utopia is a headache, it can be dangerous and many utopias can become dangerous. I try not to attach myself to a single idea of beauty if you think you have the idea of beauty you can make a big mistake and force others to see in one way. In that case, my utopia is a bit that there isn't a single good and utopian idea. It is multiple, you have to look for it. I am a search engine, I have not yet been able to find the perfect place.
In this search of beauty, you have found a perfect balance between lyricism and minimalism that gives to Cinderella Cyborg a great core.

I try to say the maximum with the minimum of resources. I really like the attitude with which you can say each note, you don't need to say much. I try to be alive on stage to hear what happens between colleagues and also the public. When they give me space for a solo and creation I try to say what I am feeling and that at the same time it can be new to me or a little more refined. Silence is very important for me as well. I play with silence a lot to listen to space, listen to others. The lyricism is a thing that I like, I like poetry, it is a feature of my music so far. But I would like to try to be chaotic too. I like to be chaotic when I have the possibility. I also think there may be lyricism in it.
The electronic resources like those that you have used in Cinderella Cyborg are usually dark and heavy, creating a closed environment. But in your album, the light always conquers the shadow, something difficult because with the beats and effects the music hardens.

The essence, the point we wanted to reach, was the combination of the machine and the human heart. All the elements together transform the music into something open, human. You can hear more the truth that lives in each performer, the machine does not have a truth! Its truth has been placed by another. The machine needs to try to be always more human, we are working on that with artificial intelligence. My music tries to make electronic music more human, more intelligent and simple. Intelligence has to do especially with sensitivity.
Cinderella Cyborg goes around the human factor, imperfection and the truth. The classical music world tends to look for the precision of the machine, but jazz has been built on imprecision and freedom. What would you say to those musicians that are still attached to the idea of music as a perfect and precise?

They will probably find themselves much more creative if they do something imperfectly. It is not easy, we live in the evil of perfection. There is an evil of perfection, the idea that good and right is always perfect. The concept of "mistaken" makes your mind create new things, different ideas. We all want to do the perfect things, so it is a constant struggle between accepting imperfection and at the same time wanting it to be wonderful and perfect.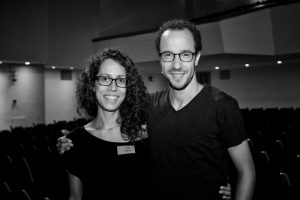 Artist website: Júlio Resende
Writer: Marta Ramón @narramona
Photo credits: musicayphotografia
Last modified: April 25, 2020