The Fred Hersch Trio featuring pianist and composer Hersch, bassist John Hébert and drummer Eric McPherson, celebrates a decade of making music together with the upcoming October release of a new box set, The Fred Hersch Trio 10 Years / 6 Discs. Hersch, Hébert, and McPherson will also celebrate the anniversary with a six-show European tour launching October 25 with stops in Italy, Ireland, Germany, and Spain.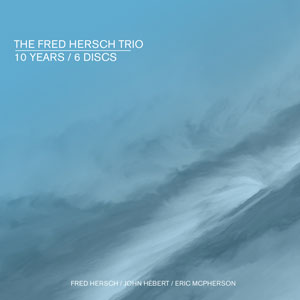 Hersch has made groundbreaking contributions in a staggering range of creative formats. The pianist's June 2019 release, Begin Again, is an acclaimed collaboration with the WDR Big Band under conductor-arranger Vince Mendoza. But it's his playing in jazz's best-loved configuration, the piano trio, alongside two of his most trusted musical confidants that has earned Hersch his most fervent accolades.
Since emerging on the cutthroat New York scene of the late '70s, when he made auspicious appearances on sessions led by the likes of Art Farmer and Billy Harper, Fred Hersch has developed into an outright master of the jazz language with a boundless creative vision. He has been nominated for Grammy® Awards 14 times, and is the recipient of a 2016 Doris Duke Artist Award, Jazz Journalists Association Awards for Jazz Pianist of the Year in 2016 and '18, and the 2017 Prix Honorem de Jazz from L'Acádemie Charles Cros, a lifetime-achievement honor.
To celebrate the extraordinary group's 10-year anniversary, their complete Palmetto label recordings will be available in one generous package. Spreading five lauded releases over six discs, with liner notes by Hersch and the award-winning music historian Ted Gioia, it's a stunning testament to a telepathically interactive group the New Yorker has extolled for its meld of "high lyricism and high danger." The set, simply titled The Fred Hersch Trio 10 Years / 6 Discs (October 18, 2019) includes three consecutive Hersch Trio albums—Floating, Sunday Night at the Vanguard and Live in Europe—that were each nominated for Grammy® Awards in the categories of Best Jazz Instrumental Album and Best Improvised Jazz Solo. The set also features Whirl and Alive at the Vanguard.
Editors Note: Fred Hersch was featured in the Spring 2019 edition of the Jazz In Europe Magazine. You can read the interview here.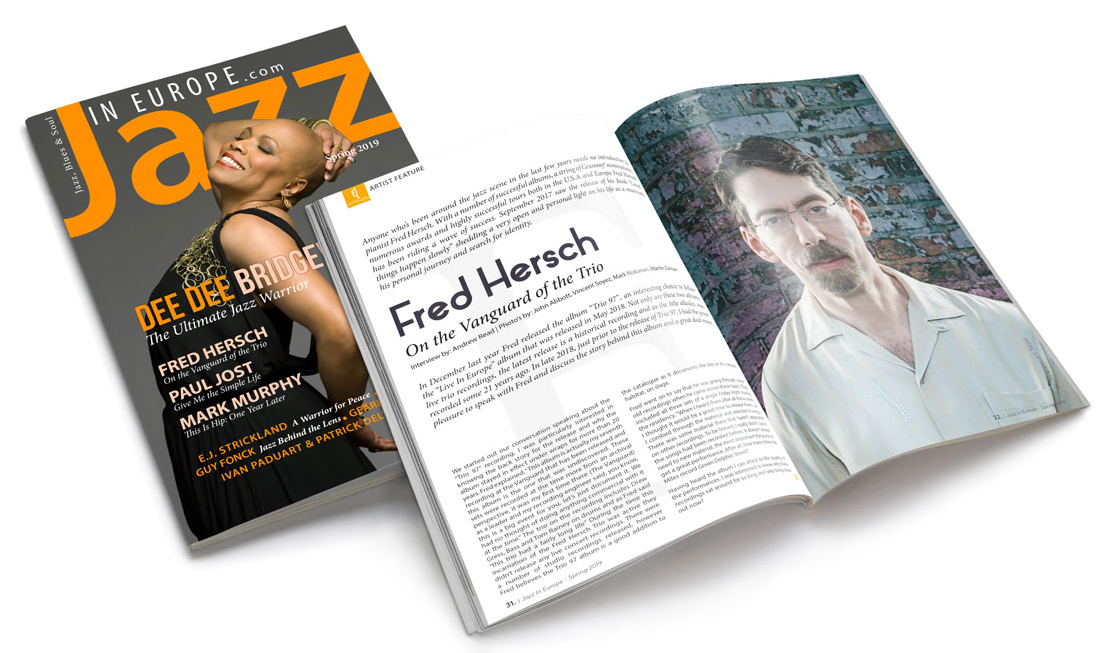 Tour dates:
Friday, October 25 at the Bologna Music Festival.
Performance 9:15 p.m. at Unipol Auditorium, Bologna, Italy.
Sunday, October 27 at the Guinness Cork Jazz Festival.
Performance 8 p.m. at The Everyman, Cork, Ireland.
Monday, October 28 at The Laeiszhalle, Hamburg, Germany.
Performance 8 p.m.
Tuesday, October 29 at Picasso Museum Málaga, Málaga, Spain.
Performance 9 p.m.
Wednesday, October 30 at Teatro Central, Sevilla, Spain.
Performance 9 p.m.
Thursday, October 31 at Campus Jazz Puerto Real, Spain.
Last modified: April 25, 2020