Kim Cypher's second album builds upon her reputation as a bright performing light on the UK Jazz scene. Her positive attitude, stylish looks, consummate sax and solo playing styles complimented with a great singing voice is always well presented in her performances. Playing an enjoyable mix of jazz, from classics through to real funky interpretations of modern mainstream music.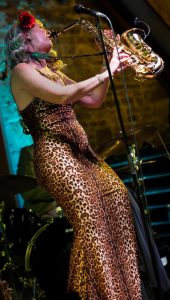 The constant feedback about Kim Cypher performances and music is always positive!
I thought I'd start off by asking what elements did you see as key in producing this second album – 'Love Kim x'   Kim explained; "Having made the decision to embark on a second album, I decided I wanted to create an album of inspired original music together with a selection of favourite classics, arranged with a quirky, jazzy twist. I wanted to bring in some of the finest musicians I know to bring my music to life and to create a diverse mix of styles and genres. This is basically what I'm all about. It's just 'good music'. There is an element of jazz that runs through all my music but my style is very varied and I really wanted to capture this. I also wanted to showcase my all-round musicianship as a composer, arranger, saxophonist and vocalist. The project also gave me a great opportunity to express myself artistically and creatively with a carefully planned theme and a selection of photographs by Ron Milsom."
I wondered how Kim came to choosing the musicians on this latest album? "I reached out to some of the amazing musicians I'd previously played with hoping they'd be interested in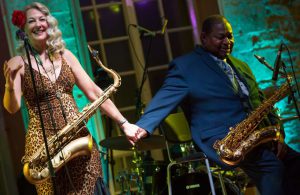 collaborating with me on my second album and I was hoping they would also interpret my music in their own way and add extra depth and meaning to the final results." Kim went onto say that; "Pee Wee Ellis was my top choice, having studied with him, admired him, and love his playing style. I thought I'd ask but didn't expect him to say yes! One Pee Wee agreed then I started to approach other musicians. David Newton on jazz piano came on board, then I really pushed the boundaries and brought in B.D. Lenz from America. B.D. has a completely different style to anyone else I've worked with which really helped to extend the range, I love working in this way and I am really pleased with the result."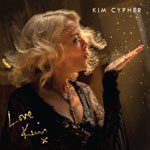 The album title 'Love Kim X' is a great, and clearly defined album title name, and easy to remember, I wondered how did that idea for the album title come about? Kim replied;  'Love Kim x' is an album that came about purely by chance…a chance meeting with a stranger! It's funny how life takes you along different paths and how fate often leads the way. Although I had some new original material in the pipeline, I had no intention of working on a second album so soon after my debut. But, my chance meeting with an amazing lady called Karen Jackson inspired me so much that I found myself composing a song called 'Maybe…' and this song was basically the catalyst that sparked 'Love Kim x'. I decided to dedicate this album to everyone who supports me on my musical journey, my friends, my loyal supporters, everyone who keeps me going…and so the title 'Love Kim x' was born. Basically, an album from me to you with love."
Now the album has been out and you've performed tracks from the album in a live environment, how do you feel on reflection?
'Love Kim x' is, without doubt, an example of some of my best music and captures me at the height of my musical career to date. It has been great fun producing this album together with my husband (and drummer) Mike and it has been an incredible experience working with such great musicians from the UK and US – Pee Wee Ellis, David Newton, Clive Morton, B.D. Lenz, Karl Vanden Bossche etc….
I am very proud of this work and of all the musicians featured. The album takes the listener on a journey through many musical styles, running in a similar way to my 'live' performances. It starts with a chilled, laid back, smooth jazz vibe and builds to a high-energy, frenetic finale. Hopefully, the diverse selection of music on offer will ensure 'Love Kim x' can be enjoyed by jazz aficionado's and discerning music lovers alike.
You have tour dates and a special charity date in the new year if I understand correctly, can you tell us something about this. I am always excited about performing for both new and established fans. I do have a special charity concert tour date in 2020, on Monday 2nd March. It will be my 3rd performance at the prestigious Pizza Express 'live' Soho venue and is a concert to raise money for 'The Brain Tumour Charity'. Here is  a link to the event and its background: The Brain Tumour Charity
Is there somewhere we can find out more about you, upcoming UK Tour and gigs dates, and or buy any of your albums?  Yes, you can either go to my website KimCypher.co.uk – you can view my Events page from the main menu bar and I have my own shop with my albums for sale on my website. Oh, yes and don't forget to sign up to my Newsletter.
You can also find Kim Cypher on Spotify – Facebook – Twitter – Instagram and Youtube.
Last modified: April 25, 2020