What a joy to chat with Kathrine Windfeld. One of the new breed of Jazz Artists who are moving Jazz music forward with the courage and determination of a great explorer. Never discounting her jazz musical influences, and bold enough in expression to garner the trust and following that are key skills of leadership. Certainly the composing, arranging and performing as the leader of the Kathrine Windfeld Big Band goes a long way in giving credence. I invite you to read her bio on her website, suffice to say, this lady of Jazz has an educational foundation that supports her vast performance experience.
Preparing for our time together I listened and watched some of her Big Band, sextet and individual performance on YouTube.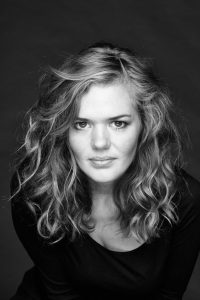 My first question was about the complexities of composing music for a big jazz band especially with a lot of brass instruments. Kathrine immediately asked me to qualify what I specifically meant regarding brass. Before I realised it I became the respondent! Realising and replying that my influences are based on my being 60 years old and perhaps more influenced by big band music being played with a much more structured melody. Kathrine did qualify that brass can get massive in traditional big band sounds and while she understands the brass sections, she likes to split them up to create more polyphonic textures, which necessitates her to be more flexible especially with her newer compositions.
I went on to ask Kathrine about a particular piece called Aircraft and what the title meant, its focus, was it tangible, or conceptual? Kathrine did first qualify that most of her titles for her music are spontaneous. Aircraft being two words – the Air one uses to blow into an instrument and how over time the skill and control you develop becomes your Craft. There was double entendre with the movement of an aircraft through the air! Kathrine summarised how the word Aircraft was so loaded with intention, power and its transparency!
Kathrine did go onto say that overall her process for choosing compositions titles was also aesthetic.
I shared with Kathrine that I had watched one of her videos on YouTube that was filmed at a jazz festival in Copenhagen. And of course, someone had edited the video to include clips of the crowd as they listened to Kathrine and her big band perform one of her compositions/arrangements titled: Wasp. I noticed that the older generations struggled to appreciate or grasp the music, yet those older generations could see the younger people really enjoying the experience. We both agreed that this was a clear example of the fact that one of the constants of Jazz music is that it is for ever-evolving. Kathrine also added that older people have often come up to here after a live performance and stated that they struggle at first, and then started to hear and enjoy what was being played.
I asked Kathrine how she felt improvisation in the studio environment is different from the live performance of the same piece of music. Kathrine said it's very hard to perform in the studio without the energy of an audience. She feels that she has found musicians who do work well together with a sense of being cohesive and synergist and genuinely enjoy each others playing and act as a unit. We agreed that effortless effort was ultimately achieved because each person had the desire and attitude to produce great music, and this was the result of the studio sessions.
I went onto asking Kathrine about her live performance. Witnessing the attention she put into hers, the bands and the sextet performances in front of a live audience. Kathrine was very clear that she is there to provide enjoyment to the audience and always does her best in her introduction to gain an understanding of the pulse of each audience and give some explanation prior to the performance to help the audience gain a better understanding. As Kathrine said, people have given up their time, often paid money, and she and her musicians all want the audience as well as them to have a great experience.
I then went onto finally ask Kathrine about her track Latency with the term latency meaning as a time interval between the stimulation and response. Katherine strongly felt that Latency can be adapted as a metaphor for much of life's experiences. She wanted to clearly express this – she gave the example of having the wish for something. You often experience latency having to accept that in the long-term everything will be ok, but you will have to also embrace the challenging journey to reach your goals.  Intentionally the beat and the bars of the music are very long as a musical way of expressing the time and struggle it sometimes takes to achieve your purpose and goals.  If more of us accepted Latency in our lives and as part of its process rather than expecting everything to be instantly manifest.  I liked the fact that Kathrine Windfeld said something about life and its challenges and offered a solution. Using the medium of Jazz music to express her views. Kathrine Windfeld has a bright future in Jazz and is someone who's career path I will enjoy following.
This lady is full of enthusiasm for the continuation and evolution of Jazz music, and it was a joy to have spent time in her company.
Artists website: Kathrine Windfeld
Kathrine Windfeld is performing as part of the Sounds of Denmark REVISITED 2019 taking place in London between 16 Oct -19 Oct 2019. This event is sponsored by the following organisations.

Writer – Nigel J.
Photo credits: Feature – Stephen Freiheit – Gallery – Jacob Sune, Allan Hoegholm, Cat Munro and Kim M. Leland.
YT Channel – Kathrine Windfeld
Last modified: April 25, 2020