Beverley Beirne and her quintet headline at the Marsden Jazz Festival in 2019.  Performing on Saturday evening at 7.30 pm (12th October) at Marsden's Parochial Hall.
The Marsden jazz festival was founded in 1992 and has now become one of the UK's longest established jazz festivals. Thousands of jazz fans make the pilgrimage via train, bus, car and even via the canal on a narrowboat. Renowned for its special atmosphere, with 60+ volunteers giving up their time to make the weekend a success. The festival showcases a wide range of jazz musicians –  internationally known to local school bands and rising local talent. All this and more provides over 100 hours of live music in 26 venues in the second weekend in October. From Friday 11th October through to Sunday evening on the 13th of October.
Raised on a diet of Jazz and 80s pop, singer Beverley Beirne combines the two with her freewheeling and stylistically expansive project Jazz Just Wants To Have Fun, with stylish re-imaginings of perfectly chosen 70s and 80s hits.  The album was produced by the Grammy Winning Producer – Jason Miles.
Beverley is joined by a top-notch London-based band to perform songs including a sassy swing through Slade's 'Come on Feel The Noize'; a vocally seductive, piano-pounding jam of Adam and the Ants 'Prince Charming' and a marching New Orleans stomp twist on Billy Idol's 'Hot in the City'. With John Crawford (piano), Flo Moore (Bass), Ben Brown (Drums), Rob Hughes (Sax & flute)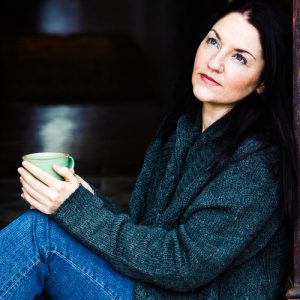 Beverley's 'Jazz Just Wants To Have Fun' UK Tour moves on from the Marsden Jazz Festival onto key stops around England and Scotland. On October 17th Beverley and her quintet perform at the Crazy Coqs venue in Soho, London – a well-known recently renovated listed art-deco building. Beverley said: "I am excited at the prospect of performing in the venue – I have seen the photos on the Internet and it looks gorgeous!"
Beverley continued: "Then I move onto the world-class, Cleo Lane owned The Stables in Milton Keynes – for the key Sunday Lunch performance on October 20th."
We talked about Beverley's upcoming tribute gig for the great Frank Sinatra sideman Duncan Lamont. His son will be accompanied by Esther Bennett and Beverley who will pay homage to this great man of UK Jazz at the Wakefield Jazz Club on October 25th. In chatting with Beverley, she said;  "I  realised how special Duncan Lamont was as a person and musician. Duncan accompanied me and the symbiotic connection was almost instant between us, and I now fully understood how this very special man was asked to perform with so many greats of Jazz".
Moving into November and December 2019. Beverley will hit one of the hottest northern jazz clubs – The Lantern in Halifax, Yorkshire on November 12th.  Beverley said;  "I was born there and I want to return and share my music. with the locals. "  Beverley will then pop back to her adopted home town of Ilkley and reconnect with her home-base fans for an evening at the Black Hat. on November 14th. "Good to get home, get some washing done and sleep in my own bed before I'm off again onto my mini-Scottish tour. taking the full band with me." 
I asked Beverley for more information about the Scottish stage of her tour, Beverley explained: "I travel to three great venues, starting way north at the  Garioch Jazz Club, Inverurie on November 29th. Then onto the famous Blue Arrow in Glasgow on November 30th, finishing off the part at Wighams in Edinburgh on December 01st. 
I asked if that was it for the season, Beverley said "no one more gig –  I finish up back in England travelling way down south this time to Fougou Jazz in Torbay a venue with beautiful coastal views of Torbay in Devon."
I asked Beverley about her repertoire for the tour. "Most of the repertoire will be from my last album JJWTHF, although I have included some extras, notably David Bowie's – 'Lets Dance' It was originally intended that this track would be on the JJWTHF album, sadly David Bowie passed away and Jason Miles and I both felt it inappropriate to include the track on that album. Now that time has passed  it's now time for people to hear my version of this Bowie classic."  What others I asked. "Well interesting I will also be performing a re-titled track by Duncan Lamont – Old Brazil a jazz version from the incidental music that Lamont wrote for his album  MR BENN about the famous cartoon character shown on UK TV from my childhood, I am especially excited about this and can't wait to see faces light up in the audience."
I wanted to finish with asking how the repertoire has been when performing live?  "The original reason for doing the JJWTHF album was based on a two-year journey of singing live and busking version of tracks that I loved from the 70s ad 80s with my own twist. people would dance and when the sound engineer gives you the thumbs up those responses are motivating and exciting. I can' wait to hear what people have to say and their experience and the feedback I receive from this latest UK Tour." 
Artist website: Beverley Beirne
Tour Dates:
12 Oct – Marsden Jazz Festival
17 Oct – Crazy Coqs London
20 Oct – The Stables Milton Keynes
25 Oct – Wakefield Jazz (Duncan Lamont Song Book)
12 Nov – The Lanteren Halifax
14 Nov – Black Hat Jazz Ilkley
29 Nov – Garioch Jazz Club Inverurie
30 Nov – Beacon Arts, Greenock
01 Dec – Wighams Jazz Club Edinburgh
18 Dec – Fougou Jazz Devon
Last modified: April 25, 2020