A Pop-up special @ Gerry's Club (52 Dean Street, London)
The music of Tubby Hayes and Ronnie Scott – a brilliant celebration of the Jazz Couriers
On a very hot summer night, we proceed to walk down the stairs of Gerry's Club in Dean Street in London's Soho. It is past 9:00 pm and it is still incredibly hot outside. Once in the Club, we realize it is actually even hotter in there: this is a proper little "joint", no big air-con machines, no fussy lights on stage, in fact, it is proper dark, just enough to look around one, but also enough to create the perfect atmosphere.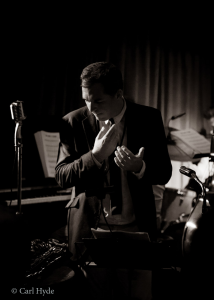 This is the place, the "Old Place", as they call it, to recreate the times of Tubby Hayes and Ronnie Scott when they played together with Terry Shannon, Malcolm Cecil and Bill Eyden as the Jazz Couriers, in the late 50s. Those were the times of explosive jazz, the type of jazz of sweat-dripping walls, low lights and blasting saxophones… We witness the very same atmosphere on Friday, 23rd August when a killer line-up starts playing their second show of the night in front of a small and tightly packed crowd. This is because Gerry's Club is small, BUT perfectly formed for this kind of performance, it is a genius move to choose this venue and long may it continue!
Simon Spillett, virtuoso tenor saxophonist together with the mighty Pete Long also on tenor sax face an eager audience and one of my favourite pianists, James Pearson is ready to get the house going, together with Tim Thornton on double-bass and drummer extraordinaire Ed Richardson.
The show opens with an audio recording of Ronnie Scott telling some of his famous jokes, I see it makes the crowd feel even more at home, my seat at the bar is perfect for the view AND for the fact I end up asking the funny and impeccably dressed Michael, who runs the Club, for a drink and some (vital) paper to write my notes down, only to be presented, in the absence of real paper, with a little "scroll" from the till which actually in the end serves its purpose well so thank you, Michael!
Pieces like "Cheek to Cheek" to "Take your Partners for the Blues" and "Finky Minky' (the last two are simply jewels by Tubby Hayes) to Lou Donaldson's beautiful"Blues Walk" keep coming, each performance fueled by fire. An incredible display of talent all around with Spillett showing off once again his majestic skill and inventiveness. There is a lot of sweat or should I say perspiring and not just by the musicians, but what remains is an epic sense of achievement and true homage to two greats of the jazz scene: Tubby Hayes and Ronnie Scott.
The vibes that are created by the overall performance are unique this time: I have not witnessed such passion and musical genius for a while, one hour of sheer delight with a brief interval giving the musicians time to breathe whilst the crowd enjoys some more audio memories. Playing at 110 miles per hour, Simon Spillett et al make Tubby Hayes and Ronnie Scott come back to life for one more evening. As Pete Long rightly says towards the end, Simon Spillett is the "custodian of the Tubby Hayes legacy" and who could argue otherwise?
It is a true 5-star performance, a perfect display of brilliance and devotion.

Senior writer: Erminia Yardley
Photo credits: Carl Hyde
Last modified: September 4, 2019