"Road Warrior" met my CD player just over a week ago and it was love at first sight.
I don't do fluffy talk, I look for imagination and the creative behind every work of art and "Road Warrior" (Ubuntu), by trumpeter and composer Quentin Collins, is such work: full of dexterity, passion, love and talent!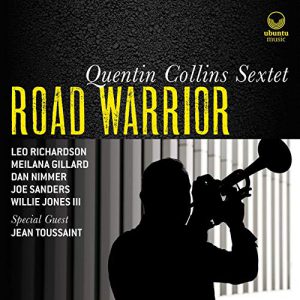 With the confident title track opening the album, the whole vibe is one that fills with eagerness and wanting to play the whole thing out loud and over and over. I mentioned this before about other albums and whenever I do, I realize how important it is to say this. An album that strikes bulls eye so quickly and vividly IS an album that has to be played ad infinitum!
"Do you know the way", for example, one of four of Collins' compositions on the album, is a joy to listen to, tapping the foot on the floor and nodding yes, thinking this is spot on.
"Look ahead (what do you see?)", smooth and gentle, it really does sound like a mellow conversation between a father and a son (the track is inspired by the trumpeter's conversation with his 10-year old son). New York based pianist Dan Nimmer makes this track even more beautiful.
And then "Jasmine Breeze" hits one with a slow trumpet and soft drumming at the beginning. How irresistible and evocative. The album has eight tracks in total and they are split as four written by Collins and four by saxophonist Tom Harrison. "Jasmine Breeze" is one of Harrison's compositions, its tonalities are moving and it features an amazing solo by Jean Toussaint, epic saxophone player, who, on this occasion, also produces the album. Collins' playing on this track is just perfect.
"The Hill" (Harrison), written for and featuring pianist Dan Nimmer, is also a tribute to Art Blakey. Harrison adds: "My mentor's mentor and a memory of a life-changing performance I did at the site of Blakey's childhood home in Pittsburgh". Another top track.
"Wider Horizons" (Collins) touches a chord for me. It represents a journey of discovery, of tough roads with new experiences and, as mentioned on the CD booklet, being open to new possibilities. How very true and how perfectly written and played.
Although the album is produced by the genius that is Jean Toussaint, it also sees both Tom Harrison and Quentin Collins as assistant producers as well as the clever Martin Hummel as executive producer. So, on this occasion, I hope you will allow me to mention a few more names when it comes to the artists lineup then: Leo Richardson on tenor sax and Meilana Gillard on alto sax deserve a HUGE mention, I never tire of listening to them, never. Their playing and performing are always of such distinction and class.
Quentin Collins Sextet's album "Road Warrior" is so much more than music, it is brilliance and creativity in one.
Can I give it a 6-stars? Senior writer: Erminia Yardley
Don't miss the album launch at Pizza Express Soho in London – September 3rd! See you there!


Line- Up:
Quentin Collins: trumpet, flugelhorn; Meilana Gillard: alto saxophone; Leo Richardson: tenor saxophone; Jean Toussaint: tenor saxophone (5, 7); Dan Nimmer: piano, Fender Rhodes (4); Joe Sanders: acoustic bass; Willie Jones III: drums.
Tracklist:
1: Road Warrior | 2: Float, Flitter, Flutter | 3: Do You Know The Way? | 4: Look Ahead (What Do You See?) | 5: Jasmine Breeze | 6: The Hill | 7: El Farolito | 8: Wider Horizons | 9: Oh! Look At Me Now.
Release Date: 13 September 2019
Format: CD | Digital
Label: Ubuntu Music
Last modified: September 2, 2019