Melaine Bong was born in Munich as the daughter of a baltic-prussian painter and a sinto (gypsy) singer-musician.  As a young child, Melaine would create her own short compositions and lyrics about everything that emotionally moved her and express those feelings in song . At 15 years old she created her first band called the 'Melaine Bong Crew' (MBC) playing her original songs. Melaine was fortunate to then study Jazz, directly learning from some of the best-known jazz vocalists, namely; Shelia Jordon, Jay Clayton, Andy Bey and the great Mark Murphy.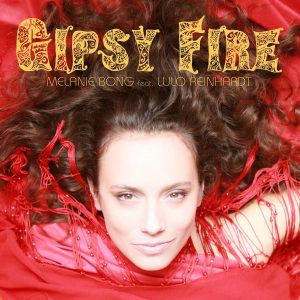 Melaine has released two previous albums – Fantasia in 2002 and Gypsy Dream in 2006. Her third and latest album release is titled: Gypsy Fire which also features Lulo Reinhardt. Who has an equally impressive musical pedigree, being the great-nephew of jazz legend Django Reinhardt and also the nephew of the gypsy violin master Shnuckenack Reinhardt.
From the first and title track, you hear Melaine's Gypsy roots on fire! Watch the video below to experience this.
The album is stylistically interesting. With a fusion of musical genres; Latin, traditional jazz, funky and expressive ballads.  The free interplay between Melaine Bong and Lulo Reinhart's guitar playing is extremely impressive. All tracks are rightly placed, allowing for a flow that keeps you connected for the duration of the whole album. Throughout this album, there is a clear underpinning of the deep passion and pride emanating from their collective Sinti Gypsy musical and cultural heritage. Very re-refreshing to experience when we live in a world with too much negative social polarization.
Melaine Bong is a consummate expressive story-telling vocalist. Her voice has great power and range, yet for me, it is the softer pitch control that makes her stand out from the crowd.  I thoroughly enjoyed the whole album and Melaine does herself full credit to her musical craft as does Lulo Reinhardt.
If I had to pick one track as my personal favourite and because as music should do, it evoked in my many memories. Therefore I choose her duet with Romeo Taubmann (Melanies father) which is really great and a fun interpretation of the classic – Cest si bon (It is so good).  Worthy of being heard as part of a French noir film, and monsieur Yves Montaud and madame Eartha Kitt would have been most pleased!
This new album can be purchased on: Amazon – iTunes
writer: Pia Sonne-schmidt
Last modified: September 27, 2019