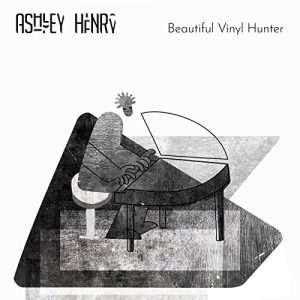 "Beautiful Vinyl Hunter" (Sony Music) is out on Friday this week (Sept 06th) and it is, in short, an amazing amalgam of jazz drawing from many influences, beats, hip hop, punk, grime to mention a few. With some striking tracks, 15 in total making the whole album flow, their inter-linking brings a narrative and the storyline is simple yet important. There is a realisation that anything from the piano to bass to strings to trumpet is effortless. It is a true rendition of a perfect album.
To begin with, the album brings together so much talent: trumpet player Keyon Harrold features on track 3, "Between the Lines" which also has the vocals of MC Sparkz creating a very strong and powerful message, then there's Eddie Hick's slick drumming on most of the pieces, poet and musician Joshua Idehen features on "COLORS", with his inimitable character and delivery, he enhances the piece with sharpness.
Amongst 15 perfect tracks and after listening to the album many times, I am still undecided as to which is my favourite piece, it is almost impossible to choose because all the compositions are just so right, but, if I may guide you, I would like to suggest that, as previously mentioned, "Between the Lines", "COLORS", "Introspection" featuring another great trumpet player, Theo Crocker, "I still believe" where Milton Suggs scats and sings with such poetry, it moved me deeply. A stunning rendition where Ashley Henry delivers on all fronts: there is melody, sadness, a heartbeat to the song that shakes one to the core. Utterly beautiful.
There are, of course, more cameos courtesy of saxophonist Binker Golding,  drummer Moses Boyd as well as French-born and US raised beat scientist Makaya McCraven.
Let me quote you, Ashley Henry, himself: "My music is a straight-up reflection of who I am, London in all its mixed-up glory. The immigrant in me has musical roots that are traced back to the 1600s, so it's important my music today reflects that jazz alpha narrative across different genres and generations". This reveals so much about the man and the musician, the person that he has become and why; he is a true Londoner, one that understands his origins and wants to discover more and tell more stories.
"Beautiful Vinyl Hunter" is, in essence, a continuous search for identity, for the spirit that is in all of us, but that sometimes proves not easy to find.
Ashley Henry shows us how to dig deep into our core, his stylist piano playing is unique, full of emphasis, drama and poignancy.
I absolutely love this album.

5-stars
Senior writer: Erminia Yardley
Last modified: September 19, 2019