This Summer has been an interesting one, not just for the beautiful weather, albeit at times too hot for us in London (but, hey, I am not complaining), but also for the fact that in the last couple of months there have been some majestic releases.
In my search for "the perfect album" (Is there such a thing I hear you ask? Yes, indeed there is actually), I always feel drawn to the diverse, the different, the unique with a twist of magic. Here follows my selection of the best of Summer 2019 (in no particular order). I hope you enjoy it, it cannot get more distinctive than this!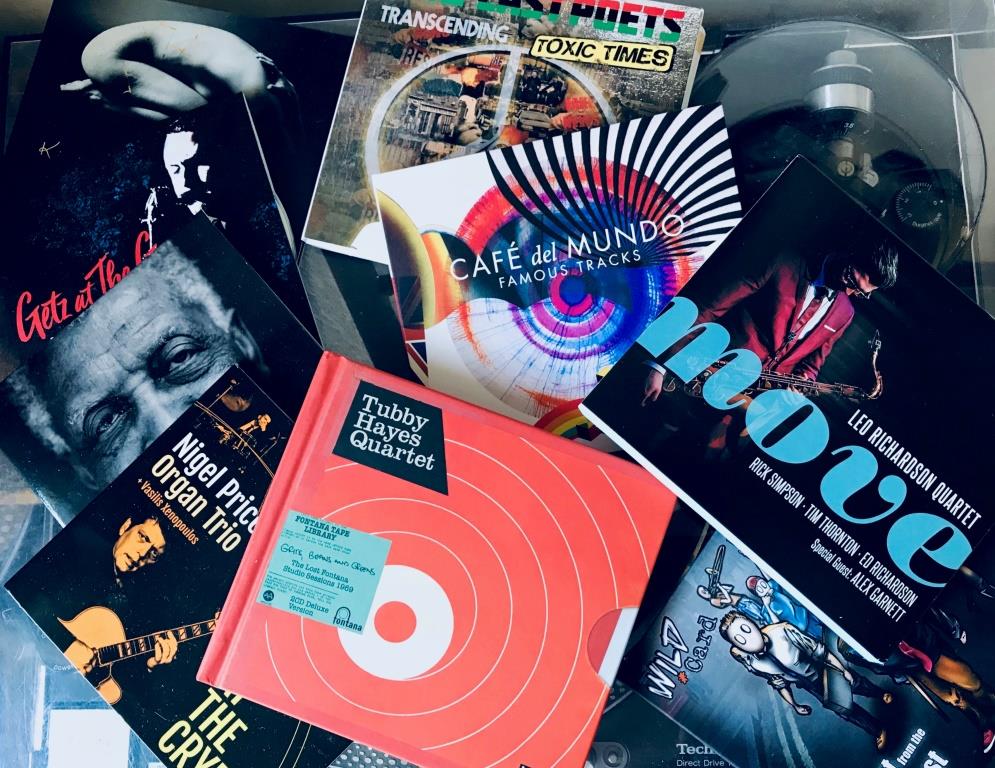 Let's talk about a giant, Stan Getz. In mid-June, Verve released "Getz at the Gate" (New York's Village Gate), a previously unreleased live recording made in November 1961 with Getz showing off his new quartet: pianist Steve Kuhn, bassist John Neves and drummer Roy Haynes. The fresh and crisp modern sound offered by Getz et al on the 2 CDs as issued by Verve is simply delicious. There are 16 tracks to choose from and an array of various composers like Cole Porter, John Coltrane, Sonny Rollins and Thelonious Monk whose tracks Getz covers on the album. "Gets at the Gate" gets top marks because it is incredibly vivid and notably stunning in sound.
Recorded between 2014 and 2016 at the beautifully and very dark Crypt in Camberwell, South London (one of my favourites venues in fact), guitarist virtuoso Nigel Price and his Trio (Ross Stanley on B3 Hammond organ, Matt Home on drums and Vasilis Xenopoulos on tenor saxophone) delight with 6 tracks (4 composed by Price himself) on this small but perfectly composed EP, aptly called "Live at the Crypt". Released in July this year on Price's own label, Nervy Nigel Records, this album needs listening to over and over. "Live at the Crypt" is another example of the outstanding nature of British jazz. I love, for example, Price's rendition of Wes Montgomery's "Four on Six". I have seen Nigel Price play live on a few occasions now, he is a true musician, playing with passion, the one that makes his music stand out even more. His genuine approach to music and to composition is second to none.
Vocalist Gg returns after last year's success with "4am Angel" with more stories of love, loss and beauty with 14 soulful and jazzy tracks on "Kintsugi Heart" (which in Japan is the art of repairing with gold. The art of renewal, to embrace the beauty in the broken). Self-released and elegantly packaged CD and a seductive albeit emotionally charged photograph by Billie Lapworth, Gigi Harold and Mark Harold have written all the songs (except "When I'm falling" which is co-written with Rod Layman). "Kintsugi Heart" continues Gg's journey as a genuine and passionate vocalist, accompanied again by a great band, which includes Kenny Wellington on trumpet and David Baptiste on sax, for example. I respect Gg's choices on this release, she has been tirelessly aiming high and "Kintsugi Heart" is the clear result. Favourite track: "North Star".
Talking about diversity, let's mention a duo I was lucky enough to watch play live earlier this year at Ronnie Scott's in London and who, on their latest rendition, is firing on all cylinders with an honest verve. German guitarists Jan Pascal and Alexander Kilian aka Café del Mundo, recorded "Famous Tracks" at Abbey Road Studios earlier this year. The album, released on GLM Music, is a powerful 12-tracks explosion of original covers by composers like Manuel DeFalla, Chick Corea, Al di Meola, Paco de Lucia, but also shows off 4 original tracks written by the duo. I, of course, loved, "Danza del Fuego" (DeFalla), it has Pascal and Kilian's originality without losing its power, but then there is also "La Perla" (The Pearl) written by the duo, 3 minutes and 40 seconds of sheer melody with a powerful striking of those guitar strings, making the track very addictive.
Time for something completely different now. The Last Poets released "Transcending Toxic Times" on one of my favourite labels, Ropeadope, at the end of June. An amazing double album, 14 tracks, produced by Jamaaladeen Tacumo, sees the 3 poets and masters of hip-hop, namely Abiodun Oyewole, Umar Bin Hassan and Baba Donn Babatunde at their best. It has truth, love, politics, jazz, beats, violas, electric guitars and, most importantly, the fabulous words by the poets! I cannot decide which is my favourite track because each one of them is so unique it would be unfair to choose, but I will say…. pay attention to "JuJu JIMI".
Let me quote from producer Jamaaladeen: "This magnificent work here from THE LAST POETS raises our consciousness, gives us hope, enlightens us with transparency to navigate a better tomorrow. This recording is an offering to you to transcend these toxic times". I could not have put it better!
Who else would have such a star-studded list of special guests but French guitarist and bandleader Clément Régert?  He is back together with organist Andrew Noble and drummer Sophie Alloway, aka Wild Card to present their forthcoming album "Beast from the East" (Top End Records), an incredible mélange of hard-bop, Afro/Samba and raw funk tones. I love every single track for the simple reason that the new album has all the right ingredients to show-case how talented and versatile Régert is! On the title track, Tim Garland is brilliant together with the mighty Barnaby Dickinson on trombone. "Black Tower" (in memory of the Grenfell Tower tragedy) runs sad tones with Garland and Dickinson playing lead again, "Do it like a girl" featuring one of my favourite harmonica players, South-African Adam Glasser, is just beautiful. "The Struggle" with Imaani's voice (of Incognito's fame) and her soulful funk touch, really works and it is possibly my favourite track. Question: When are we going to have this mighty band play the main stage at Ronnie Scott's then?
The end of June also saw a truly magnificent release by powerhouse label Gearbox Records of the legendary South-African pianist Abdullah Ibrahim. I am in awe of "The Balance", from the very first notes of "Dreamtime" to "Song for Sathima" and the stunning title track featuring Adam Glasser again on harmonica. There is also a great rendition of Monk's "Skippy" otherwise all the remaining tracks are composed by Ibrahim himself. The album artwork also features a rear photo of Ibrahim by the late David Sinclair, as well as the beautiful cover photo by Gabriel Bertogg. "The Balance" is a truly stunning work, fast-paced, but also melodic and, most of all, poetical.
This next work has been one I have been looking forward to writing about for a while now. I am talking of course about the phenomenal "Grits, Beans and Greens: The lost Fontana Sessions" by one of my heroes, Tubby Hayes and his Quartet (listen out for the great Spike Wells on drums!). The release, on Fontana, sees also a deluxe edition comprising of two CDs with a hardback book edition. What an incredible idea, it is pure jazz history. As saxophone maestro and Tubby expert, Simon Spillett writes at the beginning of the booklet: "Jazz icon + lost tapes = Classic album, right?". I would certainly concur with that!
The album, which also has voices heard in between takes making it a truly fascinating live recording, is, in itself, a true gem. I have confessed as being a complete addict of Tubby, since the first moment when I discovered and listened to "Mexican Green" (1967 – Fontana) my Tubby obsession was unstoppable. I have since built up a little collection albeit mainly on CD and possess a few books on the man (including Spillett's great book "The Long Shadow Of The Little Giant" published by Equinox in 2015) and still, my thirst continues.
Tubby's voice on the Fontana Sessions is strong and clear and it is through his formidable stamina and intellectual versatility that once again we can learn what an icon he really was.
There is a quote at the very beginning of the booklet as compiled by Spillett that says "I make a point to listen to everything that goes on in my particular field. Always have done" (Tubby Hayes 1969). This is, in a few words, Tubby the man AND the musician. After 50 years lying hidden at the Universal archives, the tapes came to light and were mastered at vinyl specialists Gearbox Studios. The rest is history.
We come to the most recent release, on the 9th August: "Move" (Ubuntu Music) is the new album by the Leo Richardson Quartet. Richardson returns after the huge success of his debut album "The Chase", this time with the talents of Rick Simpson on piano, Tim Thornton on bass and Ed Richardson on drums featuring also Alex Garnett as a special guest on tenor sax. Ubuntu Music has now released both Richardson's albums and has steadily become a label with a huge amount of talent under one roof! So with "Move", Richardson et al steer onto an even faster journey, there is still the big hard bop element, but the composition has evolved even more and it is better, we only have to listen to the title track, for example, there are stunning layers of innovation there.
I also love "Martini Shuffle" with its exuberant vibe reminds of Soho in the '50s every single time I listen to it. Whilst "Peace" is melodious and perfectly slows down to a lower gear. It is a definitive 5 stars mark for "Move" from me!
As you reach the end of this article, you will by now, realize the enormous mélange of diversity and creative talents that all this music represents. The beauty and challenge for a writer like me is just this: to find these creations and make them visible to the whole world. I loved writing about these artists and I feel privileged to be able to be given access to their music well before anyone else can. It is exciting and magical at the same time.
On the inner sleeve of Leo Richardson's album, there is a quote from another one of my heroes which really says it all…
"Music washes away the dust of everyday life" – Art Blakey
Senior writer:  Erminia Yardley
Photo credits: Albums covers photo courtesy of the writer, and feature image by Matthew Waring.
Last modified: September 2, 2019