This was my second time at the Oslo Jazz Festival, and I have to say, as good as it was last year – and it was wonderful – I enjoyed it far more this year. Why? Well, firstly, I had more time to explore and take in the feel of the city and the festival and I highly recommend a visit – the city and the people are so lovely. Secondly, I spoke to many more Norwegian musicians who were performing and gained a deeper understanding of them and their music and lastly, but by no means least, the gigs were just amazing.
My visit started in the best possible way. The first gig for me was Nils Landgren Funk Unit at Roverstaden and oh my. This was my first-time seeing Nils and I am now a huge fan and will without a doubt, make sure I see him again as often as I can. I arrived at an absolutely packed house with everyone sitting on the floor at the front of the stage, patiently waiting while the rest of the house were standing all around chatting. The band arrived on the stage to an incredible welcome and everyone leapt to their feet. Within eight bars, we were all dancing. The groove was infectious and impossible to ignore. It was as if we were all as one – a groove collective – we all felt it. The band were phenomenal – Jonas Wall (Sax) Andy Pfeiler (Guitar) Petter Berggander (Keys) Magnum Coltrane Price (Bass) Robert Ikiz (drums) and of course Nils on trombone. Honestly, one of the best gigs I have been to if you are looking to have fun and just enjoy the music. I was fortunate enough to be right at the front and loved the chemistry with the band – the little knowing nods and looks at particular moments, the camaraderie, the giggles and I honestly don't think Jonas Wall stopped smiling at any point. The musicianship was exceptional, and the entire set was full-on funk with energy that was so explosive you almost wondered if you could handle it. What an incredible night – and for me, to start my Oslo Jazz Festival experience with this, well, it was just amazing.
On my second day, I was fortunate to go on a boat trip to for lunch by invitation of the Ministry of Foreign Affairs, Music Norway, and the wonderful Oslo Jazz team, along with other journalists, booking agents and educators from around the world. The main topic of conversation was about the incredible talent everyone had seen so far at the festival and who to look out for. There was even someone there who hosts the only Jazz radio station in China (more on that in a future article) looking for new music to play. This wasn't a tiresome networking event in any way. It was a meeting of people who all loved Jazz and loved finding new musicians and supporting homegrown talent and international talent. It was quite wonderful.
Marilyn Mazur's Shamania at the National Jazz Scene Victoria. Marilyn Mazur is a multi-instrumentalist but known primarily as a percussionist. She has played with some incredible people including Wayne Shorter, Gil Evans and she was part of Miles Davis Band for four years. Her Shamani project is an eleven piece, all-female collective, focussing on good energy and movement. I have to say that the comradery and community feel throughout the performance was very clear and I have not experienced anything quite like that before. You could actually feel the respect, love and support they had for each other – and of course, the love of the music. The performance was also an explosive percussive extravaganza along with many free form moments. The audience loved it and there was a very long-standing ovation at the end.
My penultimate gig was the Trøen/Arnesen Quartet at the Herr Nilsen Jazz Club. Led by saxophonist and flautist Elisabeth Lid Trøen, this was a great quartet with the fabulous pianist Dag Arnesen, bassist Ole Marius Sandberg and drummer Frank Jakobsen. Elizabeth has already played with some incredible people including Terri Lynne Carrington, Andy Sheppard and Joshua Redmond and although clearly inspired by the traditions of Jazz, brought her own sound to the music. The set was mainly her own compositions, played beautifully with a wonderful vibe from the band and the packed house was completely engaged throughout. She is definitely an artist to watch out for and I'm looking forward to interviewing Elizabeth for the women in jazz series.
I visited several venues in Oslo as part of the festival and they all had their own unique character and were perfect for the various events. Each event was absolutely packed, and I must say, I have never seen such friendly audiences and such diversity certainly compared to Jazz gigs in the UK. I also found a gorgeous Jazz store 'Bare Jazz', down a little alley with vinyl, CDs and books downstairs and a beautifully atmospheric café upstairs. The walls were covered in the artwork of Miles Davis, Dexter Gordon etc. You could actually imagine them sitting there.
My final evening was mind-blowing. Mathias Eick and Friends performing Miles Davis' A Kind of Blue in the Central Hall at Sentralen. Mathias is an incredible Norwegian musician and part of the ECM label family and plays with Chick Corea, Pat Metheny and Manu Katche to mention a few. There will be a full interview with Mathias soon, but I spoke to him briefly, the day before the event about what a mammoth task it must be to prepare and perform for this.
ME:'It's a difficult task actually, but if you have the intellectual workshop in advance with the other musicians, and with yourself, foremost and have this talk with yourself about values and about where you stand in music history yourself and where this project stands and what you want to come into the project with. You will always come with your own words, no matter what. I talked to Chick Corea about this – we were playing on a tour and every night I was playing a solo, together with him. And I asked him – 'you've been playing with Miles Davis, what do you feel if I, little Mathias Eick from Norway, if I'm playing one of Miles licks or one of his phrases?'. He was just so cool. He just looked at me and said – but it's you playing it, Mathias. And I realised after talking to a lot of musicians, that there are kind of two paths here. The American idea and the European idea. The European idea is so much about strong identity from early on, while the American tradition is more that it's ok to copy, for a longer period of time. But within all, if this, you have to find your own voice. I have been continually searching for my own voice – for twenty years – and suddenly I'm going into this project and I'm going to play this music……so it's a homage more than a copy of the whole project. All the musicians in this band have really strong voices and identities. As long as they are themselves all the way – and I trust them as musicians to do that'
The atmosphere was incredible before, during and after the performance. You could genuinely feel the excitement in the air. The show had sold out shortly after the tickets went on sale and this was a hotly anticipated event. In all honesty, I am not sure I can describe how wonderful this event was in such a way that you can understand the beauty of it. We all know the album, but to hear it played in such a stunning setting by an incredible group of musicians was quite surreal. Everybody's playing was truly exceptional. Kjetil Møster (Tenor sax) Martin Myhre Olsen (Alto Sax) Jon Balke (Piano) Johannes Eick (Double Bass) and Håkon Mjåset Johansen (drums) and of course Mathias on trumpet. The love and respect they had for the music exuded from their body and from every note. The tenderness was mind-blowing and Mathias Eick had clearly summoned Miles spirit. If they perform this again, I cannot recommend it highly enough. It is an experience you will never forget. If Jazz perfection is possible, this would be it. The gentleman to my left who you could see was visibly moved, touched my arm after the gig and said it was the best night of his life.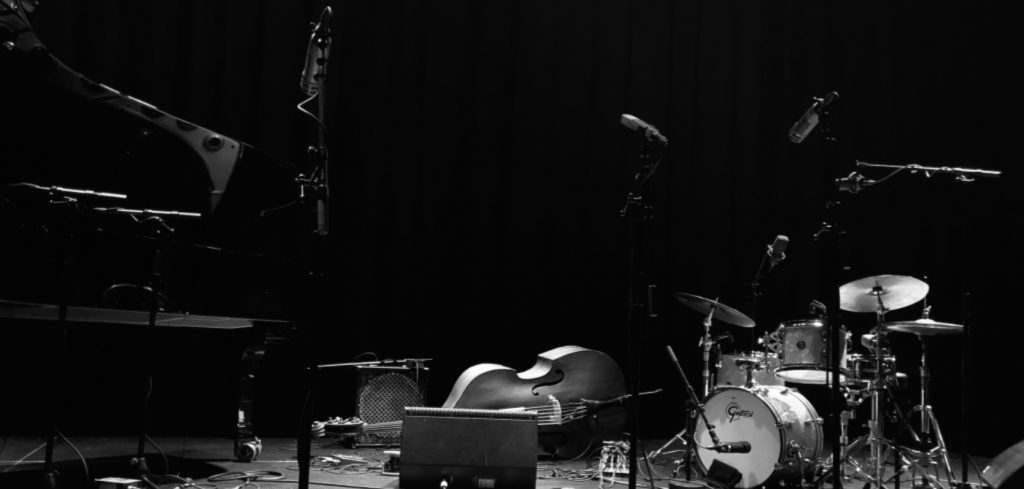 I thoroughly enjoyed my second visit to the festival and would strongly recommend a visit. There were many musicians I had not heard of, but I am so glad I have now heard them – I love finding out about new music. So, a huge thanks to Oslo Jazz Festival for being so wonderful, welcoming and allowing me to experience such an amazing array of venues, music and people.
Senior writer and photo credits: Fiona Ross
Last modified: September 5, 2019