I've received many CD's recently that have some form of social commentary as part of their concept but none so "In your face" as the new album from Portland based composer/arranger Ezra Weiss. Titled "We Limit Not the Truth of God" the album contains 11 tracks and is in effect a musical time capsule for Weiss's young children.
The following text, included in the press release puts this perfectly in context:
We Limit Not the Truth of God, is framed by a letter penned by Weiss to his two young children. "This music is for you," Weiss opens before quickly correcting himself: "Well, not really. It's for me. But it's inspired by you." The same can be said for the text interspersed throughout the suite, which ostensibly takes the form of a parent explaining the challenges their offspring should expect to face as they embark on life in contemporary society; but it's just as much a document of the struggles we all face in trying to make sense of a rapidly changing and increasingly divisive world.
This recording features Weiss's new Portland based Big Band and forms the Debut album for the ensemble. Recorded live in the Alberta Abbey, a historic church turned performance space, the arrangements are in-dispersed with spoken word passages narrated by Weiss himself. The resonant acoustics of the location works well for the music however the long reverb time is perhaps a little to resonant for the spoken word. I would have preferred something a little more direct. On the other hand, it does give the passages a sermon like quality that is highly fitting in this context.
It needs to be made clear that this album is evangelistic but not in the way the title suggests. This is in no way a religious album in the Gospel sense of the word, in fact, Weiss describes himself as "religiously agnostic but culturally Jewish" yet throughout the album you cannot escape the message delivered.
The compositions and arrangements on the album are spectacular as are the performances by Weiss's ensemble. The album opens with "Fanfare for a Newborn", a strong introduction to the album set in an odd meter samba feel that segues to the first spoken word passage titled "Dear O and J" where Weiss introduces the album to his two children. Viewing this from a classical music perspective one could see these two tracks as the Overture.
The following track "Blues and the Alternative Fact" is a nod to Oliver Nelson's classic album. Given a 2nd Line feel, this track provides a vehicle for Mieke Bruggeman and Stan Bock (Baritone sax and Trombone respectively) to explore the outer limits of their instruments. This track is, without doubt, one of the many highlights contained on this recording.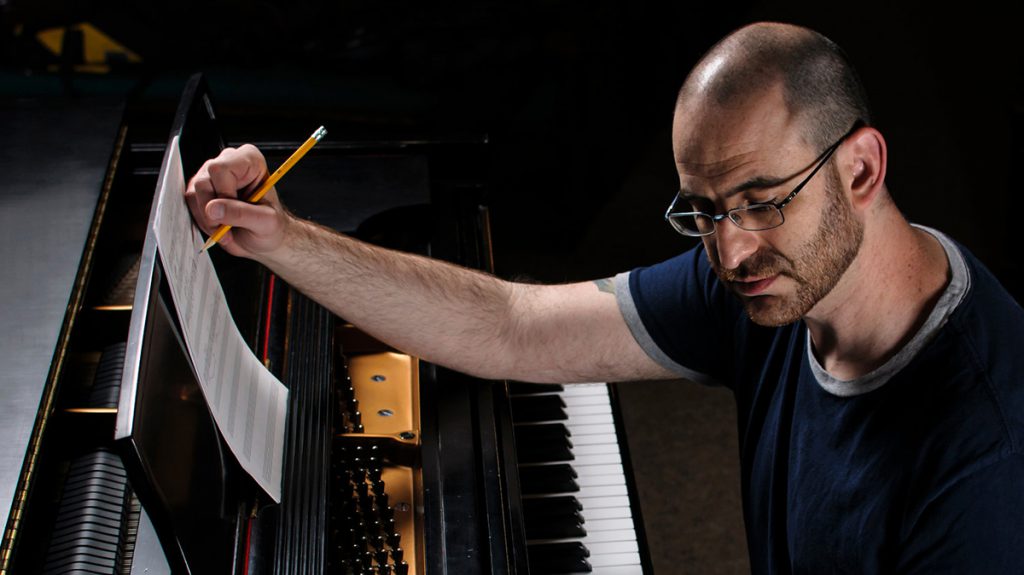 Other tracks of note on this album include "José's Drawing", inspired by the story of a 5-year old boy from Honduras, separated from his father after crossing the border in El Paso, Texas and Weiss's arrangement of Wayne Shorter's "Footprints". Impossible to be ignored is "What Now" an emotional and almost hysterical plea to acknowledge and heal the injustices plaguing US society under Trump.
This album may not be everybody's cup of tea and I would hardly recommend it as background music for a romantic dinner however this is and never was meant to be the point of this album. This is album is a raw statement and commentary of the times in which we live. This album is an emotional and musical roller-coaster ride, provocative and full of risk. This album is a musical version of Edvard Munch's "Scream" combined with the calm of Monet. This album is one of the most provocative I've heard. It's clear in its message and in my opinion should be included among other great social statements such as Billie Holiday's "Strange Fruit", Coltrane's "Alabama", Max Roach's "Triptych: Prayer, Protest, and Peace" and Charles Mingus's "Fables of Faubus".
I love this album and hate the fact that it needed to be made – Highly recommended.


TRACKLISTING:
1. Fanfare for a Newborn | 2. Dear O. and J. | 3. Blues and the Alternative Fact | 4. You just started kindergarten | 5. José's Drawing | 6. I don't mean to be a downer | 7. Obergefell |8. What now | 9. We Limit Not the Truth of God (words by George Rawson, 1853) | 10. Please Know That I Love You | 11. Footprints.
PERFORMERS:
Ezra Weiss, conductor
Woodwinds: John Nastos – alto/sop. saxes, clarinet | John Savage – alto, flute, alto flute | Renato Caranto – tenor sax | Rob Davis – tenor/sop. saxes, clarinet | Mieke Bruggeman – baritone sax, bass clarinet
Trumpet, Flugelhorn: Greg Garrett | Thomas Barber | Derek Sims | Farnell Newton
Trombones: Stan Bock | Jeff Uusitalo | Denzel Mendoza | Douglas Peebles – bass-trombone
Rhythm: Jasnam Daya Singh – piano | Eric Gruber – bass | Alan Jones – drums | Carlton Jackson – percussion
The Camas High School Choir (track 9) – Ethan Chessin, director.
Release Date: 16 August 2019
Format: CD, Digital & Streaming
Label: Origin Records
More Information on Ezra Weiss can be found on his website.
Featured Image by Gary Norman – Insert photo by Vanished Twin.
Last modified: June 2, 2020