Saxophonist Branford Marsalis doesn't mince words. He told Dan Ouellette for Qwest TV all about The Secret Between The Shadow and the Soul, the latest album by his 30-year-old quartet.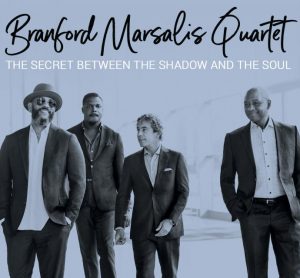 Starkly opinionated, the eldest of the Marsalis family loves to engage in philosophic discourses about contemporary music and brusquely critiques the solo-minded youngsters who crave the spotlight without sharing. He's city (born in New Orleans with jazz instincts, found excitement and fulfilment in Los Angeles and New York, and has a colorful, f-wording street vocabulary befitting) but also downhome country. Today, he lives in North Carolina near Durham where he's in bed by 10 p.m. and usually up between 5 and 6 a.m. While he denies that he's humble ("Most people who talk to me would call me an asshole," he says), Marsalis has an uncanny knack for calling it as he sees it and exercising his expression with a confident stride.
With his new album, Marsalis focuses on the brilliance of his three-decades-old quartet comprising the elders pianist Joey Calderazzo and bassist Eric Revis as well as the young colt Justin Faulkner (age 27) who has made his drumming mark on the band for the past decade. A onetime Art Blakey Jazz Messengers member, Marsalis played an essential sideman role on Sting's 1985 debut, The Dream of the Blue Turtles, where he learned from the pop star not to dwell on blowing solos but "get to the point and focus on the melodies."
Dan Ouellette: You've assigned unusual names to your albums, such as Four MFs Playin' Tunes. What's the source of The Secret Between the Shadow and the Soul?
Branford Marsalis: There's no hidden meaning. Well, first it sounds great. But fact is I was reading [Pablo] Neruda and this comes from a line in one of his poems: "I love you in secret, like the shadow and the soul." He's talking about mystical things that draw people together. Now, I'm not trying to draw an analogy between Neruda's writing and my music. That ain't me. That's not what I'm doing. I'm not talking the metaphysical nature of humanity. As for the songs themselves, I'm not a pop songwriter. I write instrumental music. So we title the tunes to capture the emotion – not through words – because sound is more infinite than words.
Dan Ouellette: You're into your third decade leading this quartet. You've said that longevity allows for a freedom of adventure.
Branford Marsalis: Absolutely. It's taken awhile, but we have shared vocabulary. The vocabulary is not just a couple of licks the band does well together. For my band you have to have the classical vocabulary, the bebop vocabulary, the New Orleans vocabulary, the R&B vocabulary, the rock 'n' roll vocabulary. All of it. It all has to be in there, so we can go anywhere. I've been reading audiences since I was fourteen. Some people may come out of curiosity, some looking for the momentum. You look up and take the music to them. Plus, you don't get a pickup band to play a song like Keith's "The Windup." Forget it. We can just go with it, and we don't play short. If I look up and see we have 10 minutes left on the stage, we ain't going to play "The Windup."
Dan Ouellette: Justin joined the band in 2009. How did he adjust in terms of having a shared vocabulary?
Branford Marsalis: Justin is the perfect example. He embraced that idea holistically. When we have gigs that are close together, sometimes we drive. Well, Justin was with me and I was playing a singer, Anne Schwanewilms, who was singing Strauss Lieder. He liked it a lot. He asked who she was and said he wanted to listen to her all week. And he did. My band is full of music listeners. We're always listening to new music and sounds. Justin got a part in a film that will probably never get released. It was about Buddy Bolden, but it was a clusterfuck to begin with. This guy had a lot of dough and asked [my brother] Delfeayo if he knew a drummer. He said he's kind of young, but looks like a man. And he carried himself. He got the job and moved from Philly to New Orleans for a year. I told him not to miss out on these kinds of opportunities. After he was there for two weeks, he called me and said, "I don't understand why you left this place." He came back playing all this New Orleans music. The vocabulary is there to play as long as it makes sense.
Dan Ouellette: Is there a New Orleans vibe at work in "Snake Hips Dance"?
Branford Marsalis: It wasn't our intent. We basically played the chart of the song. We did slow it down so that it allows you to articulate the melody better. Then we played the melody and really made it dance instead of passing by it as quickly as possible. If New Orleans is in there, it's only by coincidence based on all the listening the guys in the band do. I've been saying to the guys for years to play the song — not try to make the song sound like who you are. You don't have to change the chords or the rhythm. Some musicians say they want to make a song their own. They're obsessed with their own sense of originality, like the individual is more important than the band they're playing in. It's a popular philosophy, but a failed one. To me it's not, how can I make this song mine. That's not my question. Mine is how do you make this song sound good?
Dan Ouellette: How does that play out in taking solos?
Branford Marsalis: Sometimes it's about paying attention to a particular player. I guess that's important. That's why you play the music I guess. But if you feel like you want to be in the center, you can't play in my band. The same goes with me. After I solo, I go the back of the stage because people hear music with their eyes. I want people to be looking at Joey and how exciting he is and realize how great he is. I stand in back and let the guys do what they do. I'm secure in myself. I'm not Freddie Hubbard, shaking my head and doing all these things to get people to look at me. I step away out of respect for the guys in my band. They're my brothers and we do everything together. So Joey writes two brilliant songs. My job is to make those melodies so catchy that people want to take them home. Listeners don't know shit about harmonies. I haven't written for harmonies for 25 years. I don't think in terms of harmonic structures.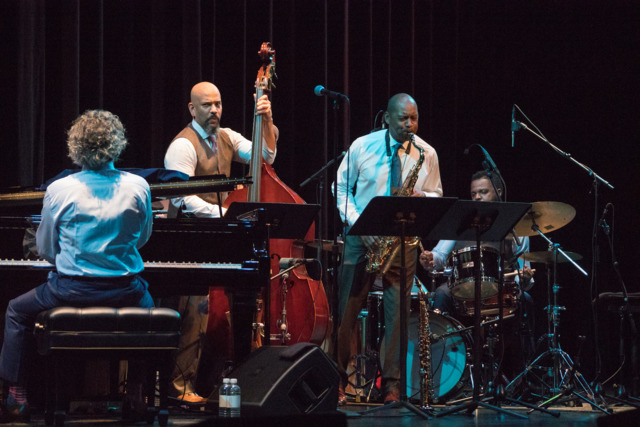 Dan Ouellette: So that's how you approach composition?
Branford Marsalis: I don't call them compositions. Beethoven wrote compositions. We're songwriters. It's like Joey's song "Cianna." It's beautiful and reflects a color that we didn't have on the rest of the record. And Revis writes these great quirky songs where people applaud the melody when it ends more so than any of the solos. The melody itself creates a certain kind of excitement. And it becomes a group thing. You don't play songs by just counting your way through. You have to listen and react, starting and stopping. That's what separates the weak from the jazz. We have so much fun on stage. It's a collective. We do shit talking and stuff, and then the music goes to unexpected places. I'm not the kind of sax player who has a collection of twenty great songs and then goes on the road, picks up bands along the way and comes home with the checks. I'm not opposed to that, but I am opposed to that for myself.
Dan Ouellette: Why did you record the album in Australia?
Branford Marsalis: We were in the midst of a tour. In jazz, my whole life is fucking touring. We don't have the pop tours — 64 cities and then take two years off. With jazz, when you have time off, it's because no one wants to hire you. We're always on the go. Some dates fell through in Japan, and we had five days off. Instead of staying in Korea, we went to Australia and scrambled around until we finally found a studio thanks to a longtime friend there, [pianist] Paul Grabowsky.


Branford Marselis's new album The Secret Between the Shadow and the Soul is available to purchase here.
This article was first published by Qwest TV in March 2019.
Last modified: August 21, 2023