Arthur Arshawsky, known publicly and professionally as Artie Shaw, was clearly one of the greatest clarinetists of the 20th century. He was also an excellent jazz improviser, but his improvisations always seem to stop just short of his technical prowess on the instrument. It's not that he wasn't interesting: in fact, during the years of his greatest fame (1938-1945) he was acknowledged to be more interesting and a little more advanced in his use of harmony in his solos than his biggest rival, Benny Goodman. Except for the first year or so of Shaw's big swing band (1938-early 1939), Goodman's band usually outpolled Shaw's and was in fact preferred by both jazz fans and certain musicians.
As drummer Buddy Rich put it in a TV interview with Goodman in the 1970s, "I played with Artie Shaw but you were the one I wanted to play with. Artie had a great sound, but it was just one sound. You had several different sounds." (In case you're wondering, Benny's reply was honest but typical: "I thought you were too loud and played too much drums. You weren't a good fit for me.")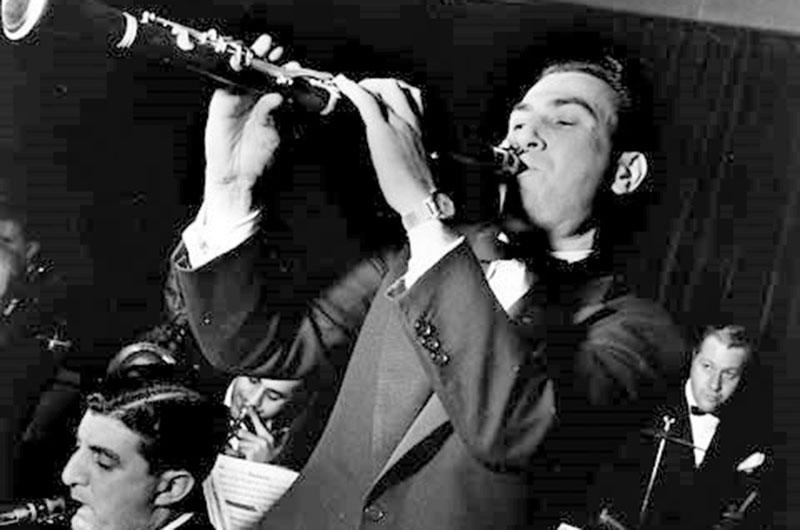 Goodman seemed to be Shaw's bête noir throughout his career. Both got their start in the mid-1920s, but Goodman always seemed to be a step ahead. While Artie was still struggling to establish himself as a first-class musician in New York, Benny was the star clarinetist of Ben Pollack's jazz orchestra by age 17. While Artie was still free-lancing in 1935, Goodman already had his own big band and hit the big time in Los Angeles in August of that year. By the time Shaw decided to scrap his small band with strings and start what he called "the loudest goddamn band in the world," Goodman had already Begin the Beguine achieved major success, made Hollywood films and gave the first-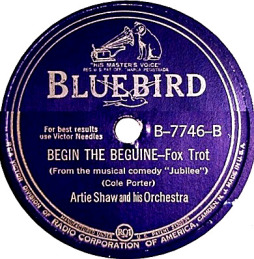 ever jazz concert at Carnegie Hall. When Shaw decided to integrate his second major orchestra by hiring trumpeter "Hot Lips" Page, Goodman was featuring no less than six African-American musicians in his live performances (Teddy Wilson, Lionel Hampton, Charlie Christian, Cootie Williams, John Simmons and Sid Catlett). By the time Shaw decided to make some classical recordings in 1949, Goodman had already established himself by being the first jazz clarinetist to record Mozart with the Budapest String Quartet, commission modern composer Béla Bartók to write a piece for him, and recorded Brahms' Clarinet Sonata No. 2. Shaw formed his big bebop band in 1949; Goodman had done so in late 1947, and by 1949 was on the verge of giving up on it. All of this played on Shaw's head like a bounty hunter he couldn't shake.
In his biography of Shaw, Three Chords for Beauty's Sake, Tom Nolan painted a very sympathetic picture of the clarinetist. In an online interview with Scott Timberg (https://scott-timberg.blogspot.com/2010/05/) he explains much of Shaw's arrogance and many of his foibles this way:
He was brilliant, self-centred, very protective, even a bit shy. From a young age, he never felt safe in the world. He didn't like crowds, but he was dependent upon them for his living. All things considered, I think he did fairly well. (And he didn't call all his fans 'morons' — just the obnoxious jitterbugs who'd jump onstage and disrupt the show, something all the bandleaders were upset about in 1939. Artie was almost the only one with the guts, or poor judgment, to complain in public. And he paid a big price.)
But there was more to it than that, and some of the pieces of the puzzle—publicly available but seldom quoted in profiles of Shaw—are in his 1952 autobiography, The Trouble With Cinderella: An Outline of Identity. I don't own a copy of the book; I took it out of the library nearly 30 years ago and read it, along with a book of Shaw's short stories; but I remember the salient points because they struck me like a sharp stick in the back. I could never forget them.
It's undoubtedly true that he never felt safe in the world, but the seminal incident that made him feel that way occurred in 1929 when he was 19 years old. He had finally landed a good-paying job with a rather commercial "hot" band of the time, Irving Aaronson's Commanders, but one day a pedestrian stepped off the sidewalk right in front of Shaw's speeding car and was killed. The ensuing police investigation cleared Shaw of any real blame—it had happened in the blink of an eye—yet he lost his license for six months and his valuable cabaret card for two years. Unable to play professionally in New York during this period, Shaw haunted the jazz clubs of Harlem, where he would sit in with black musicians. The one he credited the most with teaching him how to improvise was stride pianist Willie "The Lion" Smith.
But this is where Shaw picked up some sociopathic tendencies. It is indeed possible for someone to exhibit such tendencies without becoming an actual sociopath, just as it is possible for someone to pick up psychopathic tendencies without becoming an actual psychopath. Shaw, lonely, broke and depressed, would (by his own account in the book) wander the streets of white, affluent New York at night in the winter, hungry and cold, and look up at those windows that didn't have their shades down. He would see and often hear people laughing and having fun, and imagine that they were laughing at him, and hate them for it. And I mean real, deep-down hate, as surely as if they were the ones personally responsible for his misfortune. Moreover, he then admitted that he carried the same feeling into his glory days as a big band leader. He would look out from the bandstand while playing a clarinet solo, not directly at them but over their heads; he would purposely allow his vision to make them blur so that he could impose on them the same faces and voices he saw and heard from those apartment windows in New York in 1930 and '31. This is not the normal thought pattern of someone who is merely depressed or "a bit of a loner." This is the thinking of a borderline sociopath.
Following his return to performing, Shaw worked briefly with the band of Roger Wolfe Kahn. Although somewhat pop-oriented, Kahn loved and appreciated jazz. His earlier orchestra, known as the "million-dollar band" because of the extraordinarily high salaries he paid to such stars as trumpeter Tommy Thow, trombonist Miff Mole, violinist Joe Venuti, guitarist Eddie Lang, pianist Arthur Schutt and drummer Vic Berton, played a surprising quotient of authentic hot jazz for a high-society band, thus he was quite happy to have this rising star in his ranks. Shaw was making good money again, but as he had done in 1928, Kahn suddenly disbanded his orchestra because he was more interested in being a pilot. Dissatisfied with the jobs now open to him in the Depression, Shaw quite music for the first time in his life. He bought a farm in Bucks County, New York and went there to write a half-novel, half-documentary on one of the musicians who influenced him the most, the late cornetist Bix Beiderbecke.
It was the first of many literary projects that Shaw would abandon. Ever the loner, it never occurred to him to contact some of the people who had actually known and worked with Beiderbecke, such as Jimmy MacPartland, Bill Challis, Frank Trumbauer, Vic Berton or Venuti and Lang. He tried to go it alone, and as the British like to say, came up a cropper.
Last modified: July 18, 2019