A Lousy Day in Harlem showcases the expertise of Ed Palermo as both an arranger and composer through the release of his latest masterpiece with the Ed Palermo Big Band. The title of the album is an amusing take on the famous photograph taken in 1958 by Art Kane.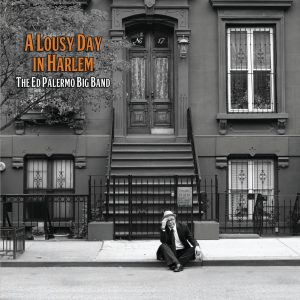 The backbone of this big band features a musical relationship stretching over a decade with drummer Ray Marchica, keyboardist Ted Kooshian and baritone saxophonist Barbara Cifelli contributing a vital role in performing a unique style of jazz with a professional demonstration of musicianship.
Primarily known for their brilliant rendition that pays homage to Frank Zappa when they released their debut album in 1997 titled 'The Ed Palermo Big Band Plays Frank Zappa', this ensemble has decided now's the time to release a jazz album! Rather than focusing on one individual as they have in the past like Frank Zappa, this album includes tracks from multiple artists such as Ellington, Coltrane and Monk to name but a few. The album cover is a humorous interpretation of the photo 'A Great Day in Harlem' taken by Art Kane in which the world's greatest jazz musicians gathered for a memorable picture behind a brownstone building in Harlem.
The comedic nature of the album cover speaks true of the music too. Tenor saxophonists Bill Straub and Ben Kono feature on 'Giant Steps' performing a unique introduction quoting 'Duelling Banjos' and 'Yankee Doodle' before breaking out into the formidable standard. Palermo neatly references some of the music by the artists that appeared in Art Kane's photo, such as Monk's 'Well You Needn't'. Palermo's version of Ellington's 'Brasilliance' is an explosion of colour and tone which is driven by John Bailey's trumpet solo. The piece then develops into an impressive shift as the melody becomes Juan Tizol's 'Caravan', once again displaying Palermo's ability to arrange. This unexpected melody twist also appears in 'Well You Needn't' which I shall leave for a surprise.
My highlight of the album is Nicki Denner's tap-dancing solo in the middle of 'The One with the Balloon', a special touch. Not to be missed, is the album's finale track appropriately named, 'This Won't Take Long' featuring Palermo himself on alto.
'A Lousy Day in Harlem' is a quality addition to the big band repertoire and is a great example of keeping the big band alive in the 21st century. The fresh balance of combining traditional styles of jazz with contemporary injections makes this album a must-listen for any big band enthusiast.
Artist website and purchase information: Ed Palermo
Review by Thomas Fletcher
Track Listing:
1. Laurie Frink | 2. Affinity | 3. Brasilliance | 4. Sanfona | 5. Like Lee Morgan | 6. The One with the Balloon | 7. Minority | 8. The Cowboy Song | 9. Well You Needn't | 10. Giant Steps | 11. Next Year | 12. Gargoyles | 13. This Won't Take Long
Line Up:
Reeds: Cliff Lyons – alto sax, clarinet, soprano sax on 'Affinity' | Phil Chester – alto sax, soprano sax, flute, piccolo | Bill Straub – tenor sax, clarinet, flute | Ben Kono – tenor sax, flute, oboe | Barbara Cifelli – baritone sax, bass clarinet, Eb clarinet | Ed Palermo – alto sax
Trumpets: Ronnie Buttacavoli (lead) | John Bailey | Steve Jankowski
Trombones: Charley Gordon (lead) | Mike Boschen| Matt Ingman (bass trombone)
Drums: Ray Marchica
Electric Bass: Paul Adamy
Piano: Bob Quaranta
Keyboard: Ted Kooshian
All Arrangements: Ed Palermo
Release Date: 12 April 2019
Format: CD | Digital | Streaming
Label: Sky Cat Records
Photo credits: Hugh Brennan
YT Video: The Music Outpost
Last modified: August 7, 2019