Robben Ford is an American rock blues and jazz guitarist. Ex-member of fusion pioneers Yellowjackets, he is admired for his solo works but also known for his collaborations with giants of music like Miles Davis, Joni Mitchell, George Harrison and many others. He comes from a generation of Californian musicians who contributed to eliminating boundaries between different genres, often writing and performing timeless music that will stand the test of time. Ford released his latest studio album "The Purple House" on earMUSIC in 2018.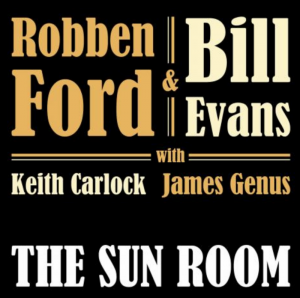 Bill Evans is an American saxophone player. Not to be confused with the legendary piano player of the same name. Evans (as the "other" Bill Evans) has contributed to various Miles Davis albums. In particular the iconic "We Want Miles" as well as "Star People" and "Decoy". He has played, toured and recorded with artists such as Herbie Hancock, John McLaughlin, Willie Nelson, Mick Jagger, Ian Anderson, Randy Brecker, Steve Lukather of Toto and The Allman Brothers Band.
About the Recording:
Ford and Evans have often shared the stage and recorded together over the years and so it's no surprise that they are joining forces again.
During the promotion of the album "Purple House", Ford spoke enthusiastically about the forthcoming tour in Japan, together with Evans.
"Having worked with many musicians in many different configurations and styles, I can say freely that this group of players have great chemistry and ability to navigate uncharted waters, which is what allows for real improvisation", Robben Ford says. "Making this recording, playing with these guys, has been one of my favourite experiences in a long, musical life".
Only a few weeks after the tour, the two were in the recording studio, accompanied by a first-class rhythm section: Keith Carlock (currently on the drums with Steely Dan) and James Genus, the wonderful bass player who among so many players with Lee Konitz, Michael Brecker, Branford Marsalis and Chick Corea.
Bill Evans enthuses about the recording process: "Rarely, but every now and then, like-minded musicians get together to create something that transcends musical boundaries yet can reach a wider audience. To me, the music we created on ´THE SUN ROOM´ is timeless. I love blues, jazz, soul, funk and this CD has all of it, performed at the highest level. I couldn't be happier with this recording. The vibe was so great during this recording process that it was just a joy to be a part of. Well done, guys. Let's do it again!".
The album will be released on July 26th via earMUSIC as a CD Digipak and Digital.
The album can be pre-ordered here: THE SUN ROOM
Last modified: July 11, 2019