This summer Qwest TV, Quincy Jones video streaming on-demand platform, is offering Jazz In Europe readers a 40%  discount on all current subscription packages. Qwest TV features over 500 exclusive video's of Epic concerts from the worlds best artists, award-winning documentaries & rare archive footage all ad-free and in HD or 4K.
Co-founded by music legend Quincy Jones and jazz impresario and producer Reza Ackbaraly, Qwest TV launched the world's first subscription-based video-on-demand (SVOD) platform dedicated to jazz and related music on December 15, 2017. Since this time Qwest TV has added hundreds of videos with new content being added regularly.
Qwest TV, says Ackbaraly, will also be producing its own content. His expertise in running the New Jazz & World Music department of Mezzo TV stands the channel in good stead to produce high-tech, cutting-edge material, which will focus on new and exciting developments within the global pantheon of jazz.
In the 1980s, Quincy Jones created his own record label, Qwest Records, before co-founding Qwest Broadcasting, a media broadcasting company in the United States. Reza Ackbaraly met Quincy Jones in 2014 and it was during this meeting that plans for Qwest TV were laid. Qwest TV was officially introduced at the 51st Montreux Jazz Festival on July 2017. Jones stated:
"I believe that a hundred years from now, when people look back at the 20th century, they will view Bird, Miles and Dizzy, as our Mozart, Bach, Chopin and Tchaikovsky, and it is my hope that Qwest TV will serve to carry forth and build on the great legacy that is jazz for many generations to come."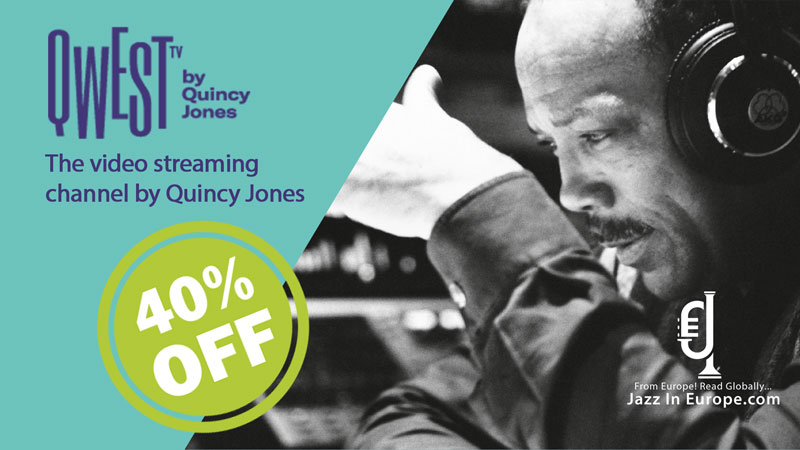 Qwest TV offers subscribers two subscription packages, Qwest TV Monthly and Qwest TV Yearly. No matter what package you choose, using the Jazz In Europe promo code, subscribers can enjoy Qwest TV for only €5.99 per month instead of the normal €9.99.
To take advantage of this offer click here and start enjoying access to some of the best jazz video content available exclusively on Qwest TV.
Last modified: August 2, 2019