German trombonist Peter Hedrich released his debut album as a leader in April 2018. The album titled "New Hope" and features Peter's long-time mentor Jiggs Whigham. 
Whighams second studio album "Hope" was recorded in 1976, together with Ferdinand Povel, Rob Franks, Niels-Henning Orsted Pedersen, and Grady Tate. For Peter Hedrich, the album was a key experience in his early musical development. Once he heard that distinctive Jiggs Whigham sound, he could never let it go.
In 2016, forty years after Hope was released, Hedrich had the idea of re-recording a number of the compositions from Whigham's album, complementing them with his own original compositions played by Jiggs. It was an idea that Whigham welcomed with open arms!
I recently had the pleasure of speaking to Peter about the project.
Andrew Read: Hi Peter, Thanks for taking the time to speak with us. I'd like to start by asking you what your early influences were and where your journey in jazz started.
Peter Hedrich: Hi Andrew, the pleasure is mine. Since my early childhood, I have very much been influenced musically by my dad, who was conducting the local orchestra and the local big band. He's also the reason, why I started to play the trombone. I actually had my first experience with Jazz when listening to recordings of Jiggs: Peter Herbolzheimers Rhythm Combination & Brass and Jiggs' "Hope". After that, I felt very inspired by Jiggs and his way of playing/making music.
AR: You have a busy schedule as a section player. How do you combine this with your work as a bandleader?
PH: I am very lucky to play the first trombone for the big band of the federal state of Germany, where I live – the "Big Band der Polizei des Saarlandes"- this is my main job. Aside from getting to play for the big band a lot, this also gives me the security and energy to plan and pursue my own projects and grow as a musician.
AR: You spent a number of years as a member of the Bundesjazzorchester (BuJazzO) what impact did this have on your career?
PH: Without the BuJazzO, I definitely wouldn't be at the point in my career where I am today. Because I started to study law right after finishing my A-levels, my two years as a member of the BuJazzO were the first chance I got to completely concentrate on music. That was when I realized that studying law wasn't quite life fulfilling for me. I guess this realization lead me to taking on a permanent position in a professional big band and to me finally studying music.
My time with the BuJazzO was also an important point in my life because I met the majority of the members of my current band there and also Nico Raschke, who recorded my CD. For my personal development, and as I mentioned earlier, playing in the BuJazzO was particularly critical because I met Jiggs there and was able to take lessons with him.
AR: Your latest album is in effect a homage to Jiggs Whigham where you have revisited a number of the tunes from Jigg's 1976 album Hope. Can you tell us a little about the origins of this project?
PH: The origins of this project basically reflect my personal origins in music: As Jiggs and his "Hope" already has influenced me very early on in life, it only seemed natural to dedicate the first project that I personally initiated to this type of music. It was kind of my way to say "thank you". The idea for it came to me during my last concert with the BuJazzO in Bonn.
AR: The album includes a number of your own compositions. Were these written specifically for this project and do you feel that these compositions were influenced in any way by the arrangements of Jiggs music?
PH: Very early on, I had this idea that it would be amazing if Jiggs played my music and I played his. Only after we decided to create a CD, I started composing my three pieces "Hope and Tears", "Utopia" and "Lawyer's Blues". I didn't consciously use Jiggs' music as inspiration for those, but I guess our pieces ended up being so harmonious because I've been inspired by his music throughout my life and have therefore developed a similar taste/vision in music. Furthermore, we had already begun working on a couple of pieces from his "Hope" when I started composing mine, which gave the whole album a coherent mood, I think.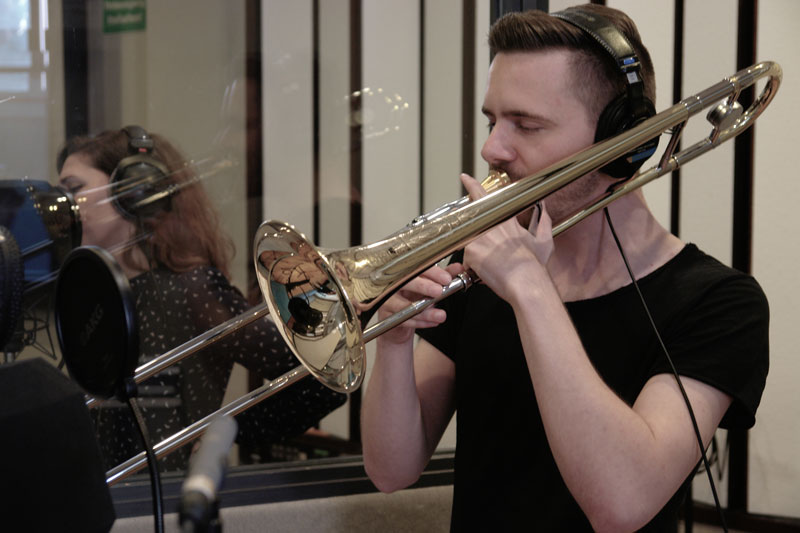 AR: Jiggs played as a guest on the album. How did this come about?
PH: I told Jiggs about the project when I saw him at a meeting of the International Trombone Association in Essen in 2016. He was immediately excited about it and felt honoured. He didn't think twice about my offer! I'm happy to say that our work relationship grew into a friendship. I've learnt so many things from him – musically and personally – for which I'm really grateful.
AR: From your perspective what do you believe are the greatest challenges for jazz musicians in the current music industry.
PH: The biggest challenge for jazz musicians, in my opinion, is to be able to live off their music. This is becoming more and more impossible due to the decreasing/receding number of well-paid concert opportunities and the fact that platforms such as YouTube and Spotify make music available anytime and anywhere nowadays, whilst the artists remain barely compensated for the work they put into their recordings.
AR: To finish up, what's next for Peter Hedrich.
PH: My focus in the next years is on growing as a musician and as a trombonist in order to give back some of what music has given to me. I hope that my music studies and my position in the big band will help me to achieve this goal. Furthermore, I want to continue to work on my projects and find myself as a musician. For the upcoming year, I am planning a small tour with my project "New Hope", which I am really excited about!
For more information on Peter Hedrich's New Hope visit the Mons Records website.
New Hope is available for purchase and/or streaming here.
Last modified: April 25, 2020