Following the success of her debut album, Make Believe, Kim Cypher has released her second, Love Kim x. Featuring notable guest performers such as Pee Wee Ellis, it includes a variety of original compositions and innovative covers displaying a vast range of styles.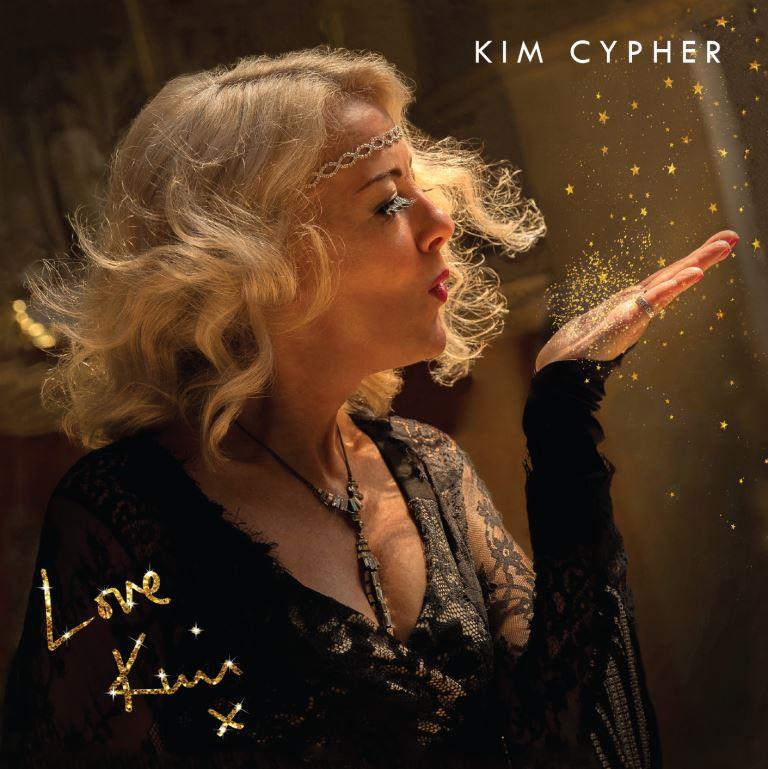 Cypher began playing the saxophone at the age of nine; after achieving first-class honours in Expressive Arts at St Paul's & Mary's College in Cheltenham for her original music composed for saxophone, clarinet, Peruvian pipes and percussion, she became Head of Music at a primary school for seventeen years. As well as this role, Cypher has taught saxophone at Cheltenham Boys College and Cheltenham Rock School.
Her professional career has included some noteworthy highlights; performing at The Glasshouses Manhattan in 2016 and commissioned to play at a private event for Prime Minister Theresa May in 2017.
The album features a range of talent showcasing, fourteen-time winner of the best pianist in the British Jazz Awards – David Newton, New York guitarist B.D. Lenz and Clive Morton on double bass, who was a long-term contributor for Frank Sinatra and Stephane Grappelli. There is also a guest appearance on the track 'Rising from the Dust' for The Kentwood Show Choir directed by Sheila Harrod. Finally, last, but by no means least, we have to mention, Pee Wee Ellis. The legendary saxophonist worked alongside household name James Brown from 1965 to 1969, Ellis composed tunes such as 'Cold Sweat' and 'Say It Loud – I'm Black and I'm Proud'. Between 1979 and 1986, he worked with Van Morrison, arranging and acting as a musical director.
As I started listening to the opening track, 'The Nearness of You', I began to feel a little confused. Cypher described herself as "inspired by the funkier side of jazz" (quoted from her website) so I began to wonder why her album commenced with a slow wistful ballad. However; I was then enlightened by the sound of a dominant pedal halfway through where the tempos shifts and develops into a foot-tapping fast swing. Perhaps a rare occasion to hear Pee Wee Ellis in a traditional swing setting, he still manages to embrace a soft tone throughout. His solo is a beautiful example of free-flowing melodies and jazz vocabulary. As the piece continues, David Newton doesn't hesitate to continue in the same fashion with an equally impressive solo on piano, although it seemed to be cut off a little too early.
One style onto another, the first few seconds of 'Maybe' clearly defines the piece as a Bossa Nova. Having already released this track as a single in 2018, Cypher decides to include it in this album but titling it as a remix. Electric piano replaces the acoustic while Cypher's soprano saxophone ability is introduced as she delivers a touching solo. Cypher features Karl Vanden Bosshe on this song who provides a solid percussive display although somewhat restricted. Overall, a smooth and charming number which Cypher dedicated to her dear friend Karen Jackson.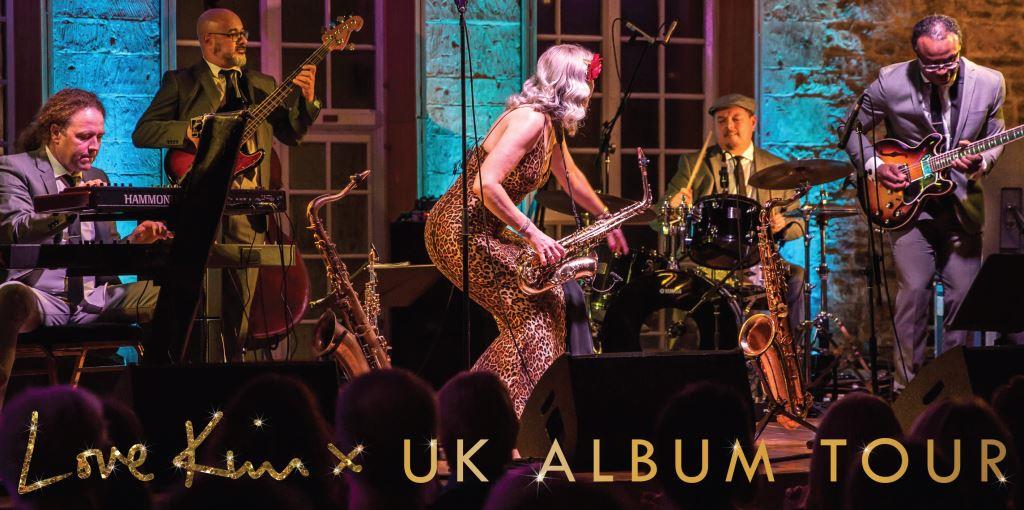 One thing to mention about this album is that you are constantly welcomed with surprises. 'Soul Eyes', this time showcases Cypher on tenor saxophone and begins with her leading the ensemble in an 'out of time' introduction. By the time the bass enters, we are locked into a sinister ballad featuring a hefty solo from Newton. Although this track is an instrumental, the voice of the saxophone played by Cypher is a perfect replacement contrasting pleasantly with her own voice. The standard originally written by Mal Waldren draws to a close as it began, with Cypher leading the band to the finish line.
'Comes Love', a personal favourite of Cypher's, is a great addition to this project. It features Cypher on saxophone as well as vocals, I suspect overdubbed. Her solo on tenor is raspy and even involves growling, a perfect response to this classic midnight jazz standard. Even though this tune has been covered by some great artists in the past such as Ella Fitzgerald, Billie Holiday and Sarah Vaughan, Cypher still manages to encapsulate a sense of originality to the arrangement.
'Breezin'', a track that has had immense success down the line. Composed by Bobby Womack, this song was first recorded by Hungarian guitarist Gábor Szabó alongside Womack. Reaching No. 43 in the R&B charts in 1972, four years later George Benson released his version recognised as one of his most notable recordings. Cypher decides to keep this track a guitar feature which gives Lee Jones an opportunity to shine. A tone very much influenced by Benson, Jones drives the track with a light and eloquent approach giving a solo even Benson would approve of. Halfway through Jones's solo, Mike Cypher on drums cleverly changes groove providing this time with a swinging accompaniment. As I listened to the first minute of this cover, I had my doubts, but after hearing a beautifully developed guitar display by Jones, even Benson should be worried!
As the album approaches the halfway point, we are greeted by the shortest track, 'Valerie'. Written by English indie rock band The Zutons but perhaps argued as making its fame by Mark Ronson's cover featuring Amy Winehouse on vocals, this piece certainly has some shoes to fill. Nevertheless, I was pleasantly surprised to listen to a unique rendition which shows a different approach to the track that spent nineteen consecutive weeks in the top 20 of the UK charts; that is Ronson's and Winehouse's version. Instead of the acentric vocals provided by Winehouse and the dynamic backing that Ronson gave, Cypher turns this song on its head and opts for a spacious and laid-back jazz waltz. Allowing no time for solos, this track is purely Cypher's.
As previously stated, this collection of songs seems to capture almost every sub-genre of jazz over the past eighty years: 'The Nearness of You' seemed to be firmly set in the 1940s swinging away, all of a sudden we've swiftly jumped into the sixties with an electrifying version of 'People Get Ready' by The Impressions. This track features a bright and emphatic solo from Cypher and a distorted solo from B.D. Lenz both building towards a dramatic finale. B.D. Lenz's sound certainly reminding me of Jeff Beck and Rod Stewart's interpretation of the piece.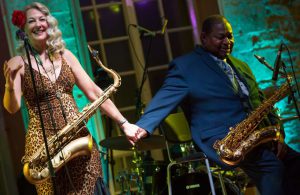 So to the next style, this ska/reggae track written by Cypher, 'Highland Mike', is a tribute to her mentor Mike Carter who was a great lover of reggae. Cypher plays alongside Pee Wee Ellis in what some might call a 'sax battle', although respect for both musicians seems to be ever-present. The interesting concept of using two tenor saxophones in an arrangement like this seems to have been pulled off. For me the highlight on this track is the outro, the band ceased playing leaving Cypher and Ellis to accompany each other, a creative arrangement.
'Rising from the Dust', a deep and meaningful composition by Cypher, this song focuses on a strong message about having the right to excel in whatever you long for. The piece includes a guitar feature by Lenz and also a backing choir lifting the texture even higher.
The penultimate track on this album is an original composed by the band's Ghanaian guitarist Chris Santo Cobbson named 'A Time to Reflect, A Time to Forget'. This buoyant and jolly tune reminds me of a gentle blend of South African and Caribbean characteristics. It features Cypher on soprano and Cobbson of course. The piece finishes with trading fours between the two soloists, a great way to round off this quirky track.
And onto the finale, make of it what you will, Cypher certainly speaks truly about "Inspired by the funkier side of jazz" although is 'Baker Street' classed as jazz? Her loud, energetic and piercing sound cuts straight through the band and definitely delivers a conclusive performance. One thing I did enjoy on this track was her approach, rather than sticking to the relaxed verse that Rafferty applied, Cypher's response was much the opposite, a hip and funky beat.
A bonus track form the Love Kim x UK album tour, Kim Cypher and Pee Wee Ellis perform the James Brown classic – I Feel Good
An album that caters for all listeners, 'Love Kim x' is surely a must for all popular jazz devotees. I admire the arrangements and how Cypher has decided to include pieces based on the musicians, this was something special. The musicianship within the band is clear and should be praised, it was a delight to hear such talented performers. I look forward to Cypher's next project, hopefully, this will bring even more talent to the plate.
Artist website to find out about Kim's music and upcoming events: Kim Cypher
Review by Thomas Fletcher
Photo credits: Ron Milsom Photography – and (c) info: all rights go to original recording artist/owner/photographer(s).
YT Video: Kim Cypher Music
Track Listing:
1. The Nearness of You | 2. Maybe…(Remix) | 3. Soul Eyes | 4. Comes Love | 5. Breezin' | 6. Valerie | 7. People Get Ready | 8. Highland Mike | 9. Rising from the Dust | 10. A Time to Reflect, A Time to Forget | 11. Baker Street
Line Up:
Kim Cypher – Soprano, Alto, Tenor Saxophone, Vocals | Pee Wee Ellis – Tenor Saxophone | David Newton – Piano
Alex Steele – Piano | John-Paul Gard – Hammond Organ | Chris Cobbson – Electric Guitar | Lee Jones – Electric Guitar | B.D. Lenz – Electric Guitar | Clive Morton – Double Bass | Tom Clarke-Hill – Double Bass | Mike Cypher – Drums | The Kentwood Show Choir
Release Date: 3 May 2019
Format: CD | Digital | Streaming  – To purchase any of Kim Cypher's Music Album(s)
Last modified: August 7, 2019