At a time when the world is in such disarray, there has never been a more important or more poignant time to remember that everything and anything is possible. The belief that you can be what you want to be and achieve what you want to achieve, irrelevant of where you came from. How do we believe this? By remembering the people before us that did exactly that. This is what Josephine Baker stands for.
There are so many elements of her life to discuss and shout about and many books have been written about her life and I just do not have enough space here. So, this article is to remind us all of her work, her value, her power, celebrate her lifelong impact and why we must never allow anyone to forget.
Josephine Baker would have been 113 this year. Born in America, she came to Paris in 1925, seeking a place where she could be what she wanted to be and live in a world of racial harmony. At the age of 19, she became an instant success when she performed at the Follies-Bergère Theatre in her iconic banana skirt. Janet Flanner, a writer for the New Yorker said this of the opening night:
'She was an unforgettable female ebony statue. A scream of salutation spread through the audience. Whatever happened next was unimportant. The two specific elements had been established and were unforgettable —her magnificent dark body, a new model that to the French proved for the first time that black, was beautiful, and the acute response of the white masculine public in the capital, of the hedonism of all Europe'
France fell in love with her instantly. At the age of 20, there was a Josephine Baker doll, a shoe line, a line of undergarments to give French women booty and hips to emulate her body shape and there was even a Josephine Baker line of body oil that you could rub on your skin to colour your skin to match hers. Picasso painted her, Hemingway said she was 'the most sensational woman anyone ever saw' and she was a multi-millionaire by the time she was 21.
She was also a Sub Lieutenant in the Women's Auxiliary Air Force and performed for troops. In 1939 she was recruited by the French Intelligence Agency and worked as a spy for the French resistance, with duties which included writing secret messages on her sheet music. She was awarded the Croix de Guerre, the Rosette de la Resistance and was made Chevalier of the Legion d'honneur by Charles de Gaulle, which is France's highest order of merit.
She returned to the United States in the 1950s and 60s and refused to perform at venues where there was segregation. Her work for civil rights was powerful and inspired. In 1963, she was one of only two women to speak at the historic March on Washington, prior to Dr Martin Luther's Kings inspiring speech. In her speech she spoke of why she moved to Paris:
'I could go into any restaurant I wanted to, and I could drink water anyplace I wanted to, and I didn't have to go to a coloured toilet either, and I have to tell you it was nice, and I got used to it, and I liked it, and I wasn't afraid anymore that someone would shout at me and say, "Nigger, go to the end of the line."  But you know, I rarely ever used that word.  You also know that it has been shouted at me many times'
There are so many things I could write about this truly remarkable woman – she was astounding. But I would also like to explore the impact she has now, in today's world.
On June 3rd, this year, a ceremony was held at 40 Rye Pierre Fontaine, Paris to commemorate her. A memorial plaque was revealed at this location, where Josephine performed from 1926 to 1928. Her influence and impact, still now, is significant. Brian Scott Bagley read out a letter from Lisa Simone:
'When Josephine Baker donned that skirt and moved – she ruled. Her voice was fiercelessness and what she did with it made a continent listen en masse. Her mission was one of love and what she did in the name of it remains unmatched. May Madame Josephine's contribution to art, dance, fashion, philanthropy, politics, and humanitarianism, remain a beacon for our youth and our world' – Lisa Simone
Brian Scott Bagely (historical activist, Parisian showman, Artistic Director and the first black MC of the famous Crazy Horse venue in Paris) has been inspired by Josephine Baker almost his whole life and fearlessly promotes and embodies Josephine Bakers values. We discussed her influence, the impact she has had on his life and what he beautifully calls 'angel moments'.
BSB: At the beginning of my time in New York and at the end of my time in New York, I was blessed with Josephine Baker. Josephine angel moments have happened to me throughout my career in New York and Paris. What does she mean to me? She means being unapologetic. Being fearless. Being compassionate and sensitive. Being joyful in the midst of people who are naysayers who are stuck and trapped in their craziness. That's her.
Firstly, we need to remember she was a woman. She was a woman who was all 'I'm here, look at me, body and all! Love and revel in it and be inspired by it because I am a Goddess and you can be too – even if you're a man'. She was a woman who used all of her powers to make something great. She came from rags to riches and she decided, by hook or crook that she would make something magical happen. She was a woman who believed in herself. But then there is also the historical parts. She has done amazing things to help us understand differently the world – adopting 12 children of different races and religions'
Josephine Baker adopted twelve children that she referred to as 'the rainbow tribe'. Children from diverse backgrounds and religions, she wanted to show the world how people should be able to live together, in harmony, irrelevant of where they came from. She said 'I will make every effort so that each shows the utmost respect for the opinions and beliefs of the other. I want to show people of colour that not all whites are cruel and mean. I will prove that human beings can respect each other if given the chance'
BSB: 'This was a woman that was a part of Paris and a part of France, but she was still a black woman from the USA. She fought for this country that wasn't necessarily hers but that she made hers. She fought for it with her life. But she also fought for her own country. And the mental illness that the USA has when it comes to racism, she fought for that by not performing in any theatre where they would not have integrated crowds. So many things she did. The inspiration of pure joy. Getting on stage and releasing the love, joy and happiness to make people's lives a little bit better, because when you change their energy from a frown to a smile, you change something inside of them at a molecular level and if they feel happier, then they are going to treat people nicer.
During my recent trip to Paris, I visited Sofitel Le Scribe, Paris Opera with Maxine Gordon, Brian Scott Bagley and Ricki Stevenson. Built-in 1863, the hotel is steeped in history. It is considered the birthplace of cinema where the Lumiere brothers presented the first cinema screening in 1895 – Ernest Hemingway, Marcel Proust, Jules Vern also stayed there. Josephine Baker often stayed here, in-suite 224, until 1968. We were given access to the Josephine floor and one of the first things you see is a plaque by the lift:
'Born on the Mississippi River in 1906, Josephine Baker arrived in Paris in 1925 and she made her breakthrough in the legendary Revue Negre, creating not only a hit but also a scandal. In addition to her spectacular performances, she was also famous for her unwavering support for civil rights and the black community. A frequent visitor to the Scribe, she even adopted one of the bellhops'
While you walk around, you feel her presence. Glorious artwork covers all the walls, it's inspiring. I was devastated to be told that the hotel is going through a complete refurbishment and all of the artwork is going to be removed. When I discussed what was going to happen to the artwork, I was stared at blankly and given a shrug. I spoke of how wonderful – and necessary – it is to display this essential history here and how Josephine Baker is such an icon and inspiration to many, especially in Paris. Surely there are plans to move the work and have a commemoration somewhere else in the hotel? Again, just a shrug. I couldn't understand how this history could just be removed, without even a thought or explanation. I spoke at length to Ricki Stevenson, the founder and CEO of Black Paris Tours.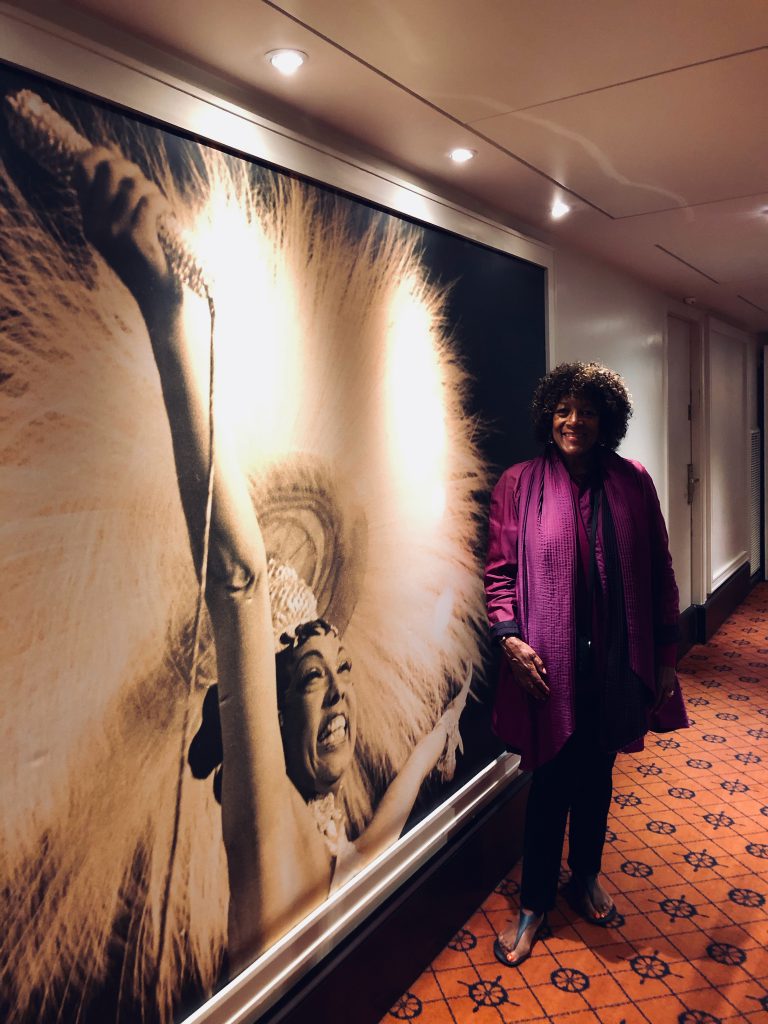 RS: 'I think there is a lot of confusion and that some people aren't even aware she was American or that she was black – and that is the importance of maintaining her legacy. I mean it's a tragedy that that floor has to be wiped out. The renovations start in August. The organization Sistah Circle will be writing a letter that will go to the management of Hotel Scribe'
The Sistah Circle Paris is an incredible, newly formed organisation set up in January of this year, to 'celebrate those who came before us, as well as to promote a new generation of black women who thrive with style and purpose in France'
RS: 'We are all races, colour – everyone from the diaspora – and we have sisters and allies. We want to clarify and get rid of that ignorance by letting people know how important this is to African Americans. We need to work together in putting plaques in honour of the African Americans who did so much. Not many people understand that there is a Louis Armstrong Park, near where he recorded one of his significant albums in the 30s (The Paris Sessions, recorded at Polydor's No.2 Studio at 72-74 boulevard de la Gare) There is a Martin Luther King Jnr Park. It is up to us to lobby for more acknowledgement of these people'
Ricki's knowledge of black history in Paris is extensive and there are many visits on her tours to explore Josephine Baker's legacy. Worryingly, over the past year, there seems to be some lack of understanding of the significance and importance of her legacy and Ricki has found that some places are no longer allowing access, with the reason given as 'security'. Salle Pleyel is an incredible venue steeped in history where Louis Armstrong, Paul Robeson and Nina Simone performed, but tour groups are no longer allowed there. The Marriot Hotel on Champs Elysee when it opened in 1997 had the first-ever African general manager – is the first major hotel chain to have three black African concierges, who are still there. They are no longer allowed to visit due to 'security risks'. However, some places welcome and celebrate this crucial history.
RS: 'Josephine Baker first performed at the Théâtre des Champs-Élysées which is where it all started for her and twenty years this is has been part of the tour. Only recently have we been allowed into the lobby. La Tremoille, which was hugely popular with Jazz musicians in the 50s and 60s, has a huge picture of Duke Ellington and Louis Armstrong looking out from the balcony – we visit there too. People need to know this history'

I often write about meeting inspiring people – and it is an honour for me to do so. The power of inspiration must never be underestimated. Inspiration is infectious. When you hear someone speak passionately about something they love, something they want to fight for, an injustice – makes you reflect on your passions, loves and what you want to achieve. It fires you up and makes you feel you can take on the world and achieve whatever you want to achieve. Josephine Baker does this.
I must give huge thanks to Ricki Stevenson and Brian Scott Bagley for their incredible knowledge, help and support in writing this article – and Maxine Gordon for introducing me to these incredible people. Josephine Baker's legacy lives on in them through their inspiring work, passion and love for history that must never be forgotten.
'The things we truly love stay with us always, locked in our hearts as long as life remains'
Josephine Baker
Senior writer: Fiona Ross
Photo credits: Fiona Ross, Andrew Haslam, Jack de Nijs / Anefo [CC0] – and (c) info: all rights go to original recording artist/owner/photographer(s).
YT Video: BN KMW
External links of relevant article interest:
Brian Scott Bagley – Instagram
FaceBook – Josephine Baker Official
Last modified: October 22, 2019