Saxophonist Alon Farber is one of Israel's leading jazz musicians and co-founder of the Israeli based band Hagiga. Named after the Hebrew word for "celebration", Hagiga has produced three albums and performed at most of Israels top Jazz Festivals including the Red Sea Jazz Festival, Tel-Aviv international Jazz festival and the Jerusalem international Jazz festival. Outside of Israel Hagiga has performed at a number of top European festivals such as the Paris Jazz Festival and not without controversy at the Copenhagen Jazz festival. In 2018 that band toured China performing a number of concerts including the OCT-LOFT festival in Shenzhen.
The initial idea for Hagiga was hatched around 20 years ago, when Farber and drummer Dani Benedikt were students at the Berklee College of Music in Boston. After returning to Israel, the two came together to form the band along with Hagai Amir, guitarist Uzi Finerman and bassist Tal Ronen and with the addition of Avishai Cohen on Trumpet released their first album Exposure. Farber mentioned that a great deal of the initial music in the bands repertoire was actually written while he was still resident in the United States.
"I sort of fell in love with composition and especially writing for three horns. When I returned to Israel I already had a lot of material. Once back I kept writing" said Farber. All of the compositions on the bands first two albums was written by Farber however the arranging credits are shared by Farber and drummer Dani Benedikt. This changed for their third album, the 2016 release "New Directions" where composing duties were shared equally between Farber and Benedikt. The title for this album was right on the mark as this album marked a new direction in the way the music was conceived. "We named the album by that name because of the fact that in our search for musical materials we tried having each tune to be based on a different rhythmic, harmonic or melodic structure. The melody and harmony were based (on most of the suite) on a unique 9 note scale in a three tonic system." said Farber.
This album was released in 2016 and now some three years on I was interested to know if there was a new album in the works. Farber explained that a new release was definitely on the cards. "The music is there however we don't have any recording dates locked in as yet. At the moment we have just signed with the German label QFTF to release the "New Directions" album in Europe. It's not been commercially available there so we want to focus on this and at the same time start working on the follow-up".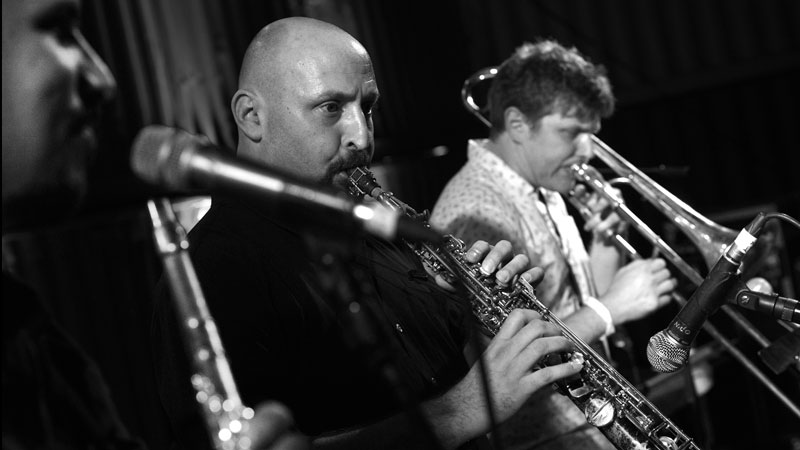 On July the 11th, Hagiga will be performing at the B Flat Jazz Club in Berlin as part of the Jazzmedia & More International concert series. While most of the bands performances outside of Israel have been in a festival setting I was interested to know what the scene in Israel was like at the moment "Well, there are a lot of great players in Israel at the moment but unfortunately there are not that many fully dedicated jazz venues. We have some great festivals in Israel and many of these support local artists but being such a small country it's important for musicians to also look internationally."
For the concert in Berlin Alon will be joined by Omri Abramov- Tenor Sax and EWI, Nils Marquardt- Trombone, Doron Segal- Piano, Yonatan Levi- bass and Udi Shlomo- Drums
Details of the concert are as follows:
Concert Details:
Venue: B Flat Jazz Club, Berlin
Date: 11 July 2019
Time: 9:00 pm
More Information on Hagiga can be found at their website.
For more information on the Jazz Media and More International, Concert series read this article here on Jazz In Europe.
Photos: Yossi Zwecker
Last modified: July 4, 2019