I first met the legend that is Maxine Gordon, last year in Paris. I went to interview her about her new book 'Sophisticated Giant: The Life and Legacy of Dexter Gordon' in the wonderful Parisienne café – Café Angers. It was a significant moment for me. I returned to Paris, almost exactly one year later, to attend the Jazz à Saint-Germain-des-Prés festival where Maxine was the special guest at the Jazz 'n' Chat event at Café Les Editeurs.
The Jazz à Saint-Germain-des-Prés festival started in 2001 and is a significant highlight of the Paris calendar. Each year it has an incredible line up of guests – Dee Dee Bridgewater, Michel Legrand, Norah Jones, Kyle Eastwood, Eric Bibb, Lisa Simone, have played there in recent years, just to name a small few. The programme includes a diverse variety of events from the obvious gigs to photography exhibitions and discussions, all developed by the Artistic Director Frédéric Charbaut. The underlying principles are to raise awareness and give opportunities to young and emerging artists as well as established ones – from France and internationally – and this year saw a Women's Jazz programme too.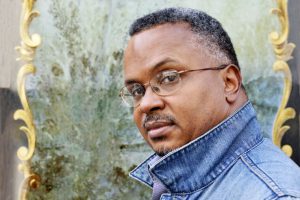 The Jazz 'n' Chat event was packed, with an audience very eager to hear from Maxine. As I have seen before, the love Maxine has for Jazz – and of course Dexter Gordon – is inspiring. Her eyes light up and she is so happy to share her experiences. One of my favourite moments of this evening, was when she was asked about Miles Davis. She explained that it was mentioned prior to publication, that she uses the word 'complicated' an awful lot throughout the book. She explained, that, well, many things are complicated and that it is the perfect word to use to describe Miles Davis. The audience laughed. Maxine had given the perfect answer. The wonderful award-winning author, Jake Lamar, was in the audience, and Maxine asked him up to read some passages from the book. This was completely unscheduled, but his love for her words was clear. Maxine had recently posted a photo on Instagram of his copy of her book, filled with post-it notes and comments. He really read the book. His reading was wonderful.
For those of you unaware of Jake Lamar (and I highly recommend you look into his incredible work), he is an inspirational award-winning American writer who, like so many creatives, became captivated by Paris and moved there after studying at Harvard and working for Time magazine. I spoke to Jake about Maxine's book and some of the things that captivated him:
'I love Jazz, I love the music and the more I learn about history, the more fascinated I am by it. It placed Dexter for me in the historical evolution of the music. When I first heard about Dexter Gordon, I thought, yes, he kind of sounds a bit like Coltrane, but now I know that Coltrane learned from Dexter Gordon. That totally startled me. The breadth of his career really blew me away'
The next evening, we went to see the Spanish trumpet player and vocalist artist Andrea Motis' Quintet at Duc Lombards. She recently played at the Barcelona Jazz Festival as part of a Dexter Gordon tribute but was performing material from her new album in Paris. Accompanied by an incredible line up of musicians Ignassi Terraza (Piano) Josep Traver (guitar) Joan Chamorro (Bass) and Esteve Pi (Drums) the club was sold out a few days before the evening. Exceptional playing from everyone with clear chemistry and love for the music. When Andrea played at the Pizza Express in London a few years ago, the Guardian reviewed her performance saying she was 'wearing star quality like a halo'. I concur that halo is still shining beautifully. I'm not sure what the perfect Jazz evening in Paris is, but it felt like this was it.  A gorgeous club, great atmosphere, wonderful music and wonderful people.
On my final day, I met with the incredible Ricki Stevenson, the founder of Black Paris Tours. A phenomenal woman with extensive knowledge of Black history in Paris who does inspirational work. She introduced me to Brian Bagley, the first MC of African descent at the historic Crazy Horse venue. An incredible achievement although I must add that it angers me greatly that we are still saying 'the first' anything. Every time I think we are moving forward, and I am reminded about how far we have to go – but that's for another article! Brian was also the former artistic director of Le Parc de Josephine Baker and is a significant force behind ensuring Josephine Baker's legacy is never forgotten. He fiercely took the lead on a project to have a plaque, in honour of Josephine Baker placed on the building that housed the first nightclub owned by her – Chez Josephine, in Montmartre. During an incredible ceremony held last week, he read out a letter from Nina Simone's daughter, Lisa Simone, who said this of Josephine Baker:
'She remains a pioneer, warrior, Goddess, who deserves all the accolades we can offer to her'
Paris gave the world the first Jazz magazine in 1935– Jazz Hot – with Coleman Hawkins on the front cover and ever since the end of the First World War, Paris has been hugely important to American Jazz musicians who were denied so much. A city drenched in history where philosophers and writers such as Jean-Paul Sartre and Simone Beauvoir frequented along with being the home to many jazz clubs where so many legends have played. It is impossible to spend time in Paris and not be inspired.
When I interviewed Dee Dee Bridgewater a little while ago, we discussed her Paris life and she said 'I came to France because of the love I had for the country, because of the and fascination I have for Josephine Baker and for black musicians and performers in general. I was living in France when I came into myself – as an adult, as an artist, as an entertainer'
I asked Jake about the draw to Paris and like so many, he didn't initially intend to move there but with experiences like this, you can see why he did: 'I met this great beat generation poet, Ted Joans, who had been great friends with Charlie Parker, back when Chan kicked Bird out, he went and stayed with Ted. I read that he was doing a reading and that he lived and Paris and had this favourite café where he would hang out. So, I would hang out with Ted and through him met this community of writers, artists and musicians'
There has always been a draw to Paris for creatives and although I have visited Paris on many occasions, this time, I saw it, felt it. Why? I spent my time there listening to Jazz, talking about Jazz, discussing inequalities and injustices, planning to raise awareness and take actions. I spent my time with people who inspired me, motivated me and I felt at home with these people. If this is the Paris way of life, I'm all in.
Senior writer: Fiona Ross
Photo credits: Fiona Ross and Jake Lamar photo by Ulf Andersen
Last modified: June 12, 2019