Dizzy's Club has a summer season full of world-class jazzers that will bring the heat with the beat. Weekend headliners include: Jon Faddis – July 18-21,  Catherine Russell – July 25-28, Ben Wolfe with Randy Brecker – August 1-4, Victor Goines – August 8-11 (String Quartet meets Jazz Quartet), then Trio Da Paz at the end of August!
Additionally, the club is presenting Que Vola? at Late Night Sessions from June 27-29 as part of Nø Førmat's 15th-anniversary celebration. It will also be part of France Rocks 2019 Summerfest that will take place throughout the city.
With a mind-blowing lineup like this, where do I start? How about six-time Grammy® winning bassist, composer and educator Christian McBride, he performed at Dizzy's in early June.  He also currently hosts and produces "The Lowdown: Conversations With Christian" on SiriusXM satellite radio and National Public Radio's "Jazz Night in America," a weekly radio show and multimedia collaboration between WBGO, NPR and Jazz at Lincoln Center, showcasing outstanding live jazz from across the country. McBride is also Artistic Advisor for Jazz Programming at the New Jersey Performing Arts Center (NJPAC) and an integral part of Jazz House Kids, the nationally recognized community arts organization founded by his wife, vocalist Melissa Walker.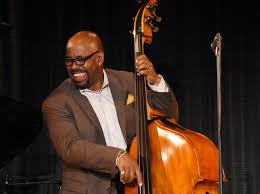 McBride is an old friend of Jazz at Lincoln Center, "I've played at Jazz at Lincoln Center a number of times over the years and I always enjoy performing there. I'm excited to bring my big band back to Dizzy's because it's always one big party. I'm also looking forward to bringing a new group to the club for the very first time – my trio featuring pianist Emmet Cohen and guitarist Dan Wilson play the following week," he explains.
McBride grew up in a musical house where, apparently, bass is the place. "The bass picked me because it's a family tradition!, he exclaims. "My father played electric bass with popular soul groups like The Delfonics, Blue Magic, Major Harris and Billy Paul, while my great uncle played bass with avant-garde artists like Sun Ra and Khan Jamal. I fell in love with the bass guitar when I was 9 and with the acoustic bass when I was 11, and the rest is history. I'm deeply inspired by every great musician who's come before me. Ray Brown, Miles Davis, James Brown, Freddie Hubbard, McCoy Tyner, Cannonball Adderley, Herbie Hancock, and Jaco Pastorius are just a few that come to mind."
McBride has taken on a role in jazz leadership and is a role model to many. His sound advice to young aspiring musicians? "Be professional, show up on time, play the music that you're asked to play, and be a team player. Don't aim to be popular – aim to be great at what you do."
Another great performer to grace the Dizzy's Club stage this summer is vocalist Catherine Russell. At the time of this writing, her new release Alone Together (Dot Time Records) is sitting at the top of the Jazz Week jazz charts for three weeks running. Ms Russell has a voice that has earned he praise from critics and music lovers worldwide. So versatile is Russell that she worked such diverse musicians as David Bowie for his last two tours (2002-2004) to the legendary bluesmen The Holmes Brothers.
"I like whatever I like," she says confidently and honestly. "I love blues, I love rock & roll, soul music, rhythm & blues, early blues in the 1920s, classic swing and traditional gospel music. All those vocabularies seem to make their way into what I do. I like using my voice in different ways. All of that is the school of how to sing different things. That's the music that I listened to and the music that I grew up on I really like the sound of swing and good songwriting. I saw Frank (Sinatra) perform in 1978, I've seen Abbey Lincoln, Carmen McRae, Betty Carter, Dakota Staton, Alberta Hunter, Ruth Brown. I love all that music that is really timeless. That's where I get my inspiration."
Like Christian McBride, Ms Russell also grew up in a musical family. Her father moved from Panama to New Orleans in 1921. He became a legendary pianist/bandleader/arranger, composer and Louis Armstrong's long-time collaborator and musical director. My mother went to Juilliard and worked with the International Sweethearts of Rhythm in the 1940's as a guitarist and sometime vocalist. From there she went on to work with so many including the Duke Ellington Orchestra under the direction of Mercer Ellington, Skitch Henderson and with Wynton Marsalis with the Jazz at Lincoln Center Orchestra. She was also a choral singer, so the classical and the jazz happened simultaneously."
I grew up with parents that were on the road continually, so I kind of like the variety of being in different places. I haven't really been in New York for a whole year straight in years. It keeps things interesting for me. I have a strict regiment that I do every day. I have two voice teachers so they keep me in shape. I know what parts of my voice need work and what exercises to do for those and when to do them during the day. I also do yoga and I travel with my yoga mat and keep myself in shape. I know what I need to eat."
Catherine is comfortable working with just a duo, a quartet or a big band. It's all part of the game. "When you're working with a big band, you are very locked into the arrangements, you can't change anything. So, in a way, is more challenging because you really have to stick to the charts. If you veer off, you're messing up like eight people. For that, you really have to know what's happening with the arrangements. So the more people that are involved, the more structure there is, but the fewer people, you can say 'ok, take an extra chorus here', and I can take a drink of water or something. It's just different.
At Dizzy's Club, I'll be working with a quartet: piano, bass, drums and guitar. Ninety-nine percent of the time I have guitars. Bands always had guitars. They always had a guitar. Its more interesting to me with the guitar player and it adds to the swing elements. Swing bands always had a guitar player."
Ms Russell has worked all three rooms at Jazz at Lincoln Center from Dizzy's Club to the Appel Room to the larger Rose Theater. She feels a good vibe at JALC. "I love working with those people. I just love it! It makes me a better musician to work with them. I so value the relationship that I have with them. Over the years, Wynton has been very supportive of everything I've brought in there. He's just been great. I toured with the JLCO for a couple of years with the Holiday Show and I participated in the Bolden (coronet player 'Buddy' Bolden) movie that Wynton did the music for."
Join the jam this summer at New York's premiere jazz night club, Dizzy's Club. And bring your friends. As Ms Russell remarks, "There's nothing like it."
For further information/TIX – visit: jazz.org
Senior writer: Scott H. Thompson is an internationally published jazz writer.
His original article was published in PlayBill Arts
Photo credits: Frank Stewart – and (c) info: all rights go to original recording artist/owner/photographer(s).
Last modified: June 29, 2019