Previously unreleased live recording of Stan Getz at New York's Village Gate to be released via Verve/UMe on June 14th
Features an all-star, rarely-heard quartet with pianist Steve Kuhn, bassist John Neves, and drummer Roy Haynes.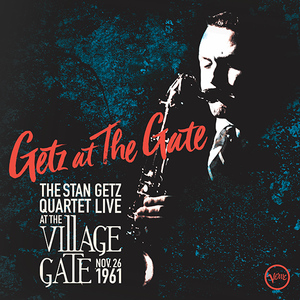 On November 26, 1961, saxophonist Stan Getz and his relatively new quartet of Steve Kuhn, John Neves, and Roy Haynes performed at New York's Village Gate. The show was professionally recorded, possibly for eventual release, but was soon forgotten and the tape languished in the vaults for almost 58 years. On June 14th, Verve Records/UMe released the 2-CD, 3-LP Getz at The Gate, which includes every note recorded that night.
This recording and this quartet both serve as a sort of "road not taken" for Stan Getz. Having just returned from living in Europe, Getz assembled a new quartet and was exploring a slightly more modern and aggressive sound with this group. Steve Kuhn had only recently finished playing with John Coltrane's quartet and a piece of more modern music and sound – personified by Coltrane – was gaining popularity.
By 1962, though, Getz's album Jazz Samba, with guitarist Charlie Byrd, released and motioned the bossa nova boom, followed by the groovier Jazz Samba Encore! (1963) album featuring Luiz Bonfá. Another significant Getz Verve release was Getz/Gilberto (1964) with Brazilian guitarist João Gilberto, which included 1965's Grammy Record of the Year "The Girl from Ipanema." The break-out hit dictated the course of Getz's career for the next few years.
Getz at The Gate shows us one possible musical direction that Getz may have taken had bossa nova not exploded on the pop music scene. Aside from including several pieces Getz recorded in the '50s (including "When the Sun Comes Out," "Like Someone in Love," and "Spring Can Really Hang You Up the Most"), Getz at The Gate also features the only known Getz recordings of "It's All Right with Me" and "Yesterday's Gardenias." The full emotional range of Getz's playing is on display throughout with his up-tempo choruses on "Airegin" an impassioned reading of "Where Do You Go?", documenting the two poles of his genius.
Stan Getz has over 40 titles in the Verve Label Group catalogue. Prior to the bossa nova craze, 1962's Focus was described by Getz as his personal favourite. A collaboration between Getz and composer/arranger Eddie Sauter, Focus is considered a milestone in jazz recording – its use of string orchestra and jazz improvisation is a high point in the continuum of classical/jazz interactions.
1 Announcement by Chip Monck
2 It's Alright With Me (Cole Porter)
3 Wildwood (Gigi Gryce)
4 When The Sun Comes Out (Harold Arlen-Ted Koehler)
5 Impressions (John Coltrane)
6 Airegin (Sonny Rollins)
7 Like Someone In Love (Jimmy Van Heusen-Johnny Burke)
8 Woody 'N You (Dizzy Gillespie)
9 Blues (Stan Getz)
10 Where Do You Go (Alec Wilder-Arnold Sundgaard)
11 Yesterday's Gardenias (Dick Robertson)
12 Stella By Starlight (Victor Young-Ned Washington)
13 It's You Or No One (Jule Stine-Sammy Cahn)
14 Spring Can Really Hang You Up The Most (Tommy Wolf-Fran Landesman)
15 52nd Street Theme (Thelonious Monk)
16 Jumpin' With Symphony Sid (Lester Young-King Pleasure)
Audio: Stan Getz – Topic
Photo credit: Lee Tanner
Last modified: July 31, 2019