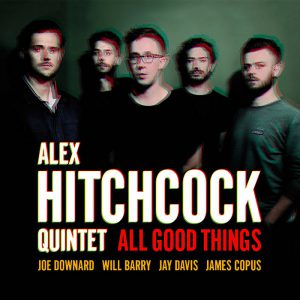 We are halfway through 2019, so much has happened so far. Out of the album releases that have come my way, one to get and listen over and over is "All Good Things" by the Alex Hitchcock Quintet. A fabulous ensemble of 7 innovative and imaginative tracks all composed by Hitchcock himself and produced by Alex Garnett.
The album is just under 50 minutes long, but those minutes represent true compositional skills, a spectrum of musical vitality that is represented, for example, by the opening track "Hamburg 2010" with its 8 minutes of a great uptempo beat.
The Quintet release the album on the Spanish label Fresh Sound New Talent which opened up Europe to other big names like Robert Glasper and Avishai Cohen, so with "All Good Things", after the success of their EP from 2018 "Live at the London and Cambridge Jazz Festivals", Hitchcock et al reach a pivotal point.
The album works on many levels, to name a few: the compositions, the inspiration and the way the 5 musicians play throughout the 7 pieces are just a few of the reasons showing the listeners what a great team they make!
There is a natural flow when listening to the album and, as Alex would concur, the whole album is a team effort, of course. James Copus on trumpet and flugelhorn shines through. I had the pleasure to meet James in person a while back and he is, it needs to be said, a very talented and yet modest musician. I love the way his notes come out triumphantly on this album, both his playing and that of Alex's on the saxophone are so complementary, it is just beautiful to listen to!
Then there is Will Barry on piano and Fender Rhodes who is my top player on "Sorry not sorry" (inspired, by the way, by the film "Sorry to bother you") although his solo on "Context" is addictive. Jay Davis's playing on drums, ever so slick, but the Quintet would not be perfect without the bass tones of Joe Downard, just simply listen to "Möbius", for example!
All in all, "All Good Things", with such key ingredients like talent and imagination, will be an album that will go very far and, if you are in London next month, catch the Quintet live on the 3rd July at Pizza Express Jazz.
Top track: "Sorry not sorry" – simply infectious!
Line-up: Alex Hitchcock – tenor saxophone; James Copus – trumpet, flugelhorn – Will Barry – piano, Fender Rhodes – Joe Downard, bass – Jay Davis – drums
Artist website: Alex Hitchcock Quintet
Purchase: All Good Things
Senior writer: Erminia Yardley
Last modified: June 19, 2019