Who is the mysterious Plume? He has no first name, no second name; he is merely Plume. All we know for sure is that he was at Berklee College of Music about 20 years ago, and that he has always been obsessed with music. We know this because his friend, the tenor saxophonist Walter Smith III "saw Plume in the practice rooms at all hours of the night when other people were hanging out. Always working." It doesn't sound like a recipe for social success, but it does seem to have made Plume a pretty good alto saxophonist.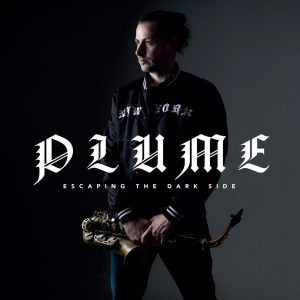 Since Berklee, he has returned to France (so perhaps he is a Frenchman) and recorded this album of original material with Leonardo Montana (piano), Geraud Portal (double bass) and Antoine Paganotti (drums), plus the legendary Ambrose Akinmusire on trumpet. (The one non-original track is Eden Ahbez's Nature Boy.)
Mystery is a quality that Plume cultivates. He wants to bring the "mystique" back into jazz, and for his album to be considered "intense and spiritual". This religious kind of language was de rigeur in jazz in the Sixties and Seventies, and listening to the album, it's easy to understand why Plume uses it: there's more than a hint of gospel in the gentle, simple ballad Holy Holy. Alongside this religious approach, the music has its roots in the era of the classic American jazz quintet. In Falling Angels, for example, a great bebop tune, it is clear how comfortable he is with the conventions of writing and performing swing with a quintet, and how well he solos.
Much of the publicity accompanying this release is overblown, but there's one comment that is 100% accurate: "Plume's ability to carry a solo in a way that feels like a live concert is something that most people are rarely able to achieve in a studio recording." There is genuine passion and – yes – intensity to the way he plays on tunes like Seek You Must and his version of Nature Boy, both of which recall the uninhibited style of 1960s John Coltrane. And on the ballad New Love, there's a sweetness and simplicity reminiscent of Coltrane ballads of that period, like Central Park West or Too Young To Go Steady.
Ambrose Akinmusire provides excellent support on trumpet on only two numbers (Falling Angels and Perseverance), but otherwise, this is very much Plume's project. And in fact this brings me to my only criticism of the album: it needed a little more light and shade, more breathing space, and Plume should perhaps have given more solo time to the other musicians.
Reviewed by Senior writer: Peter Jones
Plume , alto saxophone
Leonardo Montana , piano
Géraud Portal , double bass
Antoine Paganotti , drums
+
Ambrose Akinmusire , trumpet (on 5 and 8)
Recorded by Vincent Mahey at Studio Sextan, Paris.
Mixed and mastered by Dave Darlington , NYC.
Released on: 5 April 2019
Format: CD | Digital
Label: Jazz & People.  JPCD819003
This album is available for purchase here
Photo credit: courtesy of artist – and (c) info: all rights go to original recording artist/owner/photographer(s).
Last modified: May 22, 2019