Fierce and Non-Compliant is the new album from UK based vocalist Fiona Ross. They say a picture paints a thousand words and this albums cover is no exception. Pictured is a very young Fiona Ross in what can only be seen as a Fierce and Non-Compliant stance, something as it would appear she has carried with her throughout her multifaceted career.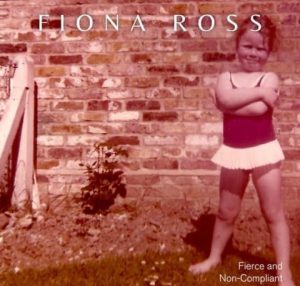 The album contains thirteen original compositions all penned by Ross and features a number of guest appearances by bassist Snow Owl, a vocal duet with Adam Cooper, Kim Cypher (one of the UK's leading saxophonists) and guitarist Marco Piccioni.
The release packaging is excellent with liner note's by renowned author, educator and Jazz advocate Maxine Gordon and superb art-work by Chris Cunningham. Stylistically the album contains an eclectic mix of jazz styles ranging from the brass infused arrangements of "Fierce and Non-Compliant" and "I Thought I Saw Your Heart" to the soulful ballad "Don't Say" and all points in between. I particularly enjoyed "For My Dad" a beautiful ballad with Ross's poignant vocals being accompanied by solo piano and sensitive commentary from Adam Rogers on trumpet. Ross's vocal performance on this track shows complete honesty, defying risk as she delivers this heart felt message.
"I Don't Want It' and "Don't Say" are two tracks on the album stand apart from the rest. These tracks were recorded in Vienna and feature bassist Snow Owl in duet with Ross. The first of these track's, "Don't Say" features Ross on piano and vocals with additional harmony and overdubbed melodic phrases added by Snow Owl. I truly enjoyed this track and specifically the the manner in which it builds toward the double time section toward the end. "I Don't Want It" is a straight duet with Snow Owl using the full range of his 6 string base to provide the perfect accompaniment to Ross's vocals.
My personal highlights on the Album are the 12/8 Blues tinged "Socialising With Misery" featuring Marco Piccioni on guitar and the track "Feel". I specifically liked the use of the odd meter in the outro on "Socialising With Misery" and the juxtaposition of the vocal/guitar passages with the almost symphonic statements on "Feel".
An album featuring such diversity in style and instrumentation can bring with it the risk that the end product could sound disjointed, with Fierce and Non-Compliant. this is not in anyway the case. While the album is eclectic there is a common thread throughout and this thread is Fiona Ross herself. As I mentioned above there is a sense of honesty to this album not only in the highly personal lyrics but also in vocal performance. In my mind, never has there been an album that rings as true to it's title as Fierce and Non-Compliant. Highly recommended.
Track Listing:
1. Fierce and Non-Compliant | 2. For My Dad | 3. Woke Up This Morning So I Can't Complain | 4. Be On My Side | 5. I Followed My Heart (with Adam Cooper Vocals and Kim Cypher Sax) | 6. Don't Say (with Snow Owl) | 7.  Feel | 8. Use The Right Words | 9. Just Tell Me When | 10. I Don't Want It (with Snow Owl) | 11. Socialising With Misery (with Marco Piccioni on Guitar) | 12. I Thought I Saw Your Heart | 13. Doing My Thing.
Personal:
Fiona Ross (vocals, keyboards); Gibbi Bettini (guitar); Derek Daley (bass); Marley Drummond (drums); Loren Hignall (saxophones); Adam Brown (trumpet); Adam Hayes (percussion); Ashaine White (backing vocals) with Snow Owl (bass); Kim Cypher (saxophone); Adam Cooper (vocals); Marco Piccioni (guitar)
Release Date: April 18th 2019
Format: CD | Digital
Label: Therapy Records
More information on this release and Fiona Ross can be found here on her website.
Last modified: May 25, 2019