Yesterday the American National Endowment for the Arts announced the four newest recipients of the nation's highest honor in jazz. Innovative jazz musicians Bobby McFerrin, Roscoe Mitchell, and Reggie Workman, as well as Dorthaan Kirk—who is receiving the A.B. Spellman NEA Jazz Masters Fellowship for Jazz Advocacy—are the 2020 recipients of NEA Jazz Masters Fellowships. They will be celebrated at a tribute concert on April 2, 2020, at the SFJAZZ Center in San Francisco, California, in collaboration with SFJAZZ.
Acting Chairman of the Arts Endowment Mary Anne Carter said, "The 2020 NEA Jazz Masters have made an incredible impact on jazz, whether it's through their artistic work to expand the musical boundaries of the genre, their educational contributions, or their efforts to reach new audiences for jazz. The National Endowment for the Arts is excited to celebrate these recipients, and to partner with SFJAZZ for the first time, bringing the NEA Jazz Masters events to a different part of the country."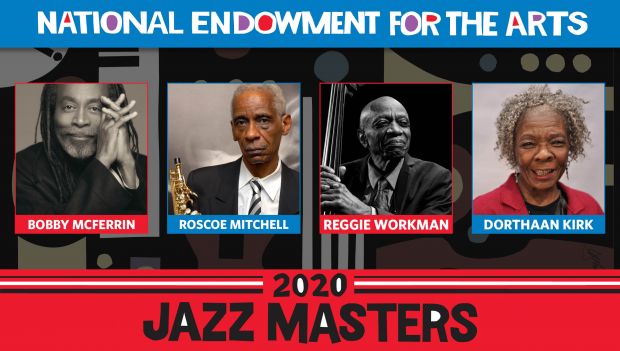 Dorthaan Kirk—Jazz Advocate (2020 A.B. Spellman NEA Jazz Masters Fellowship for Jazz Advocacy)
Kirk has been a major force at WBGO Jazz 88.3 FM, Newark Public Radio—working in various roles for more than four decades. Called "Newark's First Lady of Jazz," Kirk has been active as a curator and producer of jazz events primarily in and around Newark, New Jersey, and is an avid supporter of musicians and jazz education for children.
Bobby McFerrin—Vocalist, Composer, Conductor, Educator
McFerrin is a master of vocal improvisation, using his four-octave range in various techniques, from scat singing to polyphonic overtone singing to vocal percussion, working both unaccompanied and with instruments. A ten-time Grammy Award winner, McFerrin has moved comfortably among genres, and has won awards in both jazz and classical.
Roscoe Mitchell—Saxophonist, Composer, Educator
Mitchell is considered one of the key figures in avant-garde jazz, integrating influences from everywhere—world music, funk, rock, classical—to create music that is at once beautiful and complex. He has been involved with the Association for the Advancement of Creative Musicians, a Chicago-based nonprofit organization founded in the mid-1960s to advance new creative music.
Reggie Workman—Bassist, Educator, Composer, Producer
Workman is one of the premier bassists in jazz, performing in mainstream jazz as well as in the avant-garde scene, and a member of two of jazz's most important groups: the John Coltrane Quartet and Art Blakey's Jazz Messengers. He also is a professor at the New School's College of Performing Arts in New York City, where he has been teaching since 1987.
For the first time since 2005, the NEA Jazz Masters Tribute Concert will take place in California. This free and open to the public event will honor the 2020 class on April 2, 2020—at the start of Jazz Appreciation Month—at the SFJAZZ Center's Robert N. Miner Auditorium in San Francisco. The concert will once again be available to worldwide audiences via a live webcast. More information about this event, as well as other related NEA Jazz Masters events in San Francisco, will be available at a later date.
"SFJAZZ is honored to partner with the National Endowment for the Arts to host the 2020 NEA Jazz Masters concert and festivities at the SFJAZZ Center," says SFJAZZ Founder and Executive Artistic Director Randall Kline. "We are proud to have the National Endowment for the Arts on the West Coast to present this new class of Jazz Masters."
About the NEA Jazz Masters
Since 1982, the National Endowment for the Arts has awarded 157 fellowships to great figures in jazz, including Ella Fitzgerald, Sonny Rollins, Dianne Reeves, Miles Davis, Chick Corea, and George Wein. The NEA's website features resources and content about them, including video biographies, and tribute concert videos, podcasts, and more than 350 NEA Jazz Moments audio clips.
NEA Jazz Masters Fellows are nominated by the public, including the jazz community. Nominations are judged by an advisory panel of jazz experts, including administrators, performers, producers, and a knowledgeable layperson. The panel's recommendations are reviewed by the National Council on the Arts, which sends its recommendations to the chairman, who makes the final decision. The Arts Endowment encourages nominations of a broad range of men and women who have been significant to the field of jazz, through vocals, instrumental performance, creative leadership, and education. NEA Jazz Masters Fellowships are up to $25,000 and can be received once in a lifetime. Visit the NEA's website for detailed information and to submit nominations. The deadline for 2021 NEA Jazz Masters nominations is October 31, 2019.
The National Endowment for the Arts has also supported the Smithsonian Jazz Oral History Program, an effort to document the lives and careers of nearly 100 NEA Jazz Masters. In addition to transcriptions of the comprehensive interviews, the website also includes audio clips with interview excerpts.
Last modified: May 22, 2019