In 1961, John Coltrane collaborating with McCoy Tyner, Elvin Jones, and others turned a couple of non-jazz standards, the traditional English folk song, "Greensleeves" and the musical hit from "The Sound of Music," sung by Julie Andrews, "My Favorite Things" into modern masterpieces in jazz.
Rotem Sivan has his own arrangement of "My Favorite Things" to shake up the ground once again, but this time as an experimental electronic guitar assault with his trio. It's a vexing under-three-minute gem more in common with Kurt Cobain or Eddie Van Halen, than leading jazz guitarists from John Scofield or Pat Metheny who have been obvious influences of Sivan's based on his earlier recordings.
Sivan's previous releases are not as high-adrenaline, and perhaps could even be considered down-tempo jazz dinner music, but certainly not so with his arrangement of "My Favorite Things" at least.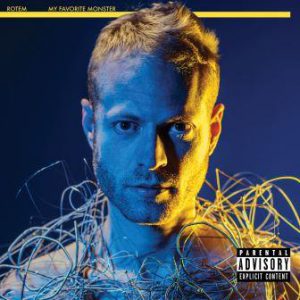 Originally from Israel, and born in Jerusalem, he is now based in New York City after moving there in 2008 to study at the New School for Jazz & Contemporary Music. Sivan and his power trio have also self-released a new album "My Favorite Monster" (Aima, 2018) with a curious sticker on the cover: "Parental Advisory: Explicit Content." Is this just a marketing ploy to attract teenage buyers? Or it could simply be a promise to the youth, that they'll love it for its variety of songs and raw energy?
In any case, Sivan seems to be on a new charge, profoundly influenced by hip-hop (especially the duo Migos), and the visuals of anime (the film Princess Mononoke by Miyazaki), and so "My Favorite Monster" sounds like an altogether different artist. Sivan had a transformation while in India, a few years ago while on a residency at the Swarnabhoomi Academy of Music in Chennai. There he opened up to native Indian music, then, world music truly felt from everywhere, as well as Western genres he hadn't been open to previously including electronic dance music and psychedelic rock. So when he rips into gear with his trio, drummer Nathan Ellman-Bell, and bassist Chris Gaskell they are exploring fresh new terrain. The guitarists Oz Noy and Jeff Beck (especially thinking of his experimental "You Had It Coming" from 2001), could also be influences or references for the trio when it hits full throttle.
Rotem Sivan has a short European tour in May.
May 5, Sunday – Muri, Muri, Switzerland
May 8, Wednesday – Jazz Dock, Prague, Czech Republic
May 9, Thursday – Jazzfreunde, Bad Ischl, Austria
Artist website: Rotem Sivan
Senior writer: Tony Ozuna
Photo credits:  Jennie Barst, Mike Goldstein  – and (c) info: all rights go to original recording artist/owner/photographer(s).
Last modified: April 25, 2019