Anyone who's been around the jazz scene in the last few years needs no introduction to pianist Fred Hersch. With a number of successful albums, a string of Grammy® nominations, numerous awards and highly successful tours both in the U.S.A and Europe Fred Hersch has been riding a wave of success. In 2017 Fred released his Book "Good things happen slowly" that sheds a very open and personal light on his life as a musician, his personal journey and search for identity. Late last year Fred released the album "Trio 97", an interesting choice to follow the "Live In Europe" album that was released in May 2018. Not only are these two albums live trio recordings the latest release, as the title alludes, was recorded some 21 years ago. In late 2018, just prior to the release of Trio 97, I had the great pleasure to speak with Fred and discuss the story behind this album and a great deal more.
We started out our conversation speaking about the "Trio 97" recording, I was particularly interested in knowing the back story for the release and why the album stayed in effect under wraps for more than 20 years. Fred explained, "This album is actually my seventh recording at the Vanguard that has been released and this album is the one that was undiscovered. These sets were recorded at the time more from an archival perspective, it was my first time there (The Vanguard) as a leader and my recording engineer said, you know, this is a big event for you, let's just document it. We had no thought of doing anything commercial with it at the time." The trio on the recording includes Drew Gress, Bass and Tom Rainey on drums and as Fred said "this trio had a fairly long life" During the time this incarnation of the Fred Hersch Trio was active they didn't release any live concert recordings. There were a number of studio recordings released, however, Fred believes the Trio 97 album is a good addition to the catalogue as it documents the trio in its natural habitat, on stage.
Fred went on to say that he was going through some old recordings when he came across these tapes. They included all three sets of a single Friday night during the residency. "When I heard them after all these years, I thought it would be a good time to release them. So I combed through the material and selected 8 songs, There was some material there that hadn't appeared on other recordings. To be honest, I really didn't care if the songs had been recorded before, it doesn't always need to new material, the most important thing was to get a great performance. After all, how many times did Miles record Green Dolphin Street!"
Currently, Fred is enjoying playing in Duos with a wide range of different artists. Having already mentioned the project with Esperanza, also coming up in April there are concerts planned with Larry Goldings, Sarah Garzarek and Charles Lloyd. Another Duo of note will be with British pianist, Gwilym Simcock at the Chiasso Jazz Festival in Switzerland in March. Some years ago Fred was on a tour in the UK and heard one of Gwilym's records being played at one of the venues during the break, "I said to the sound guy, who is that? he told me and since then I 've been a fan. About a year ago I just wrote to him and said, I've been following you and your music and really admire what you're doing. Since then we've been talking a lot and I'm really looking forward to doing a two-piano show together."
I mentioned above that in his book Fred was very open about his personal journey and I wondered if this was a conscious decision. I asked Fred if he felt writing the book in this manner was a difficult process to deal with. "It's just the way I am, I had a situation where I had a major publisher, editor and collaborator and we knew we were not writing a jazz book for jazz nerds to be published by a University Press, I had a multi-faceted story to tell about developing sexual identity, about being a gay jazz musician long before others were out about it. It also deals with major health issues and becoming my own artist and truly trying to accept myself in all possible ways. I also lived in New York in the 1970s and early 1980s before the institutionalization of jazz. Back then it was club music, there was a scene, you know, I was hanging out at Bradley's or the Vanguard and New York in those days was a mess. It was dirty and crime-ridden, not like Disneyland it is these days. So the book is actually a valentine to that particular time and place.
So there were all these things that contributed to me wanting to tell my story in a full way. I'd say the one book that really made me want to write my book was Pattie Smith's book, Just Kids, It's a great book that takes place in the early seventies at the beginnings of the punk movement and deals with her finding her way as an artist. I realized when I read her book that I've never owned a Pattie Smith record, I was certainly aware of her, I read about her each week in the Village Voice but that didn't affect the appreciation I had for her journey. Her book inspired me to approach my own book in the same way. I realized that the people who would read my book may not be jazz heads but I hoped that in reading it they may learn something about it. They may come into it from a health or sexual identity point of view or even just a New York story point of view. I was 60 years old when I wrote the book and although I'm not done yet, I do feel I've lived enough and experienced enough to warrant a book."
Fred and I continued speaking for sometime and we could have gone on for at least another hour or two however as a writer I'm always looking for a good way to wrap up an article and I believe Fred's statement that he's "not done yet" sums it all up. Fred Hersch is far from done!


Editors Note: This article is an abridged version of our full interview with Fred Hersch published in the Spring edition of the Jazz In Europe Magazine. You can either view the magazine online or order your hard copy at the link below.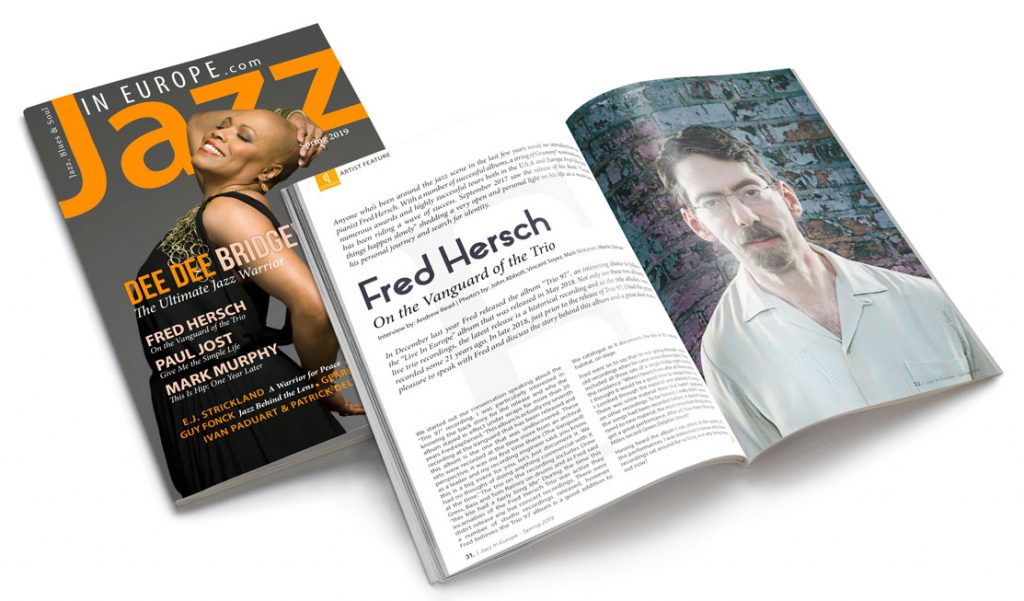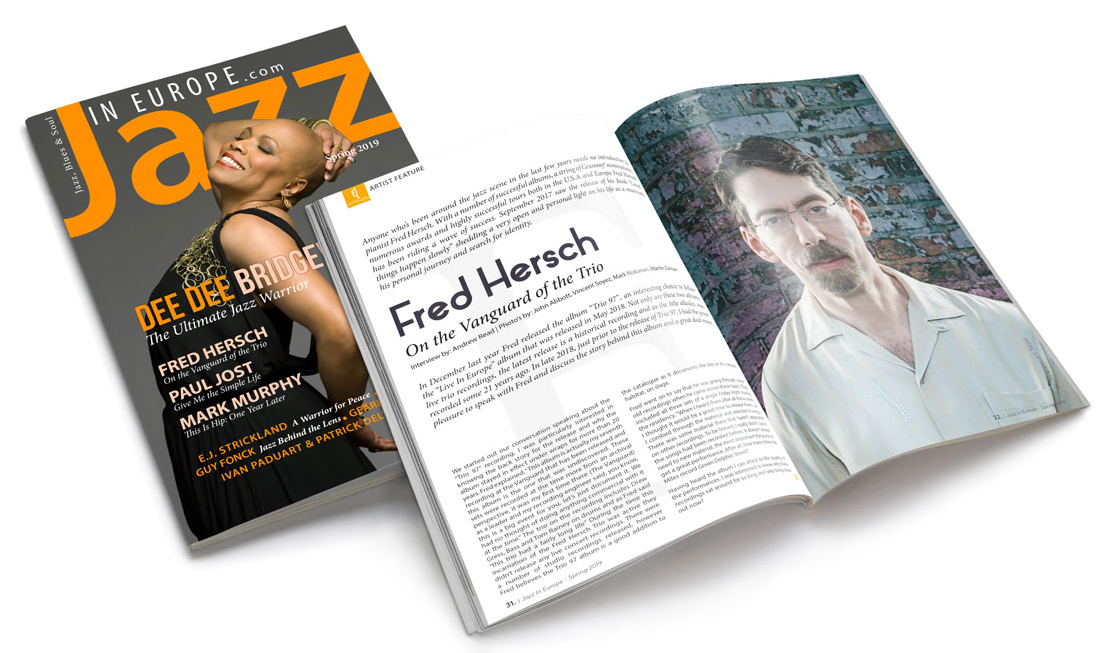 Last modified: April 25, 2020