Saxophonist and composer Logan Strosahl has increasingly been involved in the myriad worlds of formal composition. His study of pre-1700's and contemporary composition has led his music far from his musical roots in jazz music. That isn't to say that jazz had been usurped; on the contrary, Strosahl's new recording, Sure, by his new ensemble, Spec Ops, is a vital reflection of his continued engagement with the tradition and future of that music.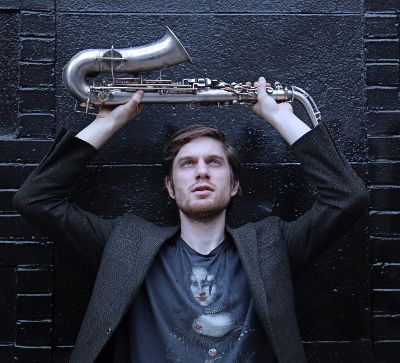 Having grown up as somewhat of a saxophone prodigy in the Pacific Northwest, Strosahl has a deep connection to jazz and feels that no matter how far his musical interests have ranged, jazz will always be "home". He doesn't view jazz as a dogmatic music, though…to him as to many others, it has always been the music of improvisation, interaction, energy, intellect, and the blues; an omnivorous music at once "high" and "low," in-your-gut and in-your-head. These ideas ground the music of Spec Ops.
The trio was assembled to carry out Strosahl's plan of generating music to match those principles, and the individual "bag" that each of these three musicians bring is fundamental to Spec Ops' realization of that plan.
The pieces that Strosahl composed for Sure were written to highlight improvisation and rhythm. He reached across genre and cultural lines to find rhythmic ideas that fascinated him and drove the music down interesting avenues. The pieces were written on the instruments they were performed on, so Strosahl would have the melodies under his fingers. The ensemble also included in their program three "standards" that showcase their interpretive abilities and interchanging energy and vocabularies.
Though his composition has evolved into its own unique world somewhat outside traditional jazz genre-lines, Logan Strosahl's new recording Sure with his Spec Ops trio highlights his passion for this music of dynamism through democracy and shows three gifted musicians playing together simply, seemingly without a care in the world.
1. Bark | 2. Chacarera | 3. Galahad | 4. Coming On The Hudson | 5. Three | 6. Isfahan | 7. Nez | 8. The Chant
Logan Strosahl – tenor, alto sax, flute | Henry Fraser – bass | Allan Mednard – drums
Release Date: 29 March, 2019
Format: CD | Digital
Label: Sunnyside Records
Last modified: May 3, 2019