"It is time we created a sound that dispels singular narratives of entire peoples and looks to finally represent the wealth of narratives found throughout the American experience. One that shows that all forms of expression in sound are valid, as all people are. The goal is to connect people in one understanding rather than dividing them by definition" – Christian Scott aTunde Adjuah
Last week, I took my usual seat at the bar for the opening night (1 of 4) of Christian Scott aTunde Adjuah's gig at Ronnie Scott's. Playing to a full house and an audience that was captivated from the moment Adjuah stepped on the stage, facing the wall with the big RS logo, he silently started directing his band to start off what was soon to reveal itself to be an incredible show.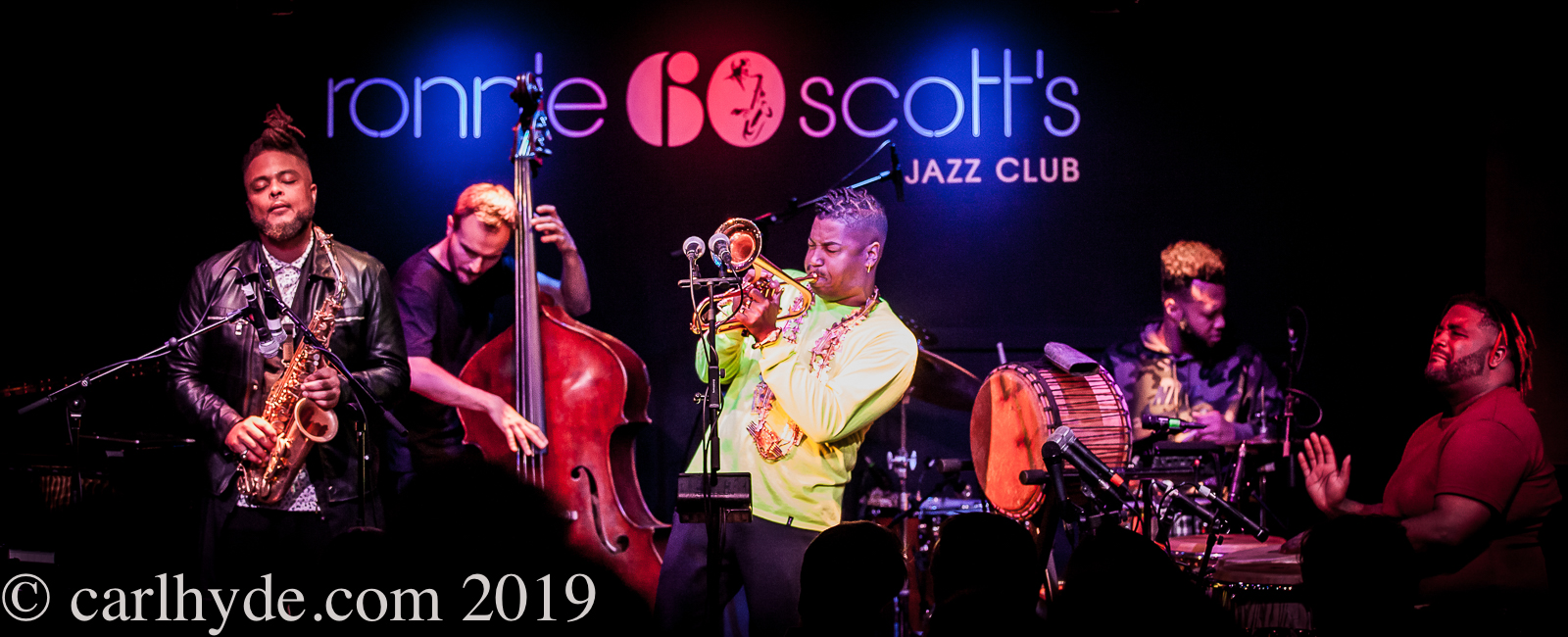 His newly released album, "Ancestral Recall" (Ropeadope) was to be the main inspiration of the night, Scott was to lead the audience to listen and follow him on an evening during which his band would perform at 200% and never lose the energy and power throughout the one and a half hour's performance!
There were solos by all the musicians of course, and in particular, alto saxophonist Logan Richardson excelling once again at what he does best, complementing an already perfect sound whether he was playing with Adjuah or on a solo. His delivery, his whole persona was emanating such purity and, as Adjuah would repeat several times during the evening, "sincerity". This and more is true of Richardson whom I have seen perform many a time before and not just with Scott's band. Eyes closed and a stillness that moved me as I watched him play, Richardson is one of those musicians, I could just sit and listen to for hours. His renditions were powerful and emotional at the same time.
After the first song, Scott quoted something that shook the crowd slightly, some laughed, some stared, his words referring to the jazz template, "I listen to John Coltrane, therefore, I am" were, at once strong and justified. Remember his 2017 "The Centennial Trilogy"? This was his way of celebrating the 100th anniversary of the first jazz recording in 1917, that fantastic piece of work was one I added to my top 10 in 2017, it was powerful, meaningful, inclusive.
So when watching Adjuah and his band's performance at Ronnie Scott's last week, their offering was an altogether example of the above, it talked about unity, diversity and love. For those reasons, Adjuah's is unique: he is not afraid of relaying a particular message, whether that be one of freedom of creativity or a political one as when the band played "Angola, Louisiana and the 13th Amendment", for example, performed like a beautiful lament with a clear and strident message!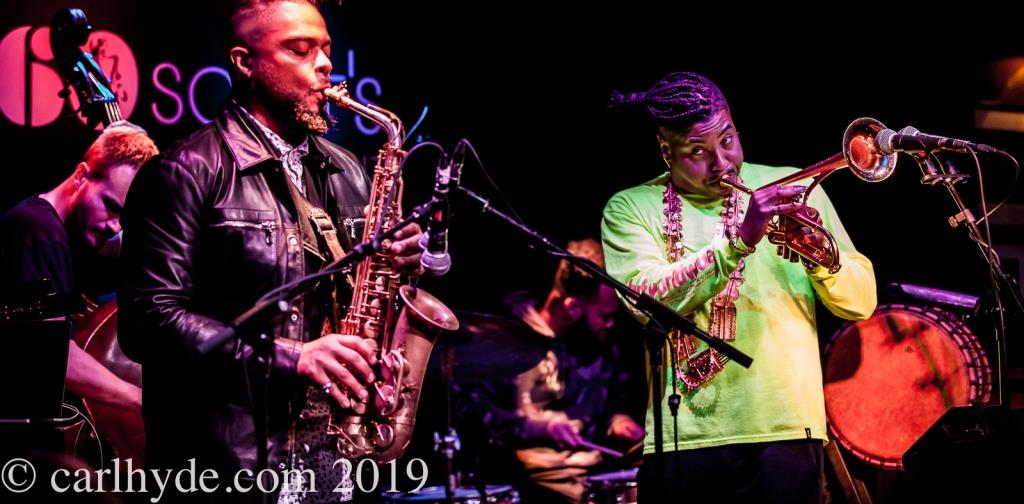 Moving effortlessly from slow to tribal rhythms punctuated by stories interludes, it was impressive to see such unity and talent on stage. Weedie Braimah on percussion, smiling with, at times, the funniest facial expressions, was phenomenal as well as Lawrence Fields on piano, the jewel in the crown, such beauty of sound.
This was a 5-star

show all round. I loved it.
Personnel: Christian Scott aTunde Adjuah – trumpet, reverse flugel, sirenette; Logan Richardson – alto sax; Lawrence Fields – piano; Max Mucha – bass; Corey Fonville – drums; Weedie Braimah – percussion
Artist website: Christian Scott
Senior writer: Erminia Yardley
Photo credits: Carl Hyde
Last modified: March 29, 2019