Nigel J. EiC @ JazzInEurope and producer at JazzTalk.News  – Nigel J. Interviews Fiona Ross his special guest in this episode and was looking forward to chatting with her and asking questions.
Show Notes:
Fast becoming known as creating a new contemporary Jazz sound using fast-paced Latin Jazz, a hint of vintage jazz club and at times a soul crossover feel. Fiona has a distinctive vocal prowess which has the ability to knock an audience sideways and leaves you in no doubt that Fiona Ross is processing life as a precious and valuable journey!
Fiona last album – 'Black, white and a little bit of Grey' struck a deep chord with many people. I've always enjoyed Fiona's musical bard lyrics, telling stories that stir the mind.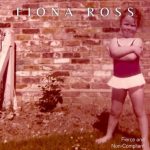 So, given the chance to gain some insight and hear some back stories about Fiona's inspirations for her last and new album 'Fierce and Non-Compliant'. Fiona shares and names the amazing list of well-known willing guest musicians, the special individual who wrote her liner notes and the talented cover artist. These people as do I, enjoy spending quality time with this very authentic individual.  I am sure you will too.
"The Jazz artist that gave Ed Sheeran his 'first push' – Daily Express"
Fiona attended the prestigious Arts Educational School (the English equivalent of New York's High School for Performing Arts) where Julie Andrews, Catherine Zeta Jones and Will Young, also trained. Fiona's career has taken her all over the musical map. She has worked as a musical director, session musician, composer, choreographer, director, dancer, actor, model – She even sang back-up for a rock and roll band called Rocking Willie and the Y-Fronts when she was 15. Alongside this, educating young people has been Fiona's passion and she was Head of British Academy of New Music, London, for nearly nine years, where she was responsible for the training of Ed Sheeran, Rita Ora and Jess Glynne, to name a few. But now, it is Fiona's turn.
Buy on iTunes or Amazon or CD Baby
To find out more about this fascinating individual, her new album, and upcoming gig dates, visit her artist website: Fiona Ross 
Why not check out the other podcast in this years  JazzTalk.News   series:
(JazzTalk.News uses the Photo by Jason Rosewell on Unsplash – as part of its logo design)

Great alternative:
Last modified: May 28, 2019