A helpful Belgian bartender and a change of heart about the accordion's lack of attractions as a musical instrument led to Dutch trumpeter Eric Vloeimans forming a trio that has the unusual line-up of trumpet, accordion and cello.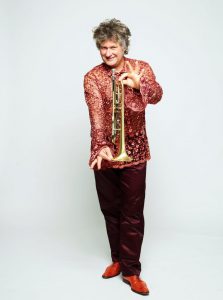 Vloeimans, who has won the prestigious Dutch Edison award four times and whose other honours include winning the Bird Award at the North Sea Jazz Festival, considered the accordion to be a "horrible" instrument as a teenager. He now puts this down to the music he heard being played on the accordion rather than the musicians who were playing it and likens his warming to the instrument to a piece of music that sounds unlistenable on first experience growing on the listener with time.
"There was no particular player, although I've heard some very good ones in more recent years," who made me change my mind," he says. "I just gradually began to like the sound it made and once in a bar in Belgium I got speaking to the bartender about it and the bartender said, ah, you should listen to this CD. It was Tuur Florizoone and after hearing just a few minutes, I decided I'd called Tuur and arrange to meet him."
As soon as they began to play together, Vloeimans knew he had a new musical partner. A musician who has followed his instincts since he switched from classical studies to playing jazz after graduating from Rotterdam Academy of Music, Vloeimans has worked in a wide variety of settings throughout his career, moving easily from acoustic to electric groups and consistently looking for new stimulation.
After working in a duo very successfully with Florizoone and appreciating the accordionist's sense of adventure, he decided to introduce him to another musician with a similar outlook, cellist Jorg Brinkmann. Vloeimans and Brinkman had worked together in pianist and melodica player Martin Fondse's ensemble and sensed that the trio would be compatible.
"The trio formed immediately we got together," says Vloeimans, who studied jazz trumpet with Blue Note Records legend Donald Byrd in New York before going on to play with Frank Foster and Mercer Ellington and leading a quartet with Joey Baron, Marc Johnson and John Taylor. "Tuur and Jorg both have such great imaginations and I find playing with them really inspiring. We all compose and we all have similar tastes in music, so ideas tend to come together very quickly. After playing a few tunes together all we needed was a name for the group."
Vloeimans is unusually coy about who came up with Oliver's Cinema, an anagram of Eric Vloeimans, for the trio's name but agrees that it's an appropriate name for a group whose original music often has a cinematic quality. They've also referred to classic film themes such as Rosemary's Baby, Bambi and Cinema Paradiso, which featured on their debut album, released in 2014.
The trio's next concert, at the Turner Sims Concert Hall at Southampton University in the south of England on Friday 29th March, is part of the Going Dutch programme which is presenting musicians from the Netherlands across the UK and Ireland until the end of 2019 and sees groups including the Nordanians and LoLanders, both featuring with violist Oene van Geel, touring in England and Scotland soon. Drummer Joost Lijbaart's Under.
Artist website: Eric Vloeimans
Writer: Rob Adams
Photo credits: Mark Engelen – and (c) info: all rights go to original recording artist/owner/photographer(s).
Concert Tickets: Turner Sims
Last modified: March 22, 2019