"Mugician", poet, lyricist and activist Keyon Harrold, is not someone you meet every day. His chilled and down to earth persona strikes one from the moment one meets him. I was lucky and honoured to be given a chance to chat with him at the time of his 3 shows at Ronnie Scott's a few months ago.
Keyon and his band had been playing at Love Supreme Festival the day before arriving in London and it had been a smashing gig. Energy levels were very high, Keyon arrived for our interview which was being held in the small dressing room at Ronnie's, and, although it was a hot day in London, he told me he was energized, ready to play the iconic venue. Ours was a relaxed interview, we talked about a lot of topics, from his band to his strong mother, to his heroes, to classical music. What follows is not just an interview, but rather a discourse with an amazing musician who is also an incredible human being.
The first three dates at Ronnies Scott's followed a mega gig on the Sunday at Love Supreme. This, Keyon told me, went well, it was fantastic and amazing, with a lot of people, a lot of energy, with some people also seeing him for the first time and "you don't know whether they are gonna love you or throw tomatoes at you", he says, laughing.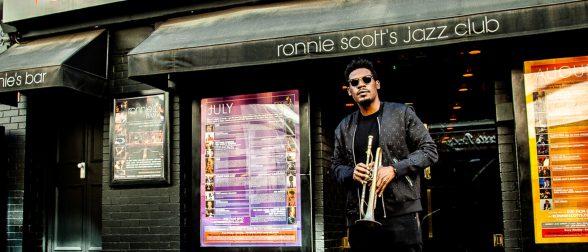 Once at Ronnie Scott's, though, Keyon and his band were aware of the exemplary touch the venue would give them. There were different vibes flying about the place. The trumpeter and his band would do a quick sound-check and then chill. From talented band members like vocalist supremo Jermaine Holmes to guitarist Nir Ferder, Keyon was eager to tell me they have all known each other for years, it took a long time to "exist in the way they do now", a way that is invaluable to him because this represents the importance to communicate and how the vibrations work, how they all feel.
With the incumbent three dates at Ronnies, I asked Keyon whether there was normally a lot of rehearsing to do, but he calmly explained that "there is going to be some telepathic stuff, I am literally at peace with it, we have played so much together, I just show up!". He continued by saying that "it's like basketball, like a point guard, I am just the Captain and they all make it happen. I don't wanna sound ridiculous, but I can imagine what Miles was thinking with his quintet, when he got on the stage, he didn't have anything to worry about and he allowed them to be auxiliaries to the 'bigger vision'. I feel like that right now and I hope I can continue. It's the perfect way of being with a band, no need to set guidelines. We always set the target for more and see where it takes us!".
There was a clear sense of confidence in the air that afternoon at Ronnies, Keyon was making a lot of references to the Master Miles Davies, and quite rightly so! When we talked about his latest album, "The Mugician", a work of art encompassing trumpet, lyrics and orchestration, Keyon also referred and explained the big production that was behind the film "Miles Ahead" amongst Don Cheadle, Robert Glasper and himself.
A true lover of "The Mugician", I had also read what Don Cheadle has said about the album, like a preface, they were words that have stuck in my head, true words, full of praise and passion. Don Cheadle, whom I have always respected as an actor, triumphed as a director with the film, one that I always recommend to people, whether they are Miles's fans or not. It is a must-see!
Keyon, the trumpet player, has been called by Don Cheadle to make the music; he recalls that he then had to play for the Miles Davies estate, the Miles Davies family, for Wayne (Shorter), for Herbie (Hancock), for all of those people, it was tough and humbling at the same time. And yet, they called him! "It was a blessing, it propelled me to do my own thing, my own music".
When we talked about his vision, his actual stepping into Miles' shoes, he told me that it was "almost like jumping out of a plane". Keyon said during our conversation and in a genuine manner, "Can you play like Miles AND in a way that honours him, whilst at the same time, you know, enough to make everyone also believe in it?".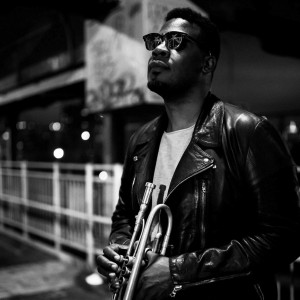 For example, we talked a lot about "Miles Ahead", Keyon told me that the film was shot before the music was done so anytime we see Don Cheadle's fingers (who played Miles in the film), Keyon's task was to transcribe Don's fingers, but make them sound like Miles, and then he continued saying "so, if you can imagine, if I gave you my trumpet and you did like this (he is emulating the playing one does on the trumpet), no matter how fast you did it, I would have to look at this and make sense of it, not just for the notes, but also make sure that it sounded like Miles Davies. That was the kind of twist: to make it all come to life! "
Keyon's strength, endurance and energy, was once again showing and coming alive. On talking about the Miles playing sequences, he passionately but very clearly stated "you walk, you fall, and I was saying to myself, stay focused, I had a specific talent: editing, playing, it worked and I had maybe 8 versions of each sequence of fingers to make it all work so."
If his energy was not enough, Keyon Harrold's truth also lied in his incomparable sense of confidence. Did he ever feel like hesitating? The importance of having the confidence, the sheer support behind one was paramount and so we ended up talking about his mum, Shirley Harrold. Keyon turned "Voicemail", one of the tracks on his album, into one of the most amazingly orchestrated pieces of music I have listened to for a while! I had to confess to Keyon I had cried listening to that piece: a mother leaving a message of strength and comfort to his son, and him, in turn, creating a unique piece. Keyon understood the look on my face at that point and told me that when everything could go wrong, whether a relationship or a financial situation, that special unconditional love and support from home was, literally, everything to him.
Editors note: This is an abridged version: To read Erminia Yardley's full article,
click here:  Jazz In Europe Winter 2018 magazine
Photo credits: Carl Hyde Photography
Last modified: February 22, 2019