How Did They Do That? The Extraordinary Story of Tomorrow's Warriors, by Peter Jones
The UK is currently enjoying one of its periodic love affairs with jazz. Even the mainstream media has noticed: not long ago (2014) BBC Television – not usually known for acknowledging the existence of jazz – inaugurated a biennial competition called BBC Young Jazz Musician. The most recent competition, held on 24th November 2018, was won by 22-year-old tenor saxophonist Xhosa Cole from Birmingham, and was showcased in a two-hour programme on national TV (BBC4), with highlights broadcast on Radio 3 the following weekend.
So where has this new-found enthusiasm for jazz come from? It was the opinion of the late American singer Jon Hendricks that jazz always thrives in hard times, so perhaps it's a result of the combined effects of nine years of government "austerity" and the endless Brexit crisis. But whatever the reason, British jazz has begun to develop new stars and, at the same time, to attract a younger domestic audience.
The revival has centred on London. But could the same be achieved in other cities in Europe? And if so, how?
A special gig that took place at London's Jazz Café on 12th January may provide some clues. Titled I Am Warrior, it was an evening dedicated to the work of Tomorrow's Warriors, the organization that has been largely responsible for the jazz renaissance. The audience was full of young people, all of them in a state of high excitement at the prospect of hearing some of the many young stars who have emerged from Tomorrow's Warriors (TW). Among them were singer Zara McFarlane, guitarist Shirley Tetteh, tenor saxophonist Binker Golding, alto saxophonist Soweto Kinch and pianist Peter Edwards. But over the years, TW has been the birthplace of many other well-established names, among them Shabaka Hutchings, Jason Yarde, Denys Baptiste, Yazz Ahmed, Joe Armon-Jones and Nubya Garcia.
Two weeks after the Jazz Café gig, just in case there was any doubt about the importance of TW, BBC1 ran a prime-time news story about them (on Inside Out London), interviewing founders Gary Crosby and Janine Irons, as well as several of the young players currently taking part in their tuition programme.
Since its foundation in 1991, TW has existed to develop young jazz talent, with a particular emphasis on girls, those from the African diaspora, and those who could not otherwise afford to train for a career in music. Very early on, it was Gary Crosby's vision "to create a jazz community that looks like the high street, as opposed to one that looked like a conservatoire." Another important goal has been to develop the jazz audience, by taking jazz out of its traditional club and concert stage environment and introducing it to people who might otherwise never get to hear it. And finally, there was a desire to keep jazz moving forward – not to restrict it by worrying about musical orthodoxy or genre boundaries.
I sat down with Gary and Janine, and began by asking them whether their formula for reinvigorating jazz could be applied elsewhere.
"What is needed to make it happen depends on your situation," Janine said. "It probably won't be the same set of circumstances in some other European cities. They'll have their own issues that they'll have to be dealing with."
But for anyone wanting to follow TW's example, how should they start? Well, it seems that you need to be based somewhere that already has the main ingredients. "You've got to have a jazz community, an immigrant community, a diaspora, and people who play music. You've also probably got horn players there who want to play jazz but don't know how to," said Gary.
The next thing is to find a space to play, to meet, to get together. In the case of TW, that place was the Jazz Café. For many years now, the venue has been based in Camden, just north of central London, but back in the Eighties, it was a tiny club in Newington Green, a few miles to the east. Its founder Jon Dabner was not only a jazz promoter but a man with a social conscience. He also ran a small festival in the park, known as Scene on the Green. "That was an opportunity for all those like-minded people in London that wanted to play this music to meet for a whole weekend," recalled Gary. "It only went on for two or three years, but it had a big effect."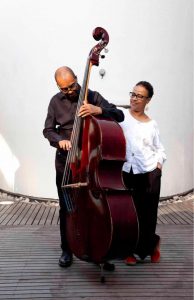 It was around this time that he met Janine, who then worked in banking administration. As the house bassist at the Jazz Café, and touring with stars like Courtney Pine and Jazz Jamaica, Gary was already a successful jazz bass player. When Jazz Café made its move to much larger premises in Camden, Crosby and Irons saw an opportunity, with Jon Dabner's help, to use it as a base for young people to meet and play. Before long, jam sessions were taking place every Saturday and Sunday afternoon.
I asked how much of an education project it was from the start. "It depends what you class as education," said Janine, "because jam sessions are educational in themselves. However, we would never have described it as an education programme. It's more like an apprenticeship than education as such."
Since those early days, the activities of TW have gradually expanded. After starting out by participating in the informal jam sessions, TW members may now go on to join one of the more formal ensembles, which include Tomorrow's Warriors StringTing, Tomorrow's Warriors Female Collective, a Junior Band (for young musicians aged between 11 and 15), Tomorrow's Warriors Youth Orchestra, and the flagship Nu Civilisation Orchestra.
One great strength of TW is that alumni like Binker Golding and Peter Edwards come back to teach. "Our ethos is, Each one teach one," Janine continued. "That's a Jamaican saying – you have a responsibility to teach those who are coming up. If you know something, you have a responsibility to share that knowledge with the next lot. And that's the whole of the Warriors ethos. We've given you the opportunity to learn, and there's an expectation that you will share that knowledge with the ones that come after you. All of our music leaders have come through the Warriors, so they know what it's like to be a Warrior, they know the ethos, they understand what's expected, and so they gladly share that and pass it on." Another successful musician who did just that was Denys Baptiste, who stayed with TW even after he was successful enough to move on.
Gary believes it is important to allow those with leadership potential to lead. "It helps to keep the standard high. Although at times it can be rough and ready, you can still enjoy it."
Another major concern for the organization is to keep the programme free for young people. The lottery-funded Arts Council makes a contribution to their core funding for salaries and running an office, but they still have to find money for artist development, to pay the music leaders, to pay for transport to gigs, and for staff to accompany them – some of the youngsters being no older than 15. "And to keep the funders happy, you have to demonstrate what you're doing, so everything has to be filmed and recorded. It's all cost," said Janine.
But thanks to the constant hard work and fund-raising, TW currently supports a programme for 130 young people, holding eleven workshop sessions a week, totalling 24 hours. These take place in a shared space in London's South Bank Centre, where the musical equipment is stored.
How do they achieve such a remarkably high success rate among the musicians? According to Janine, it's not only about how well you can play; you must also focus on professional standards of presentation. "From day one," she explained, "we set a marker for quality. That's something that's always been important to me, so that we would go for the best that we could do and the best that we could afford. I remember when I started working with Gary, the first thing I could see they needed was some kind of information pack. I knew nothing about marketing, but I thought, when someone wants to book you, what do you send them? Musicians were sending out scraps of paper and dodgy photos. So I learned how to use page layout software and did interviews with the musicians to get a bit of biography, so you could send out something that looked good, and gave a story about who they are and what they do. For me, if you're going to do something, you do it as a professional. So everything we do must be of professional quality."
This also means thinking about the audience. Gary believes that many jazz musicians are too inward-looking, seeing their work as art rather than something that will entertain an audience. "The entertainment comes first. I learned a lot on the road with Courtney Pine. If people didn't come through the door, I couldn't put food on the table – it was as simple as that. By giving, you're going to get a lot back. I learned that from him. There's a danger of turning your back on the audience sometimes." Janine agrees: "The audience has to be front and centre. It's pointless developing a load of musicians if nobody wants to listen to them."
So how well have the founders, both quiet, modest people, met their original goals? To remind ourselves, these were to improve the representation of young women, the African diaspora and the less well-off in jazz; to develop the jazz audience; and to meet the needs of the wider jazz community.
In all three, they have been spectacularly successful. Over the years of hard work, TW has succeeded in forming partnerships with a network of local, national and international arts organisations, as well as commercial producers, venues, promoters and festivals. In 2017 they won the Parliamentary Jazz Award for Jazz Education, and further awards went to alumni: Nérija, an all-female ensemble developed from the TW Female Collective, won Best Newcomer, while  Shabaka Hutchings was Jazz Instrumentalist of the Year. Across the categories, 14 alumni had been shortlisted. Gary Crosby and Zara McFarlane were both invited on to the judging panel for the 2018 BBC Young Jazz Musician competition.
Crucially, it still costs nothing to join Tomorrow's Warriors.
For any jazz enthusiasts who might feel inspired to attempt something similar to TW in their own home city, Gary and Janine have some advice. Yes, it helps if you yourself are a part of the local community, and you must have a real desire for social equality at the grassroots, but there's more: you must put your ego to one side. "There's selflessness that's required," says Janine. "It's about how you can help these young people become the best that they can be, and help them shine."
Artists website: Tomorrow's Warrior– and – Go Fund Tomorrow's Warriors
Writer: Peter Jones
Photo credits: Feature – Steve Funkyfeet, Gallery – Jim Aindow, Howard Denner, Pat Pascal, Chris Huning, Steve Funkyfeet – and (c) info: all rights go to original recording artist/owner/photographer(s).
Last modified: April 25, 2020